Princess Diana Would Have 'Absolutely, 'Unquestionably' Supported Prince Harry, Meghan Markle's Exit From The Royal Family, Says Vocal Coach
She would have 100% supoorted them. Princess Diana's former vocal coach Stewart Pearce has revealed that the late royal would have completely stood by Prince Harry and Meghan Markle's decision to leave the royal family and the U.K. behind for a more peaceful life.
Article continues below advertisement
When asked if she would have approved of the couple's exit, her former confidant told The Royal Observer, "Oh, absolutely, unquestionably – she was doing the same thing."
"And she knew the principal pressure that Meghan was under was the fact that she was not being listened to, and of course, as we know, Meghan is this brilliantly articulate highly intelligent amazing woman of the world," he added.
Article continues below advertisement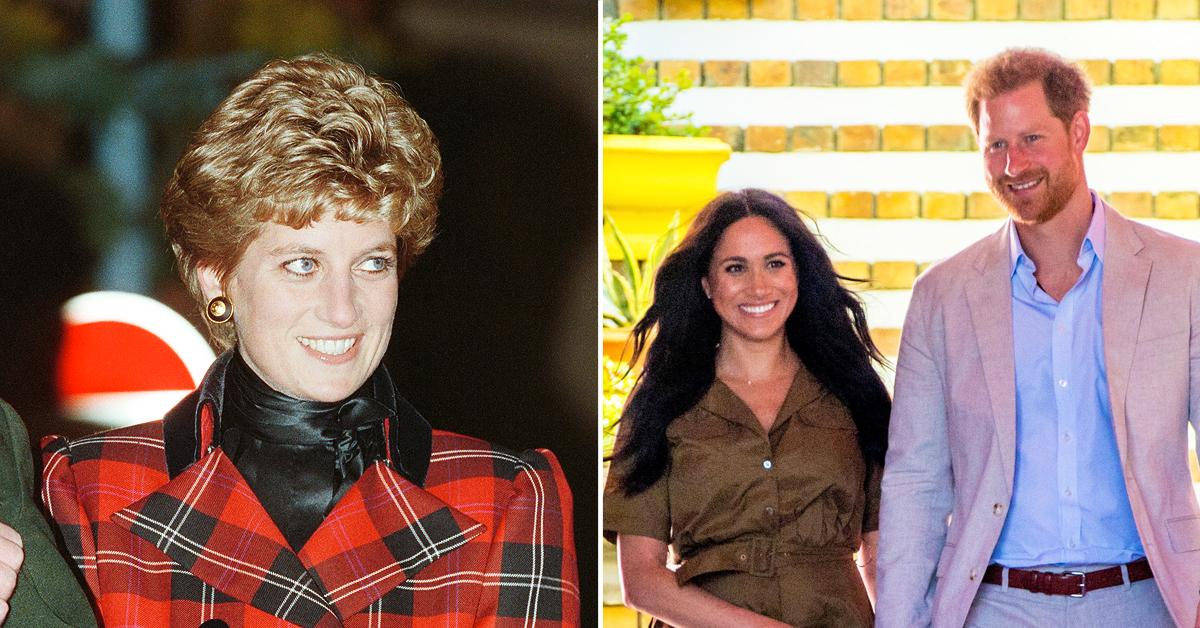 Pearce, who is the author of the new book Diana: The Voice of Change, which was released on June 15, believes that the Duchess of Sussex is a champion of the truth, very much like her late mother-in-law was in her time. He believes that this is particularly clear in the infamous Oprah Winfrey interview.
Article continues below advertisement
"I find it very interesting to see her demeanor in the interview with Oprah as being very demeanor for very understandable reasons because after all, she didn't realize what was going to come out in the moment because the questions that Oprah asked were completely fresh in the instant of the moment," the author explained.
Article continues below advertisement
"But obviously it was a huge thing to do and she wanted to place whatever her statements would be without revenge, without any form of misanthropy towards the royal family and any form of bitterness, etc.," the writer continued in regards to the interview where Meghan spoke about how she battled suicidal thoughts and how their son Archie's skin color was a topic of conversation amongst family members.
But above all, Pearce believes the 39-year-old former actress is being incredibly brave in telling her side of the story. "I thought that they just simply told the truth — and Diana would have been completely behind that. I mean, after all, isn't that what the Martin Bashir interview was all about? To speak truth because the truth always liberates." he continued.
Article continues below advertisement
According to Pearce, the late Princess was aiming to relocate to America shortly before her tragic car accident in 1997 that took her life, and had many different projects in the works. "Yes, she was planning some very exciting projects. She was planning on [collaborating] with many of the charitable organizations that she was involved in," he explained.
Article continues below advertisement
"She was planning on developing a team where documentaries could be made initially, where the campaign was always legitimized in the public domain. Then, films would be made, and she was very much part of that. At that time, she was talking about finding a house in Malibu." the author explained of her similar exit plans.
On June 4, the Duke and Duchess of Sussex welcomed their first daughter who they named Lilibet "Lili" Diana Mountbatten-Windsor. The little girl was partially named after the late mother of two. In a statement, the couple said "It is with great joy that Prince Harry and Meghan, The Duke and Duchess of Sussex, welcome their daughter, Lilibet 'Lili' Diana Mountbatten-Windsor, to the world. Both mother and child are healthy and well, and settling in at home."
The statement continued, "Lili is named after her great-grandmother, Her Majesty The Queen, whose family nickname is Lilibet. Her middle name, Diana, was chosen to honor her beloved late grandmother, The Princess of Wales."