PHOTOS
The 14 Most Entertaining Celebrity Meltdowns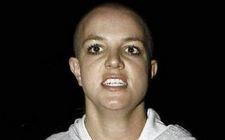 Last Sunday, while semi-lip synched and clumsily plodded her way across the stage of the Video Music Awards in a too-revealing costume, some in the audience clapped politely, some sat in awe, but most had one eye on their performance and another on their Blackberry as they messaged friends around the world to share in their "What the...?" moment with the millions of stunned viewers at home who instantly began cracking jokes about everything from her weight to her hair. The phrase "It's Britney, bitch" became an insta-punch line for all of America.
Article continues below advertisement
But Sunday's not-exactly-a-performance was only the icing on the cake for a year that has seen the platinum-selling singer have a baby, divorce her husband, shave her head, enter rehab facilities all across the western hemisphere and... yeah, let's not forget about the panties (though she certainly did!)
Alas, the pop princess can take comfort in the knowledge she's hardly alone on the list of celebrities who've lost their way. Her faltering forefathers (and mothers) have blazed a trail of disgrace that not even her sins on the Sin City stage could top. And — Brit should take this as a positive —some of their careers have lived to tell the tale. (Of course... some haven't.)
To watch the complete slideshow, click .
#14: Robert Downey Jr.: Oscar-nominee turned two-time prison detainee ()
#13: Courtney Love: Remember Celebrity Skin? She probably doesn't either ()
#12: Winona Ryder: The five-finger discount almost deep-sixes her career ()
#11: Michael Richards: Kramer's probably not going to get invited to any NAACP dinners anytime soon ()
#10: Martin Lawrence: You so crazy! No... seriously. ()
Article continues below advertisement
#9: Charlie Sheen: Who knew that a history of drugs and hookers got you a Golden Globe? ()
#8: Hugh Grant: Four Weddings and a charge of indecent conduct with a prostitute. Charming. ()
#7: Mel Gibson: Mad Max, beyond Drunker Dome ()
#6: Amy Winehouse: The incredible shrinking British singer ()
#5: Elvis Presley: The original celebrity trainwreck... complete with sequined jumpsuit ()
#4: Anne Heche: She speaks with aliens and sleeps with Men in Trees... but she's not a Scientologist ()
#3: Whitney Houston: If she's every woman... rehab clinics are going to make a mint! ()
#2: Britney Spears: The only person alive who could make K-Fed look like a good parent ()
#1: Michael Jackson: Did you hear the one about the guy who dangled his baby out over the ledge? ()
By: OKmagazine.com staff