PHOTOS
20 Fast Facts About Drake's Baby Mama Sophie Brussaux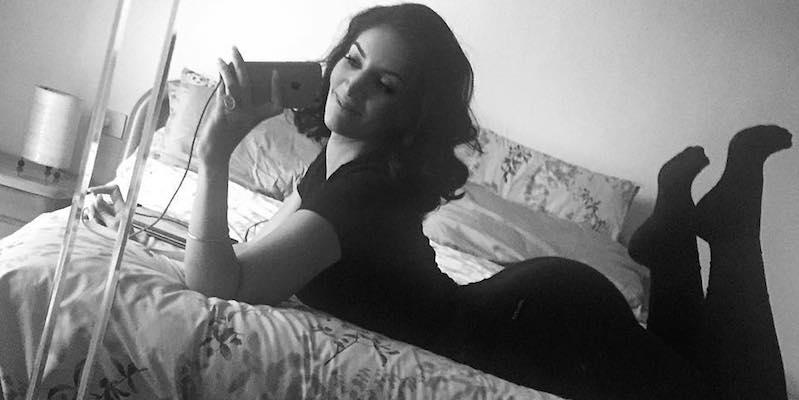 Article continues below advertisement
She's French!
Sophie was born August 1st, 1990 in Bordeaux, France making her a fiery Leo and French citizen.
Article continues below advertisement
Drake Allegedly Wanted Her To Have An Abortion
When she was three months pregnant, Sophie claimed to have text messages between her and Drake. The texts were shared on multiple outlets and purported to say the following:
Drake: I want you to have an abortion.
Brussaux: I can't kill my baby simply to indulge you sorry.
Drake: Indulge me? F*** you.
Brussaux: What?
Drake: You do know what you're doing you think you're going to get money.
In the end it was Sophie's decision, and she did what she believed was right.
It Took Just Once… Or Twice
Sophie was first photographed with Drake in January, 2017 eating lunch. Exactly nine months later she gave birth to Adonis. Drake rapped in one of his songs that he had only met Sophie twice before she got pregnant.
Article continues below advertisement
Drake Has Met His Son Only Once
Sophie uploaded, then deleted, a photo of her and Adonis in front of a private jet on Christmas Eve on their way to visit Drake. He confirmed in his album Scorpion that it was the only time he had met his son.
She's More Cultured Than Most Celeb Baby Mamas
Sophie has lived in the U.S., Europe, and the Middle East. She's experienced multiple cultures and has used this as inspiration for her art.
Article continues below advertisement
Rap Money
Sources confirmed that Drake has been financially supporting Sophie since shortly before she gave birth. One source revealed he wanted them to be able to "live comfortably."
She Told You So!
It wasn't until Push T's song dropped that everyone knew what was up. But Sophie tried telling the world in May, 2017 that she was three and a half months pregnant with Drake's baby. A major news source first announced that she had a lawyer and was prepared to go to court to prove that he was the father.
Article continues below advertisement
She Is A Former Porn Star
Sophie was a former porn star in France and called herself Rosee Divine. Once her past was revealed everyone went crazy and searched for her videos.
From One Art Form To Another
After Sophie left the adult film industry she started selling her art work. She is a painter and sculptor, and her work has been exhibited in London, Milan, and NYC. She is undeniably talented and uses bright colors to create surrealist art. She seems to be inspired by powerful women in history and pop culture. You can see more of Sophie's art and read more about her philosophy on her website: http://artsophieb.com/
Article continues below advertisement
She Loves To Paint Celebrities
Sophie uses her talent for painting to create beautiful portraits of A-list celebs. She has painted stars from Angelina Jolie and Leonardo DiCaprio to Michelle Obama and Beyonce.
Drake's Son Is A French Citizen
Sophie may have gotten pregnant in the states, but she gave birth to Adonis in France making Drake's baby a French citizen.
Article continues below advertisement
She Lives In New York
Sophie and Adonis are both French Citizens, but the duo moved to New York and are loving life on the East Coast.
Sophie Said Drake Is A Deadbeat Dad
On November 28, 2017, Sophie woke up at 7:06AM pissed off. Just a month after giving birth, Sophie vented on Twitter and called out Drake by name. She tweeted, "F**k Drake, Deadbeat ass dad." The tweet was deleted. But the screenshot lives on forever.
Article continues below advertisement
Sophie Enjoys Her Privacy
When the world was going crazy about Drake's secret love child, Sophie didn't run to the press or try and grow her own fame. She stayed quiet, disabled comments, and even put her profile on private. It's difficult to find information about Sophie's family and life pre-Drake.
She Is Educated
Sophie graduated with degrees in International Affairs and Wealth Management.
Article continues below advertisement
Her Body Is Crazy!
Sophie said she missed her 24-inch waist on Instagram which is #snatched! Her curves are an IG models dream.
She Loves To Spin
Sophie used to spin daily and even went on a 62-mile bike ride in Bordeaux.
Article continues below advertisement
She Loves Science Fiction, Space, And Technology
Sophie's art includes images of AI, spiritual enlightenment, Sci-fi, and dystopian futures. She describes herself on her website as "very concerned with bio-ethics, spiritual enlightenment, universal higher knowledge as conglomerate, AI takeover, and life in space." On her website she even posed the question, "what will we do with our recent technological and medicinal discoveries : alter human DNA, merge with machines and create 'Post Humans'? Or take the Transhumanism path."
There Are Rumors She Was With A$AP Rocky Before Drake
Rumors started swirling around Twitter that A$AP Rocky was the person who leaked the information to Pusha T because he dated Sophie first. Although A$AP never denied being involved with Sophie, he did respond to the reports and tweeted, "Get off my d**k. Keep my name out dat gossip s**t." And also, "Who's providing tips? Quidditch a** n***as, ridin Harry Potter stick 2 find da snitch."
Article continues below advertisement
… And Iman Shumpert
Once Pusha T released his diss track the internet was going crazy to find out more information about who she dated before. The internet linked her to Teyano Taylor's husband, Iman Shumpert. Shumpert was forced to respond when people were accusing him of cheating on Teyana and wrote "Dont believe this trash," on his Instagram story. "All of me and her interactions were prior to me knowing my wife...let alone actually getting the chance at dating my wife. But now yall are just trying to make something happen...you guys are reaching because there's nothing to talk about. Get a life."
Her Favorite Candy Is Watermelon Sour Patch Kids
Sophie has expressed her deep love for Sour Patch Kids Watermelon on Instagram multiple times. When she was pregnant with Adonis she said the two things she missed were her 24-inch waist and the sour candy.