PHOTOS
Shocking Scandals, Outlandish Stunts! 5 Times Logan & Jake Paul Were The Worst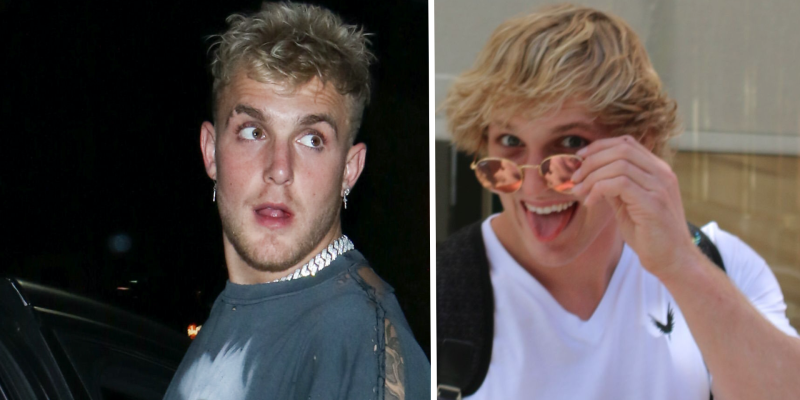 Here we go again...
Brothers Logan and Jake Paul continue to shock the public with their outlandish remarks and actions.
While the siblings are known for "going full send" and pulling off ridiculous stunts via YouTube, followers and celebrities alike are ready to *fully* knock them off their high horses as they continue to soak up the dim-lit spotlight. After Jake tried to stir the pot with 1D alum Zayn Malik earlier this year, girlfriend Gigi Hadid so kindly told his "irrelevant ugly a**" to "go to bed."
Article continues below advertisement
In a Daily Beast article published on November 25, Jake called COVID-19 a hoax... but that's not the only recent scandal he's been involved in.
Scroll through to see 5 times the Paul brothers stunned the Internet with their absurdity.
COVID Is A… Hoax?!
Jake declared COVID-19 to be a hoax in an interview with The Daily Beast, which was published on Wednesday, November 25. He also noted masks are not effective in combating the spread of the novel virus that has killed over one million people worldwide. While trying to show remorse — by stating "it sucks" for the people who died — Jake explained, "nobody wants them to die, but it is the process of life. And sh*t happens, so… I don't know."
Logan even captioned one of his Instagram posts earlier this year, "f**k the corona virus."
Article continues below advertisement
Party Time, All The Time
Not only does Jake think the deadly virus is fake, the 23-year-old seemingly doesn't care about spreading it. While the world continues to quarantine due to the ongoing pandemic, Jake threw a massive party at his Calabasas, Calif., mansion in August with hundreds of maskless guests. The party took place amid a surge in cases in California.
Article continues below advertisement
Guns, Riots and Raids... Oh My!
Following Jake's wildly unsafe party, his home was raided by the FBI in August in connection to a "riot" at Scottsdale Fashion Square in Arizona on May 30. The FBI found numerous firearms within the residence. Jake faced a ton of backlash for his possible involvement with the looting amid the height of the BLM movement.
Jake was even filmed alongside individuals who appeared to take a liquor bottle from a restaurant and hand it to the YouTuber. Jake was initially charged with two misdemeanors: criminal trespassing and unlawful assembly.
Despite the possible criminal charges, the star seemed more concerned with his image. He took to YouTube to share his side of the situation in a since-deleted post. "There are rumors about it having to do with so many other things that have nothing to do with me or my character and the s**t that people are making up is absolutely absurd," Jake explained.
He added, "When I become aware of someone around me who is doing malicious things, they are immediately cut out of my life. I don't put up with bulls**t, I don't surround myself with bad people, and if someone does something bad, they will be removed from my life."
Article continues below advertisement
Gay, Not Okay?
Older brother Logan has had his fair share of scandals, too. In 2019, Logan opened up about his views on the LGBTQ+ community on the "Impaulsive" podcast. "What is it, male-only March? We're gonna attempt to go gay for just one month," he said. He received widespread criticism for implying that being gay is a choice. The LGBTQ+ organization GLAAD responded to the media personality's statement on Twitter, writing, "That's not how it works, Logan Paul."
Article continues below advertisement
Deadly Decisions
In what could be the most outlandish stunt of all, Logan made headlines in 2018 for filming the body of a suicide victim and giggling in the Japanese "Suicide" forest. The 25-year-old was slammed by celebrities and fans who felt he was not only using the experience as click bait, but joking about it as well. The video, titled "We found a dead body," showed the victim dangling from a tree.