PHOTOS
Amy Schumer Posts Sweet Message For Husband Chris Fischer On Their Anniversary Amid IVF Journey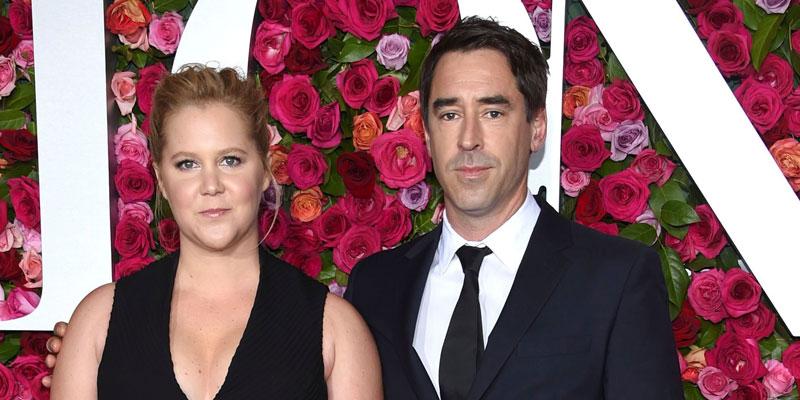 Amy Schumer posted a sweet Instagram message to husband Chris Fischer in honor of their anniversary on Thursday, February 13. She expressed how "glad" she was that they got married, and revealed that he's been a very supportive spouse as she's struggled with their son Gene getting sick for the first time.
Article continues below advertisement
"It's my anniversary to marrying this guy. I'm really glad we got married. Our baby was sick and got his first fever this week and I cried hard and Chris was solid as a rock. Anyone else cry the first time their baby got sick?" Amy captioned a photo of Chris sleeping.
Amy publicly gushed about Chris — who was diagnosed with autism spectrum disorder — on her Netflix comedy special Growing. "I knew from the beginning that my husband's brain was a little different than mine. I really want to get this right, because I love him very much. All of the characteristics that make it clear that he's on the spectrum are all of the reasons I fell madly in love with him. He says whatever is on his mind. He keeps it so real. He doesn't care about social norms or what you expect him to say," she told the audience.
Article continues below advertisement
Amy and Chris tied the knot in February 2018 and welcomed son Gene in May 2019. Amy recently divulged that she was going through the IVF process in the hopes of giving her little boy a sibling. "I'm a week into IVF and feeling really run down and emotional. If anyone went through it and if you have any advice or wouldn't mind sharing your experience with me please do. My number is in my bio. We are freezing my eggs and figuring out what to do to give Gene a sibling," she wrote on Instagram on January 9.
Article continues below advertisement
"I was throwing up through the first hour of my C-section. It's supposed to take about an hour and a half — mine took over three hours because of my endometriosis, and that was really scary. It was kind of brutal … But Chris was so great. We just stared in each other's eyes and he just held me there. Then they let me hold Gene for a good amount of time. I got to see him and hold him," she recalled.
Not much seems to get under Chris' skin, evidenced by the fact Amy's ex Kyle Dunnigan currently lives with them. Amy and Kyle briefly dated when they worked on Comedy Central's Inside Amy Schumer together and have remained close friends since their split. Kyle revealed on The Howard Stern Show in January 2020 that he and Chris are now pals. "We bro out. We play chess and all the food is really good … and free," Kylie said while discussing their unusual living arrangement.
Article continues below advertisement
What do you think of Amy's sweet message to Chris for their anniversary? Sound off in the comments below!