PHOTOS
Through The Years — Check Out Gwen Stefani & Blake Shelton's Cutest Snaps Of All Time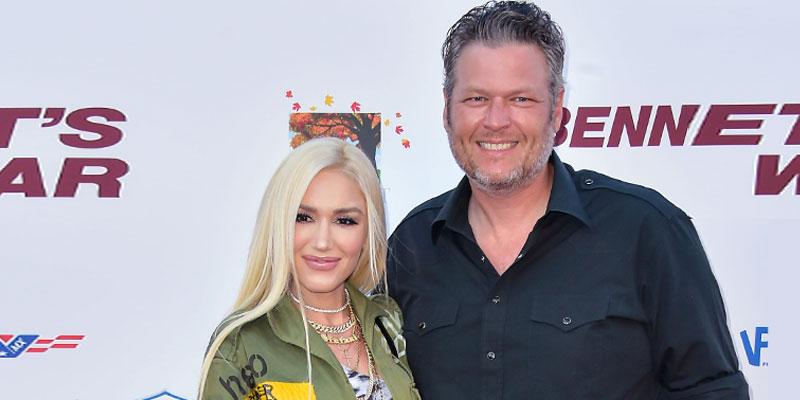 Who doesn't adore a love story with a happy ending? When newly engaged couple Blake Shelton and Gwen Stefani first met in 2014 on the set of The Voice, the pair seemed an unlikely match: Not only was he a full-on country boy from Oklahoma and she a rocksteady-loving pop star from Southern California...both of them were going through very public, painful divorces at the time, as well as juggling crazy busy music careers.
Article continues below advertisement
Against all odds, the two found love in a classic way, becoming good friends first — then discovering their differences didn't seem to matter much at all in terms of falling head-over-heels for each other.
Over their almost five years of dating, Shelton and Stefani have delighted fans with adorable social media photos documenting their relationship journey, from their first days together on the hit reality series all the way to dueting at awards shows and hosting extended family at each other's homes.
Scroll through our gallery for a few of our favorites!
THEIR FIRST SELFIE!
The year 2014 may seem to be ages ago, but that's when Stefani first joined Shelton, Adam Levine and Pharrell Williams as a coach on 'The Voice.' She quickly found herself charmed by Shelton's humor (and likely his good looks!), posting their very first selfie together with a heart emoji for good measure.
Article continues below advertisement
THE RED CARPET DEBUT!
After a whole lot of speculation and plenty of spotting them out and about together, the couple "officially" went on record as dating in fall of 2015, explaining that they bonded over supporting each other through their respective divorces (Shelton from fellow country superstar Miranda Lambert; Stefani from Bush rocker Gavin Rossdale). However, for the "pictures or it didn't happen" crew, the pair didn't appear on a red carpet together until early 2016, when they showed up at the Vanity Fair Oscars afterparty.
Article continues below advertisement
INTRODUCING THE FAMILY!
With their relationship clearly off and running, 2017 was a solid year for the couple…and even saw Gwen bringing out her parents, siblings and kids to spend a magical Thanksgiving holiday at Shelton's rural Oklahoma ranch. She shared numerous photos from the vacation, including this one with her brother and sister-in-law. Her California family may have been more used to a warmer climate in November, but they sure looked like they were having fun!
Article continues below advertisement
GWEN GOES COWGIRL FOR BLAKE!
She may have added country hit to her resume now, in the form of the Shelton duet "Nobody But You," but Stefani tried prancing around in cowboy boots some time before that. Presumably as a nod to her love, she added a cowgirl outfit to the wardrobe rotation on her Just a Girl residency in Las Vegas. Yee-haw!
Article continues below advertisement
OKLAHOMA RELAXIN'!
Shelton's native Oklahoma continued to be an escape for the couple away from their hectic professional lives. Stefani shared a rare makeup-free selfie while boating with Shelton on Lake Texoma during an equally rare break from their schedules.
Article continues below advertisement
GETTING A LITTLE CRAZY WITH THE PHOTOSHOP!
In early 2019, Stefani got creative and photoshopped vintage images of herself and Shelton together – him with his infamous mullet hairstyle, her with a ska-princess "Just a Girl" look. Shelton loved this so much that he used it for a profile picture on social media for quite some time. (Stefani repeated her photoshop trick in 2020, this time apparently replacing her ex Rossdale with a '90s -equivalent Shelton).
Article continues below advertisement
HAPPY BIRTHDAY, BABY!
Just months ahead of their engagement, Stefani wished her quarantine buddy Shelton a very happy 44th birthday. Cheers to many more, as they continue their sweet journey to the altar – and beyond!