PHOTOS
Brandi Glanville Says She'll Take A Lie Detector Test After Denise Richards Denies Affair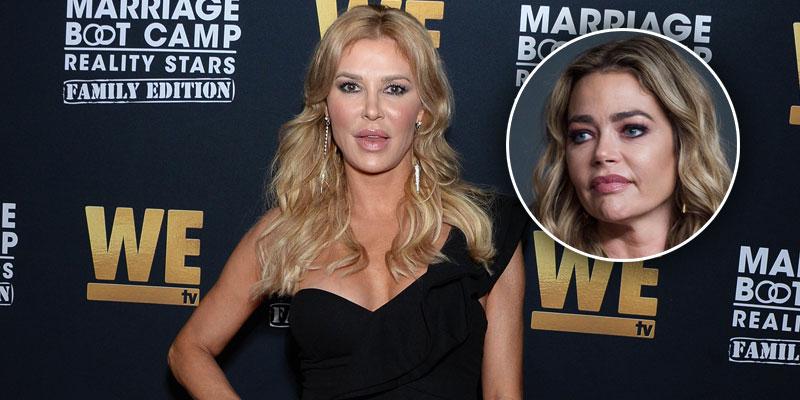 Article continues below advertisement
On January 16, Brandi, 47, tweeted, "I am not lying about ANYTHING that I said on housewives and I'm willing to take a lie detector test and let's be clear I was not EVEN the aggressor!!!!"
In another tweet she wrote, "Their is a huge difference between hooking up with someone a couple of times and having a romantic relationship with someone."
Article continues below advertisement
Denise, 48, and the Drinking and Tweeting author reportedly started feuding earlier this month. The Wild Things star allegedly left the Real Housewives of Beverly Hills filming after news of her supposed affair with Brandi was discovered by costar Lisa Rinna during a cast trip to Rome in November 2019.
Denise and Brandi reportedly started their affair in early 2019. An Instagram account, titled, BestofBravo posted about the alleged affair. "RHOBH: Denise Richards and Brandi Glanville allegedly slept together months ago," the post from earlier this month said. "Because Denise and Aaron supposedly have an open marriage, Brandi was under the impression that Aaron knew, (but apparently he didn't), so Brandi told several people. This is what allegedly started their feud. Also, Denise seems to feed the press trying to maintain control of the story."
Article continues below advertisement
The Bold and the Beautiful actress' rep denied the affair on January 8. A source revealed to People that Brandi and Denise's feud will play out on the upcoming season of RHOBH. "What really happened with Brandi and Denise will play out on the season. There is a lot of she said, she said going on. But it's going to be very dramatic," the source said.
However, one insider told Us Weekly that Denise and Brandi "hooked up one more than one occasion." The source continued, "Denise was not married to Aaron Phypers when they first hooked up. Another time Brandi was under the impression that they had some openness to Denise and Aaron's relationship and that Aaron was aware of what was going on."
Article continues below advertisement
What are your thoughts on Brandi's tweet? Sound off in the comments below!