PHOTOS
Gretchen Rossi Takes A Break From Being A Mom & Gets Drunk On Fireball During A Halloween Party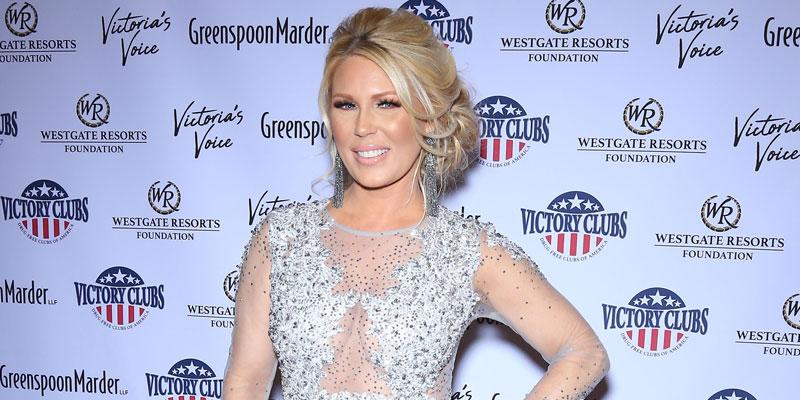 Gretchen Rossi took a night off from being a parent to her three-month-old daughter Skylar Gray and went out to a party over the weekend. The Real Housewives of Orange County alum jetted off to Las Vegas for a Halloween bash and she shared video of herself getting a little too tipsy on Fireball!
Article continues below advertisement
Gretchen, 40, got all glammed up for the party and styled her blonde locks into retro waves and rocked dark red lipstick. She had a skeleton drawn on her face and wore diamond earrings. She posted a photo of her look before the party and captioned it, "Last night shenanigans in Vegas! One half glam, one half day of the dead ? Thanks to my Scorpio soul sister @foreveruntamed for always killing it with my makeup! #scorpios #halloween #makeup #halloweenmakeup #October."
The mother of one also shared a clip of herself playfully getting drunk at the event on Fireball Cinnamon Whiskey. She downed a mini bottle of the alcoholic beverage as the song, "Fireball" by Pitbull played in the background. "When 'Mom' finally gets a night out on the town and re-connects with her old friend ......fireball ?. Who's been here before?" She started her caption.
Article continues below advertisement
Skylar recently helped her momma decorate their house for Halloween on October 20. The two spruced up their front porch and added a plethora of pumpkins and spooky ornaments. Gretchen took to her Instagram Stories to share snaps of her newly-decorated house and made Skylar the "creative director" of the scary set-up. "Okay, Skylar, you're in charge of creative direction. What are we thinking? What do you want?" she asked her toddler in the video
Article continues below advertisement
On October 15, Gretchen celebrated a big milestone in Skylar's life! Her daughter turned three months old and the reality star commemorated the occasion with a sweet social media tribute to her. Gretchen shared several photos of her baby girl dressed in a Halloween-themed onesie. "Our little pumpkin is three months already! Can you guys believe it? Her little personality is really coming out! She loves to laugh like her mommy and she loves it when daddy is silly! She LOVES music and she is loving getting to know her fur baby brothers more & playing with them on the floor. She is so alert, so strong...We are loving every second with her and she literally brings so much joy to our hearts every single day," the Omorfie CEO wrote.
Gretchen welcomed her first child with fiancé Slade Smiley on July 10. She gave birth via C-section and underwent several rounds of IVF before getting pregnant. She revealed last month that she struggled with postpartum depression soon after giving birth. She opened up about her issues on an episode of The Doctors. "I make a joke that I'm gonna write a book called It's All a Lie. Legitimately, I had no idea what I was in for. I just thought, 'This is gonna be great,'" Gretchen said on the show. "You see Instagram, you see social media, you see the media making it look like it's so perfect, and you just sit there and breastfeed your child and you look magically into their eyes. It was nothing like that."
Article continues below advertisement
What are your thoughts on Gretchen's gorgeous Halloween look? Sound off in the comments below!