PHOTOS
Hailey Baldwin Reveals The 'Party Trick' That Prompted Justin Bieber To Reach Out And Rekindle Their Relationship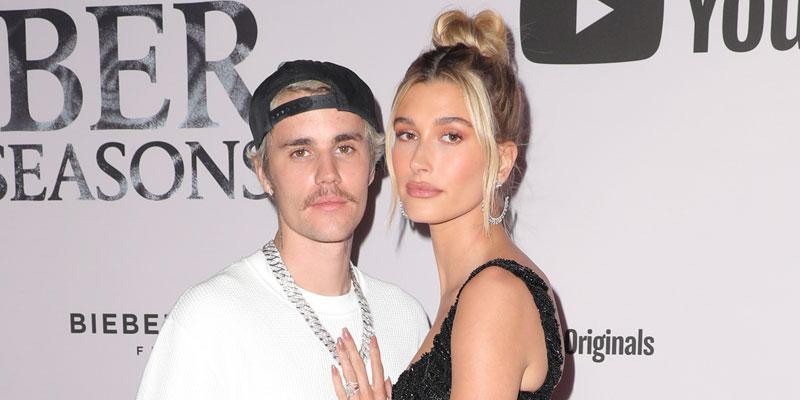 Hailey Baldwin and Justin Bieber are now happily married, and apparently their love story was all thanks to a certain trick the model pulled on live television back in the day. Hailey appeared on The Tonight Show Starring Jimmy Fallon on Friday, February 28 and explained that her prior appearance on the late night show prompted the "Sorry" singer to reach out and reignite their relationship after a period of not speaking.
Article continues below advertisement
"Did you do any party tricks? Well, I say this because the last time you were on our show, you did something that was the most amazing thing ever. Everybody was talking about it, you opened a beer bottle with your teeth," Jimmy told Hailey in a sneak peek obtained by People.
"It was really fun and there's actually another funny story behind this and that is that last time I was here, we did this little party trick where I opened a Corona bottle with my teeth," Hailey explained to the audience. "The next morning — after the interview had aired — I got a certain phone call from a certain someone and it was a little like, 'Hey, how are you? I saw you on Jimmy Fallon last night. You were looking really good. I loved that trick that you did, I had no idea that you can do that. It was so cool.' Cut to, I'm now married to that certain someone," she quipped.
Article continues below advertisement
Jimmy went on to point out that Justin and Hailey first met back in their early teens. "I know, it sounds like this weird arranged marriage situation. We met because my dad, he brought me to the Today show when Justin performed there. He was no more than 15 I think," Hailey recalled.
She continued, "To be honest, this is the truth. He was so new that I didn't really know a lot about him yet. It was really kinda before anything. I met him and his mom and my dad kind of just connected as friends and we invited them over to our house the next day. Him and his mom just came over for family dinner with me and my family and we went bowling."
Article continues below advertisement
"I was extremely nervous. I felt like in the past we had talked about me asking the question and I felt like she would say yes, so I wasn't really nervous about her saying yes. I think I was more nervous about am I going to make this commitment? Am I able to make this commitment as a man and be able to honor what I say? Because that's a serious commitment when you say you're going to love someone for better or for worse and be faithful, that's huge. Am I able to do that? I think that was really what I was battling with. And I finally was like, 'I'm going to make the decision and follow through with it, be a husband, and this is what I've always wanted. I'm going to choose this woman and just do it,'" he said.
Article continues below advertisement
What do you think of Justin reaching out after seeing Hailey on TV? Sound off in the comments below!