PHOTOS
Heather Dubrow Has Advice For Tamra Judge & Vicki Gunvalson After Their 'Real Housewives Of Orange County' Exits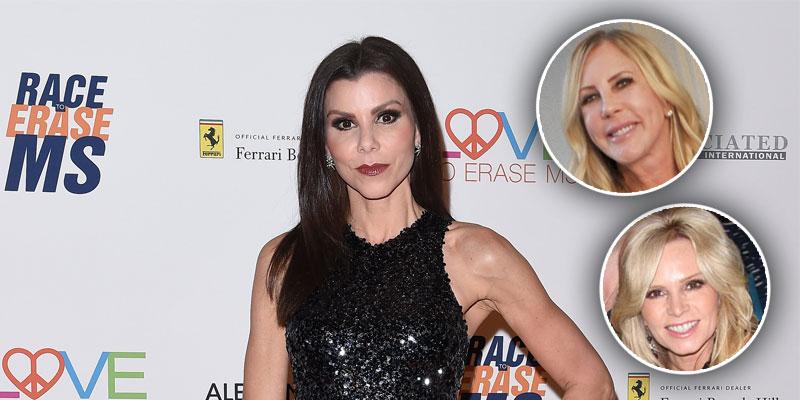 Article continues below advertisement
"You know what? When it comes to Housewives, I think that the whole is greater than the sum of its parts, and the show is going to live on a long, long time," Heather, 51, told Entertainment Tonight. Heather starred on RHOC from season seven until 11.
"Tamra and Vicki are both incredible. Tamra is a dear friend of mine, I love Vicki, and they were both amazingly influential on the show," theThat's Life star added. "But sometimes, it is time for everyone to move on, and I am really excited to see what their next chapters are going to be."
Article continues below advertisement
Tamra, 52, chose not to return to the show after learning that her ex-husband Simon Barney has throat cancer. Her current husband Eddie Judge is also suffering from heart problems.
Heather continued, "Tamra, you know, she was amazing on Housewives, but she is a very private person, and what has been going on in her family for the last several months has been, obviously, very sad and upsetting."
Article continues below advertisement
"She has kept it really close to the vest — we've been talking about it, obviously, we are close friends. I think the way she is handling it is amazing, and I think that, what the only positive thing I can say about all of it is how their family has all come back together," the mother of four noted.
She said, "But I think the lesson to take away is, we should not have to wait for something tragic or sad or upsetting to happen to pull us all back together."
Article continues below advertisement
Heather also admitted that her RHOC journey was a "great experience" and the show opened many doors for her. She recalled, "For me, I was just so grateful to have a five-year run, I had a great experience. It offered me a beautiful platform to do everything I am doing now, from my YouTube channel to Heather Dubrow's World podcast, to my new clothing line coming out, my husband Terry and I have a new book coming out next month, so many things."
What are your thoughts on what Heather had to say? Sound off in the comments below!