PHOTOS
Khloe Kardashian Wants To 'Integrate' Ex Tristan Thompson More Into Her Life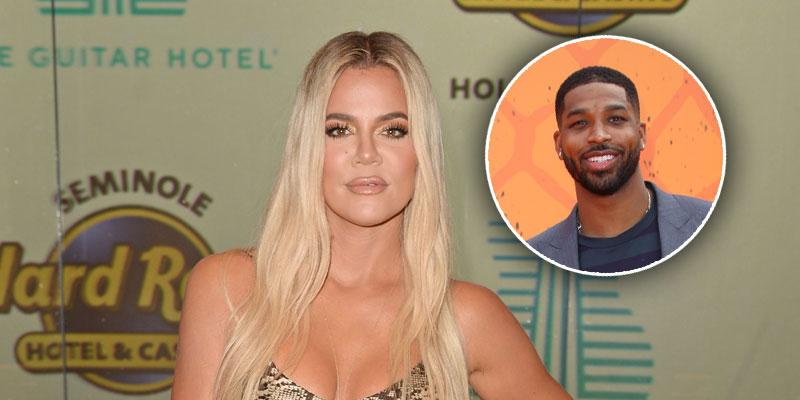 All Khloe Kardashian wants to do is try to coparent peacefully with ex-boyfriend and baby daddy Tristan Thompson. The former couple share 20-month-old daughter True and they're doing the best they can to keep it civil.
Article continues below advertisement
"She's trying to practice self-care and self-love, and integrate Tristan into her life more and more," a source recently told Us Weekly about the 35-year-old's relationship.
Tristan, 28, made headlines in February 2019 after a cheating scandal with Khloe's sister Kylie Jenner's now ex-best friend Jordyn Woods. The insider added that Khloe "still feels burned" by the NBA star's infidelity. Tristan and Khloe parted ways for good that same month.
Article continues below advertisement
"She's focused on being a great mom to True," the source said. The Cleveland Cavaliers player recently attended the Kardashian-Jenners' annual Christmas bash. A source told  E! News that the duo reunited at the party and were cordial towards each other. "There was no tension or drama, just a lot of love and family time. Khloe and Tristan were great," the source said. "They hung out together with True and were chatting a lot."
On December 5, the Keeping Up With The Kardashians star said she's moving on from the cheating scandal and chose to forgive Tristan and Jordyn, 22. "I don't hold any negative or hateful feelings towards ANYONE! I mean that. Life is short! We are all humans trying to figure out this thing called life. Who am I to condemn anyone else? Yes, I'm allowed to feel hurt and pain. It would be unnatural for me to pretend as if I don't. Personally, I don't want to be carrying around a hateful heart," Khloe wrote on social media.
Article continues below advertisement
She continued, "I crave peace in my life. Me holding onto hate is only going to hurt me in the end. I have chosen to NOT pollute my heart and my energy by holding onto anything negative.
"I am allowed to forgive but still not accept their behaviors … I was nothing but beautiful blessings for EVERYBODY that has ever been in my life," Khloe added.
Article continues below advertisement
What are your thoughts on Khloe and Tristan's relationship? Sound off in the comments below!