PHOTOS
Kobe Bryant & Daughter Gianna Bryant Laid To Rest In Private Funeral Ahead Of Public Memorial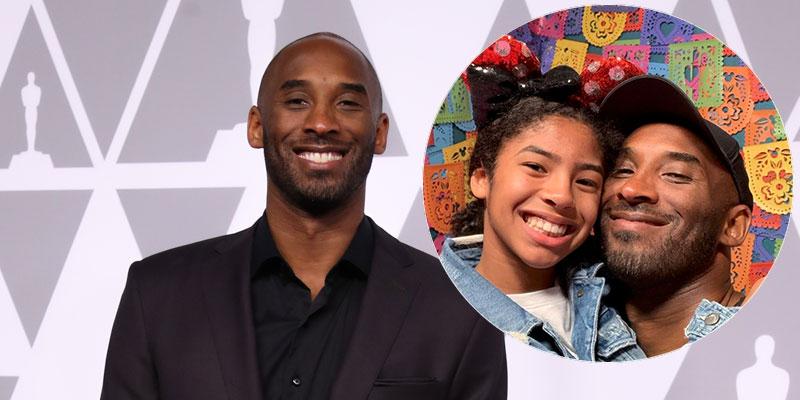 Kobe Bryant and daughter Gianna Bryant have reportedly been laid to rest in a private Los Angeles funeral. Fans will be able to pay their respects at the public memorial set to take place at Staples Center on February 24.
Article continues below advertisement
Funeral details were not released, but E! News confirmed that the ceremony was held privately. Kobe, Gianna and seven others lost their lives in a helicopter crash in Calabasas, California on Sunday, January 26. Fellow victims John, Keri, and Alyssa Altobelli were honored with a memorial service held at Angel Stadium on Monday, February 10.
Kobe and Gianna's public memorial at Staples Center is expected to draw a huge crowd of mourners. The city of Los Angeles is organizing a separate memorial in the late Lakers legend's honor, OKMagazine.com learned on February 6.
Article continues below advertisement
A school memorial was held in Gianna's honor on Wednesday, February 5. Gianna's basketball jersey was retired, and students, teachers, and friends remembered her with touching speeches. Kobe's widow Vanessa Bryant shared photos and videos from the event on Instagram and expressed her grief over her daughter's passing. "My Gianna. God I miss you. I've been so lucky to have woken up to see your gorgeous face and amazing smile for 13 years. Wish it would've been until my last breath. Mommy loves you to the moon and back. Infinity plus 1. #2 #Mambacita #GigiBryant," Vanessa wrote.
Vanessa has been doing her best to be strong in the wake of the tragedy for daughters Natalia, Bianka, and Capri. She admitted she was suffering from survivor's guilt in a heartbreaking Instagram post on Monday, February 10.
Article continues below advertisement
"I've been reluctant to put my feelings into words. My brain refuses to accept that both Kobe and Gigi are gone. I can't process both at the same time. It's like I'm trying to process Kobe being gone but my body refuses to accept my Gigi will never come back to me. It feels wrong. Why should I be able to wake up another day when my baby girl isn't being able to have that opportunity?! I'm so mad. She had so much life to live," Vanessa explained.
She continued, "Then I realize I need to be strong and be here for my 3 daughters. Mad I'm not with Kobe and Gigi but thankful I'm here with Natalia, Bianka and Capri. I know what I'm feeling is normal. It's part of the grieving process. I just wanted to share in case there's anyone out there that's experienced a loss like this. God I wish they were here and this nightmare would be over. Praying for all of the victims of this horrible tragedy. Please continue to pray for all."
Article continues below advertisement
Vanessa and her daughters have not been seen in public since the fatal accident. They are expected at the Staples Center public memorial but their attendance has not been confirmed.