PHOTOS
Vanessa Bryant Suffering Survivor's Guilt After Kobe Bryant & Gianna Bryant's Deaths — 'Why Should I Be Able To Wake Up Another Day'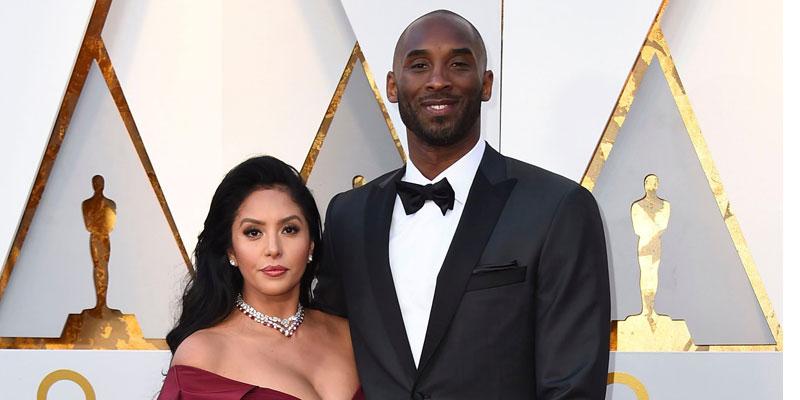 Vanessa Bryant admitted she's struggling to come to terms with husband Kobe Bryant and daughter Gianna Bryant's deaths in a heartbreaking message on Instagram on Monday, February 10. Vanessa revealed that her "brain refuses to accept" that they're gone, but she's trying to "be strong" for daughters Natalia, Bianka, and Capri.
Article continues below advertisement
"I've been reluctant to put my feelings into words. My brain refuses to accept that both Kobe and Gigi are gone. I can't process both at the same time. It's like I'm trying to process Kobe being gone but my body refuses to accept my Gigi will never come back to me. It feels wrong. Why should I be able to wake up another day when my baby girl isn't being able to have that opportunity?! I'm so mad. She had so much life to live," Vanessa captioned a clip of Gianna playing basketball.
She continued, "Then I realize I need to be strong and be here for my 3 daughters. Mad I'm not with Kobe and Gigi but thankful I'm here with Natalia, Bianka and Capri. I know what I'm feeling is normal. It's part of the grieving process. I just wanted to share in case there's anyone out there that's experienced a loss like this. God I wish they were here and this nightmare would be over. Praying for all of the victims of this horrible tragedy. Please continue to pray for all."
Article continues below advertisement
Vanessa's followers were quick to offer her support in the comments section of her post. "This is such a horrendous loss and my heart was with you when it happened — imagining not only grieving your husband but also your daughter. How difficult it must be to divide that grief. Each person meant something different to you. Each one you loved in a different way. And to grieve both simultaneously (or just one) is a nightmare. I'm so sorry you're going through this. Sending you my thoughts & prayers," one person wrote. "Ohhhhhhhh this made me cry!!!!! I'm so sorry u are experiencing something so beyond painful I just can't imagine. U are in my prayers along w the girls and sending so much love and hugs, u have been SO STRONG!!! It's incredible!!!" another fan added.
Article continues below advertisement
She explained the significance of the date for the event on Instagram, noting that it was comprised of Gianna and Kobe's jersey numbers along with the amount of time she and the late Lakers legend had been together. "#2, #24, #20 years as a Laker and the amount of years Kob and I were together," she wrote.
There was a school memorial held in Gianna's honor on Wednesday, February 5. Gianna's basketball jersey was retired, and students, teachers, and friends remembered her with touching speeches. They also performed a rendition of Maroon 5's "Memories."
Article continues below advertisement
The official cause of the crash has yet to be determined, but it is believed that the heavy fog the morning of the accident was a contributing factor. The Los Angeles Fire Department released the 911 calls placed immediately after the crash on February 3, and several callers noted the poor visibility in the area. "I'm walking on the trail. I could hear the plane, I think it was, in the clouds. We couldn't see it. And then we just heard a 'boom' and a dead sound, and then I could see the flames," one caller told dispatchers.