PHOTOS
Maci Bookout Accused Of Lying About Keeping Son Bentley From Baby Daddy Ryan Edwards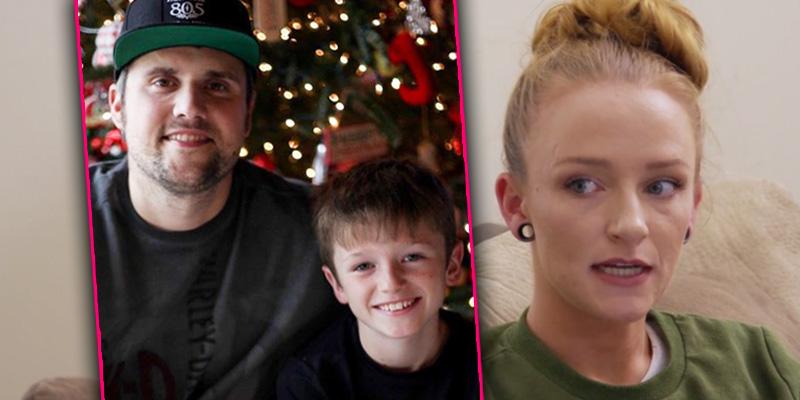 Teen Mom fakery exposed? As seen on the MTV reality show, Maci Bookout banned her ex, Ryan Edwards, from seeing their son, Bentley, until he passes a drug test after his rehab stint for heroin abuse. The mother-of-three claims to have stood by her decision, buts fans noticed that the 9-year-old did spend time with his dad and his family in between June and his birthday in October.
Article continues below advertisement
"Very inconsistently and irregularly, but yes they have seen Bentley in that time period," a source close to Ryan and his wife Mackenzie told the RadarOnline.com.
"It's gotten a little better" the insider added but Ryan's parents Jen and Larry must be present during the visits.
Article continues below advertisement
Reddit users noticed that the family has posted photos with Bentley between June and October.
"State Champs. Great job Bentley, we love you," Mackenzie posted on July 11th.
Article continues below advertisement
On July 15th, 2017, Mackenzie posted a photo of Ryan, Bentley, and her son from a previous marriage, Hudson.
On August 26th, Jen posted a photo of Bentley with her husband Larry at a football game.
Article continues below advertisement
Jen also posted a photo of Bentley with Ryan, Mackenzie and Hudson on September 16th.
On a recent episode of the hit MTV reality series, Maci opened up about letting Bentley go over to their home and see his father. "Jen did reach out to me about his birthday," she told a friend. "She asked me if Bentley can come over. I know Bentley has wanted to see her so I just told her that I've been trying to work with Ryan, but I haven't gotten a response for him. Unless Ryan decides he's ready to take and pass a drug test, Bentley is not to leave with anybody but Jen and Larry. I'm excited for Bentley to go over there and see him."
Article continues below advertisement
She said in another recent episode, "I'm still not letting Bentley go over there. Bentley hasn't said anything about Ryan, but I know he's wondering when he'll be able to see Mimi and Papa. I know it's hurting him and them."
What do you think of Maci's storyline? Let us know your thoughts!