PHOTOS
Madonna To Get Mercy After All?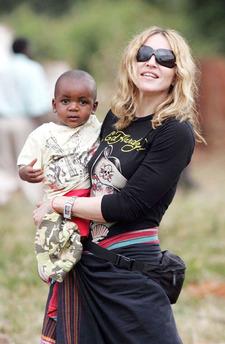 So it looks like Madonna will get her way after all...? (ed. note We're leaving a big question mark on that one as we stay tuned)
A Malawian court is preparing to overturn the decision not to allow the superstar to adopt orphan Mercy James from the country, according to reports in the UK.
Back in March a court said that she would not be allowed to take the four-year-old back to America with her because there is a rule that prevents people who have not been living in Malawi for less than 18 month from adopting there – a rule that was not enforced when she adopted her youngest son, David Banda, from the same orphanage in 2006.
Article continues below advertisement
But her lawyers appealed the decision to keep Mercy in Malawi, and now several British newspapers claim that the three judges hearing their case will overrule the earlier decision.
The reports claim that she now has the backing of two of the judges, with a third close to giving her support as well, so it is said that the official ruling will be made next Sunday.
Did anybody really doubt that the Material Girl would get what she wanted one way or another?