PHOTOS
It's On! The Funniest Reactions And Responses In The Taylor Swift Nicki Minaj Feud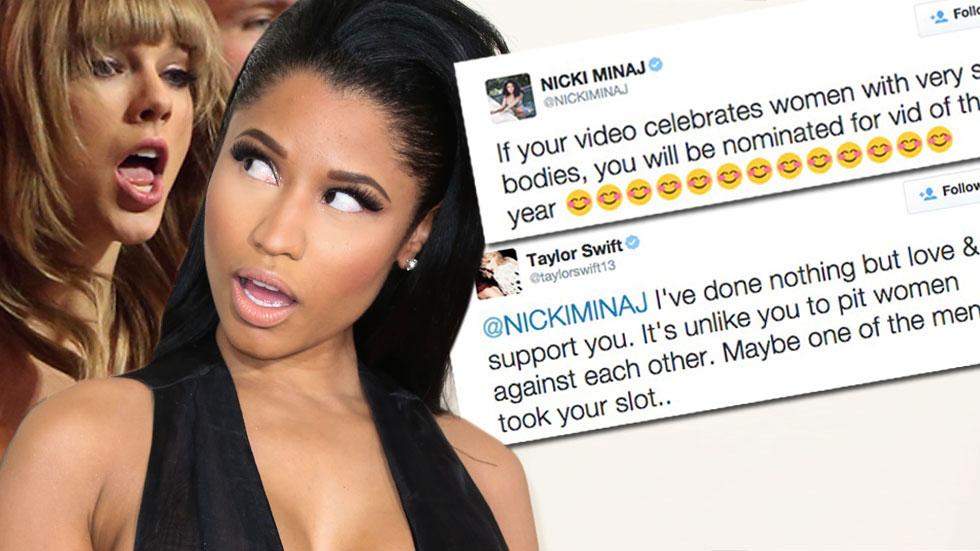 nicki-minah-taylor-swift-feud-mtv-vmas copy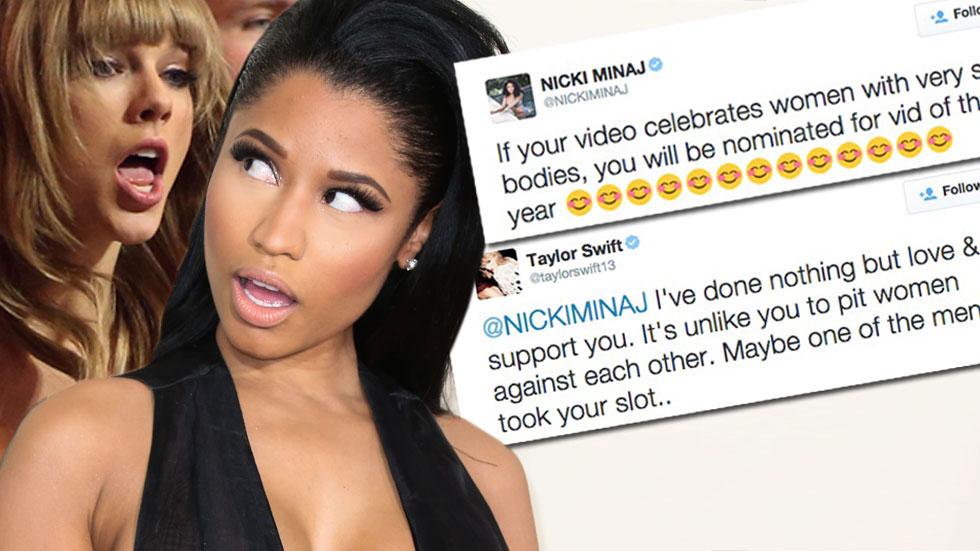 There hasn't been such a big fight over the MTV VMAs since, well Taylor Swift and Kanye West! The "Bad Blood" singer is in yet another feud this time with rapper Nicki Minaj. But before the most hilarious reactions and responses, here's what happened!
Article continues below advertisement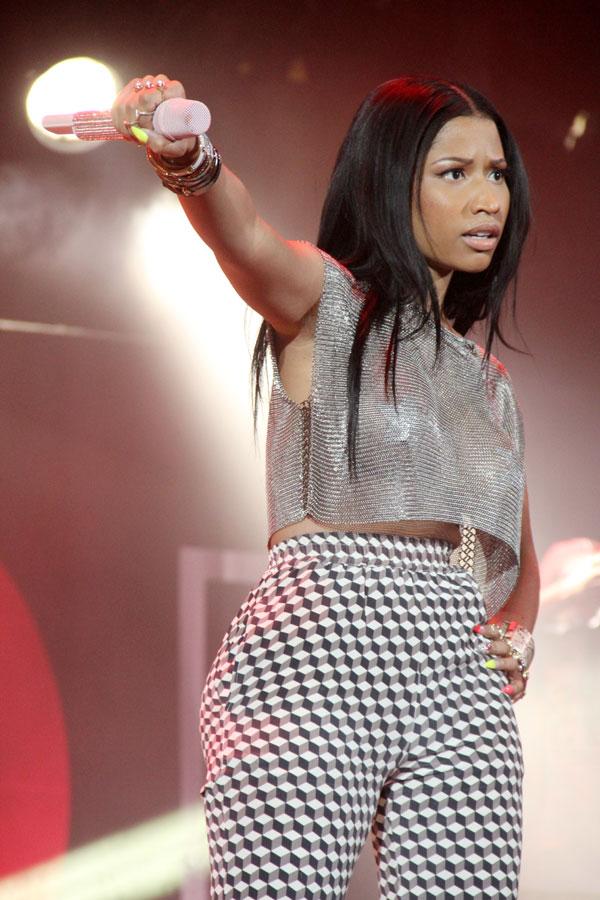 Minaj pointed out that her video for "Anaconda" was not nominated for the video of the year and indirectly threw shade at Taylor Swift: "If your video celebrates women with very slim bodies, you will be nominated for vid of the year," she wrote.
03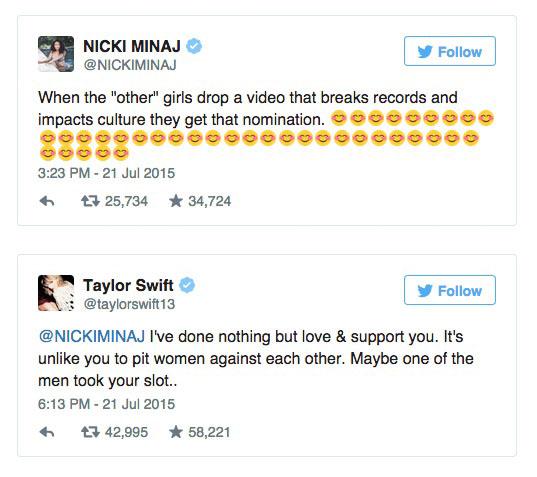 Swift, of course, said Nicki shouldn't "pit women against each other," but Nicki hit her back saying she "didn't say a word about" her, adding that "Black women influence pop culture so much but are rarely rewarded for it."
Article continues below advertisement
04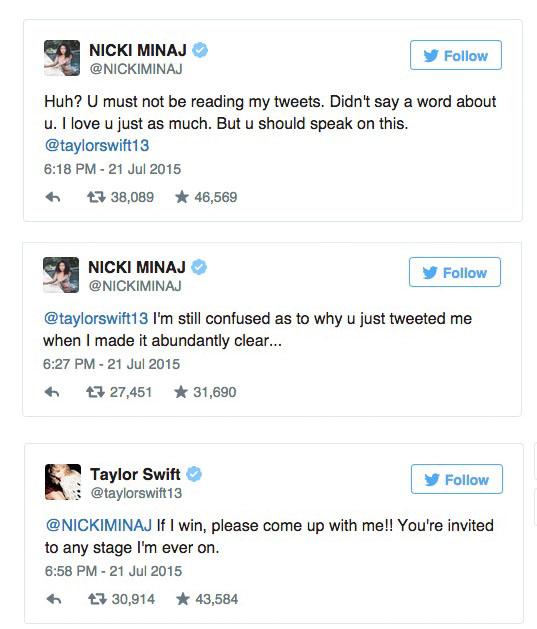 Of course, the entire exchange went viral amongst Barbz and Swifties, and well, everyone, including some celebrities who got involved in the mix.
Article continues below advertisement
Kim Kardashian got caught in the crossfire when she posed a photo: "Imma let you finish but..." Later, she defended herself and then changed the caption: "Wait wait I'm in Paris it's the middle of the night & I'm posting my Vogue Spain pics not having a clue what's going on in the music world. I'm not trying to shade anyone! That's not my style! I just thought that caption was perfect for that pic! Changing the caption now! #ironic."
PHOTOS: Nicki Minaj's Most Naked Instagram Pics
PHOTOS: Celebs Who Worked Fast Food Jobs
Article continues below advertisement
06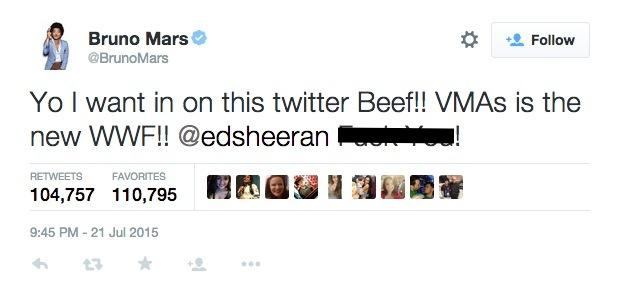 Bruno Mars and Ed Sheeran, who are both nominated in the same category, joined in the feuding and made a fake fight amongst themselves, because why not? "Yo I want in on this twitter Beef!! VMAs is the new WWF!! @edsheeran F—k You!" Mars wrote.
Article continues below advertisement
07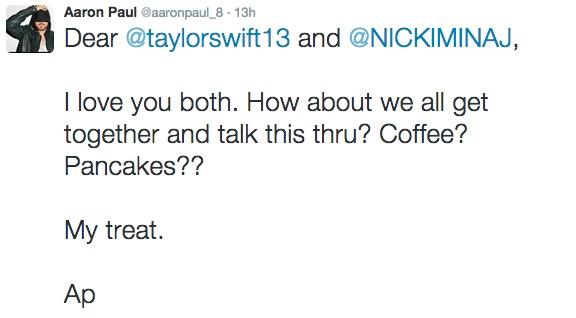 But not everyone was in all-out war mode, like Aaron Paul who tried to squash the squabble.
Article continues below advertisement
08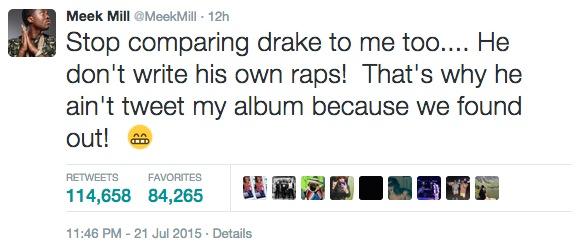 Naturally, it was also a great time for Meek Mill to call out Drake for using ghostwriters on his songs, because if your girl is beefing on Twitter, so should you, right?
Article continues below advertisement
09