PHOTOS
Poor Thing! Pregnant Teddi Mellencamp Complains About Her Swollen Feet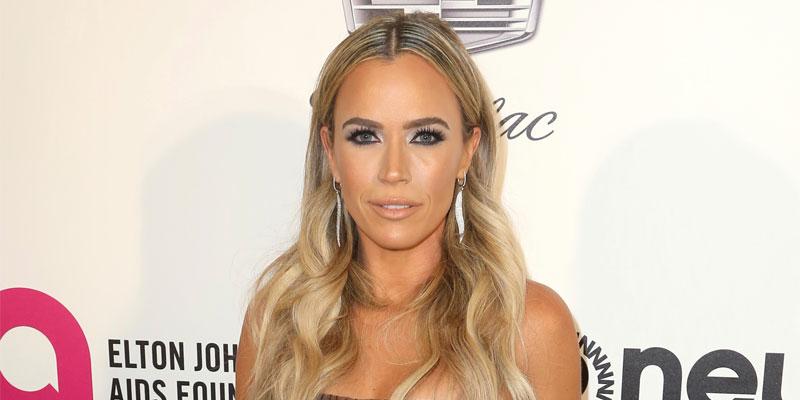 Teddi Mellencamp is just bumping along! The Real Housewives of Beverly Hills star revealed on Instagram that she is halfway through her pregnancy!
Article continues below advertisement
Teddi, 38, shared a mirror selfie where she posed sideways and flashed her growing baby bump. She sported gray leggings and a matching sports bra. The health and wellness coach shared that she hit 20 weeks on October 23 and has been unfortunately suffering from some uncomfortable pregnancy side effects.
"I am officially halfway through my pregnancy at 20 weeks," the mother of two began her caption. "My hands and feet are as swollen as sausages. And so I'm having a conundrum...I can't seem to find a fave maternity workout wear."
Article continues below advertisement
She continued to explain how she couldn't find any good workout clothes that fit just right. "They either have too much compression or are too loose and roll down the belly. I can't be the only one with this issue, right?" she wrote. The Bravo personality ended her post with the hashtags, "#halfwaythere, #20weeks, #maternity, and #workout."
She announced she was pregnant with her third child with husband Edwin Arroyave on September 11. The couple shared with Us Weekly around the time that Teddi's due date is "early March" 2020. Teddi and Edwin asked fans earlier this month for help with coming up with baby names for their little one-to-be. She shared a video on the 'gram where they asked her followers for their ideas.
Article continues below advertisement
"We are on the struggle bus. We can not come up with a baby name," she said in the clip. "We want something unique, cute that goes well with the other kids' names..." The pair share children Slate, 6, and Cruz, 5. Edwin also has a daughter named Isabella, from his previous relationship. "Maybe a Spanish name so my mom can pronounce it right," Edwin quipped. "That's up for discussion," Teddi replied.
Her third pregnancy was a surprise for her family as she went through n vitro fertilization with her first two children.
Article continues below advertisement