PHOTOS
Selfies 101! Learn How Kim Kardashian Takes The Perfect Selfie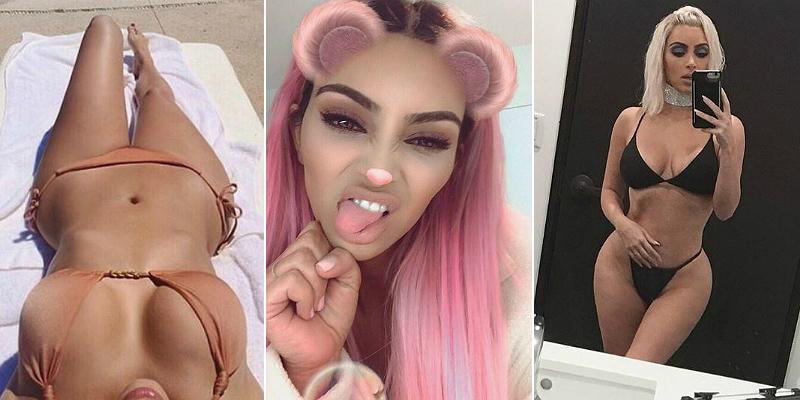 Look, Kim Kardashian is the queen of selfies. No question. She wears the crown, and while her sisters—Kendall and Kylie Jenner, Khloé and Kourtney Kardashian—all have their own style, Kim is clearly the leader. What's even better is she is more than willing to share her selfie tips.
MORE: Kanye West Copies Wife Kim Kardashian and Now Has Pink Hair!
The Keeping Up with the Kardashians star loves to post gorgeous selfies, highlighting her makeup line, her ever-changing hair color, along with sharing photos of her adorable kids—North, Saint and baby Chicago—and husband Kanye West. There's also the great throwbacks, and of course, all those sexy Insta-snaps of Kim scantily clad or just full-on naked.
Article continues below advertisement
Article continues below advertisement
1. STRIKE YOUR SIGNATURE POSE
Besides a pretty trippy mirror selfie (more on that below), this is a classic Kim K pose. She likes to show off her hour-glass figure as often as she can—and who could blame her—while crossing her ankles in front.
Best tip? The head tilt, looking down, is usually quite flattering."I like a side profile sometimes instead of a straight-on shot. I do a little head tilt to the side," Kim shared with E!
2. FIGURE OUT THE BEST ANGLE
Another great place to take a selfie is in an elevator. On her recent trip to Japan, Kim took a well-angled snap in the lift, face obscured by the camera phone but highlighting the girls, as she does. As mentioned, the shift of the body to one side is a go-to angle for the reality TV star.
Best tip? Kim suggested, "Know your own angles. Know what your best angle is and go with that."
Article continues below advertisement
3. HOLD THAT SMARTPHONE HIGH
Probably Kim's No. 1 selfie tip. Raise your camera and shoot that snap from on high. Bring a friend in it, too!
Best tip? Here is what the Kardashian beauty said about it. "Always take your selfie from above, angling down. I think there's nothing worse than when someone wants to take a selfie and they take it from the angle down below, you know, and get some double chin action." So true.
4. LIGHTING IS THE KEY
Applying some of the techniques we've already just mentioned, a glitter-painted and naked Kim found great bathroom lighting, and with the help of a filter, crafted a very artistic snap. It was a little "BTS" from a promo shoot for her KKW Beauty line.
Best tip? "You need good lighting, obviously," Kim said. As for her makeup, "I'm back into contour and think when you've done it really well it definitely helps your selfie. Once you put the light on, it just shows off your features so well." Even all glittered up!
Article continues below advertisement
5. FUN FILTERS ARE YOUR FRIEND
Awww, what an adorable way to introduce her beautiful baby girl, Chicago West, to her Instagram fans. Using the sweetest fuzzy-eared filter, complete with little pink noses, mama and baby just looked so snug together.
Best tip? Kim knows how the filters can be extremely fetching. They just make you look so good! Her favorite to use is the flowers wreath around her head.
6. WHAT'S YOUR BEST SILLY FACE?
Same pink fuzzy ears, totally different face. Guess Kim decided to get rid of the blonde for the pink, and she was telling her fans how she felt about that.
Best tip? Kim is never afraid to show off some of her sillier side, especially when she's with her kids. Or when she doesn't want pink hair anymore.
Article continues below advertisement
7. MIRROR, MIRROR
As it's been mentioned, Kim loves her a good mirror, especially when she's in her Calvin Klein skivvies.
Best tip? Bathroom mirror selfies are Kim's preference. "You want to blow out everything that you don't want to see and highlight the things you want," she once explained in a T-Mobile commercial.
8. THE PERFECT NUDE SELFIE
Good lord, there are so many naked Insta-snaps of Ms. Kim that it's really hard to pick just one (and we've already shown a few here). She'll just strip in front of a mirror, take a quick pic, and let us bask in its glory. The added flash was a nice touch with this one (besides, you know, the bejeweled bikini bottoms).
Best tip? Honestly, if you got it like Kim, flaunt it. "When I post something, whether it's a nude selfie or something, I don't post it trying to get a reaction. I post it because I like the photo," the mother of three said.
Article continues below advertisement
9. BOMB BIKINI SHOTS
Along with stripping it all off, Kim also rocks bikinis like it's nobody's business. For this snap, it was all about the crop.
Best tip? "A lot has to do with how you crop it," she once told Jimmy Kimmel on his show. "If you don't like something on your body, you just crop it."
10. JUST A HINT OF SPARKLE
After her harrowing 2016 ordeal in Paris when she was robbed at gunpoint, with the thieves taking a diamond ring she got from Kanye (a ring she showed off on her Instagram) Kim took the bling thing down a notch in social media. To this day, she still doesn't show herself wearing much of her own jewelry. Totally understandable. But a well-placed sparkly diamond choker in her underwear-clad mirror selfie does give it a little more pizzazz.
Best tip? Accessorizing is the best. Kardashian told People, "If I wear chokers and I see all my friends wearing chokers or the same ones or we'll customize them, and that's always fun to see people wear because I love chokers."
Article continues below advertisement
11. SHARE WHAT YOU LOVE
The mom of three often gives fans glimpses of her growing children, like this shot of son Saint and daughter North with the caption "Total eclipse of the heart."
Best tip? Most moms love sharing pics of their kids. If you're a parent, just capture your own perfect moment and post away.
12. THROWBACK SELFIES ARE THE BEST
Kim K also loves to show pics of herself as a kid, either with her family or just a cute shot of her at 7-years-old, wearing something fashionable and showing how she was "obsessed with bows."
Best tip? Seeing shots of your favorite celebrities as kids is just too much fun. It works the same way with your friends, so when you find an old photo of yourself as a kiddling, screengrab it!
Article continues below advertisement
13. GRAB YOUR SISTERS FOR A QUICK PIC
Honestly, this shot really captured all of the Kardashian-Jenner sisters perfect selfie faces (minus Khloeé Kardashian, who wasn't in the shot). Kendall's full puckered lips; Kourtney's wise smile; Kylie playing coy; and Kim looking glam. Snap!
Best tip? A great family Insta-pic can say it all.
14. THE DUCK-FACE TECHNIQUE
The duck-face or kissy face or whatever you want to call it (the Kardashian-Jenners have cornered the market on it, especially Kim) accentuates the face.
Best tip? "I love it because it gives you cheekbones—though it does make people mad." Maybe not mad so much as eye rolling.
15. BE YOURSELF, DON'T SWEAT IT
This is just a great moment between Kim and her sister, Kourtney. In casual sweats and with serious bitch faces because they can't find something gluten-free, this pic just said it all. LMFAO!
Best tip? Kim often receives backlash for her pics, but she really doesn't let it bother her. "I think if you do something because you genuinely like it, no matter what it is, you shouldn't look for that reaction to validate you. You can look for the reaction for fun or if you're interested, but not for validation." Sage advice, Kim.