PHOTOS
Reza Farahan Throws Shade At Former BFF Mercedes 'MJ' Javid For Ignoring His 'Very Expensive' Baby Gift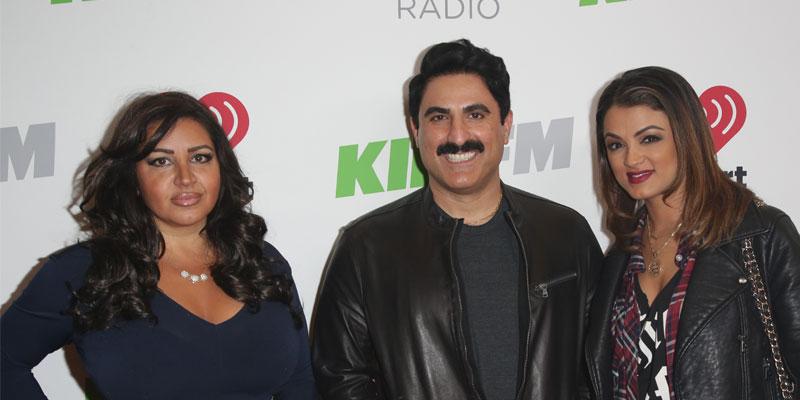 Reza Farahan is spilling the tea on his current relationship with ex-friend Mercedes "MJ" Javid. The Shahs of Sunset star stopped by the #NoFilter with Zack Peter podcast. He slammed his former pal for ignoring the gift he sent her when she gave birth to her son Shams in April 2019 and how he thinks she's "campaigning" against him.
Article continues below advertisement
Reza, 46, revealed he gave MJ, 47, "a beautiful, very, very expensive Hermes blanket" and she never thanked him for it. He added that fans unfortunately will not get to see the scene where he sent her the baby gift on the Bravo series. "You actually haven't seen the scene with the Hermes blanket, so probably I shouldn't have said anything, now I'm realizing that. But, so much will be revealed," Reza told host Zack Peter. "You have to keep watching. It's such a complex situation, and right now, it's like, the very first layer of the onion. And as the episodes start to air and as we start to peel back, everyone is going to see everything, the actual way that it happened and went down, and once everything is out, people can make their decision on their own."
News of Reza and MJ's feud surfaced in May 2019 after she claimed her friends didn't visit her in the hospital after she gave birth to her son. More fuel to the feud fire was added when rumors circulated that Mercedes was causing relationship troubles between Reza and his husband Adam. She alleged that Adam cheated on Reza by sending naked photos and playing "Strip Jenga" with his friends while Reza was out of town.
Article continues below advertisement
Reza noted that he believes the real estate agent is on a "campaign trail" to paint him in a negative light. "She's on the campaign trail. And she's campaigning and she got caught with her hand in the cookie jar. And my thing is like, 'Dude, let's get away from that and deal with the devastation that we're in.' She's trying to campaign," he continued. "She's, you know, shaking hands and literally holding babies, and, you know, she wants to come out squeaky clean. And I invite her to continue and do whatever she needs to do to feel better right now."
The Reza Be Obsessed creator also teased a future sit-down with Mercedes on Shahs of Sunset. He admitted, "There is an episode in the near future coming up, where MJ and I have a discussion and it really involves truth and ownership and you're gonna see it all."
Article continues below advertisement
Reza also gave an update on his relationship with Adam and if they are in a better place since the cheating accusations came to light. "Adam and I are in a much better place than what you see currently on the series, because the series is obviously several months back. Adam and I are constantly working on our relationship," he said.
"Since I have, you know, lost my best friend, Adam and I have really started communicating 1,000% more. Because MJ used to be my first text of the day, my first call of the day, check-in calls, check-in texts. And that time and space and love has been like filled in by my amazing husband, so it's been great in that sense," Reza added.
Article continues below advertisement
What are your thoughts on what Reza had to say about MJ? Sound off in the comments below!