PHOTOS
Shoes For Your Sole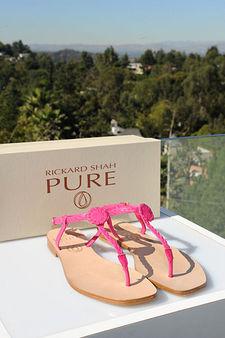 Although the thought of eco-friendly clothing and accessories makes us warm and fuzzy inside, there comes the apprehension that luxury and style will be sacrificed.
With their uber-swank Rickard Shah shoes, husband and wife team Elizabeth Rickard and Binith Shah (dubbed in the industry as "the perfect pair") have always brought their A-game to their A-list clientele like Kate Winslet, Angelina Jolie and Halle Berry. Now, lucky for us, their new Pure (Promoting the Use of Renewable Energy) line gives shoes a new soul. Each pair is not only made from natural and fair-trade materials like soy and leather-alternatives, but they are also wearable and chic.
Article continues below advertisement
We applaud them for the valiant effort and fantastic outcome. As important as it is, there are simply not enough options out there for us to live like the jet-set, but feel like environmentalists. Green is the new black baby!
Prices starting from $295, available at Nordstrom nationwide.