PHOTOS
Snooki & JWoww Say Goodbye! Here's A Recap Of Snooki's Wedding And The Show's Final Episode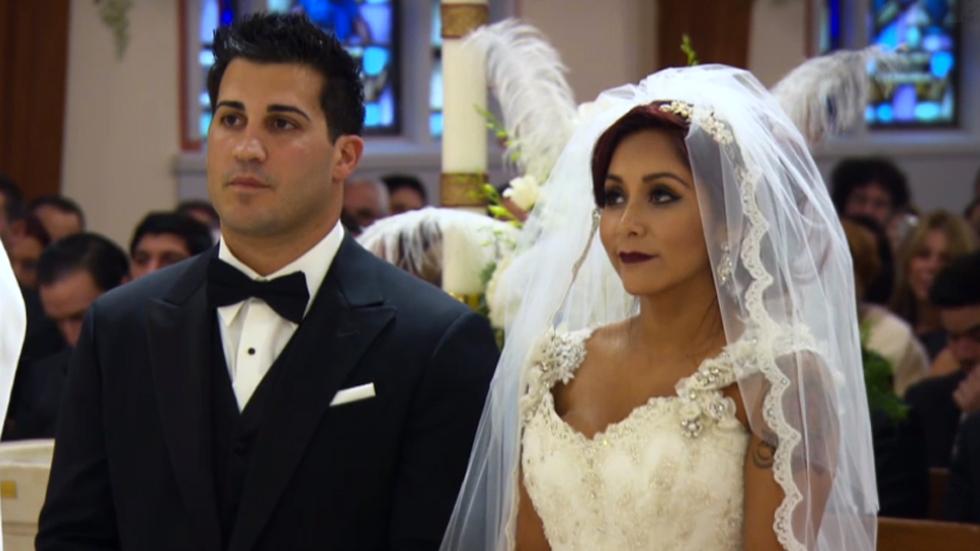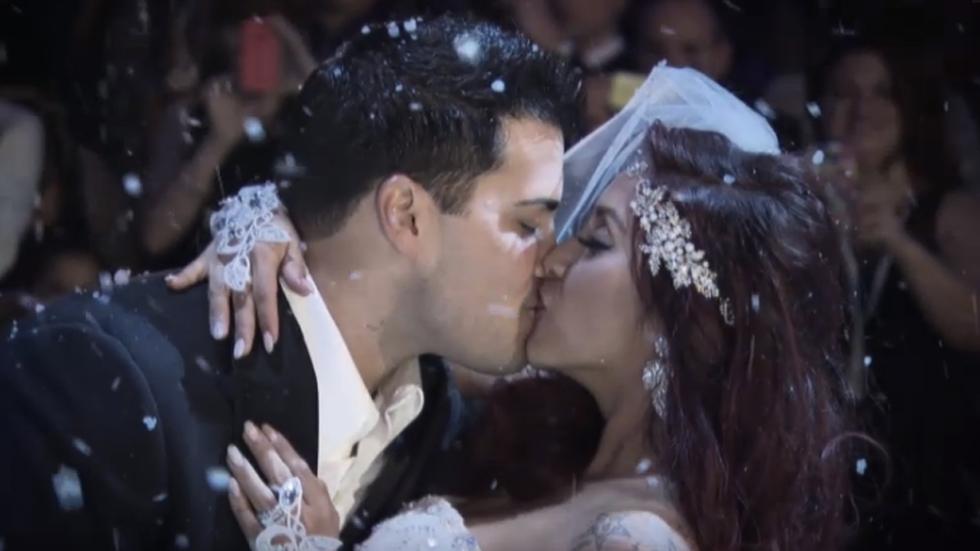 That's a wrap on Snooki & Jwoww! After almost six years of filming their entire lives for MTV, Nicole LaValle and Jenni Farley hung up their reality TV hats last night as the series finale of their Jersey Shore spin-off aired. On the episode, Nicole and Jionni finally get married—and what a way to go out, right?! Here's a lowdown of what went down on the very emotional episode.
Article continues below advertisement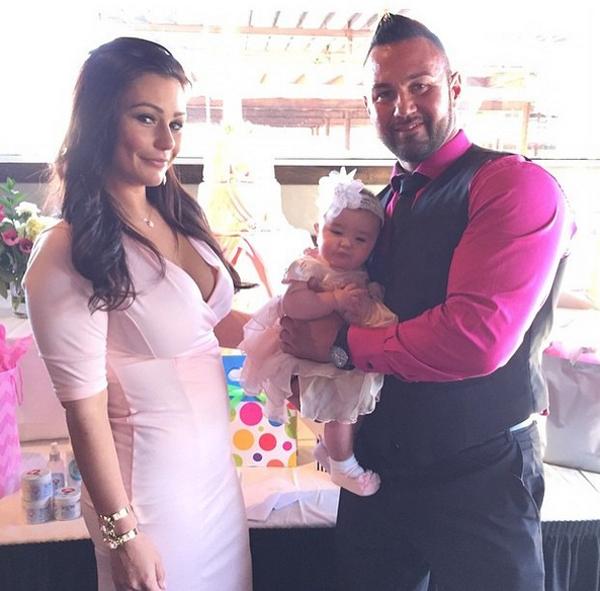 As Nicole finalizes the details for her Gatsby-themed wedding, Jenni and Roger decide to throw a party of their own. They baptize their daughter Meilani and follow it up with a luncheon at a restaurant located right next to Karma, when Jenni and Roger first met five years ago. The party was all pink everything—including the family's outfits!—and included a candy bar for guests.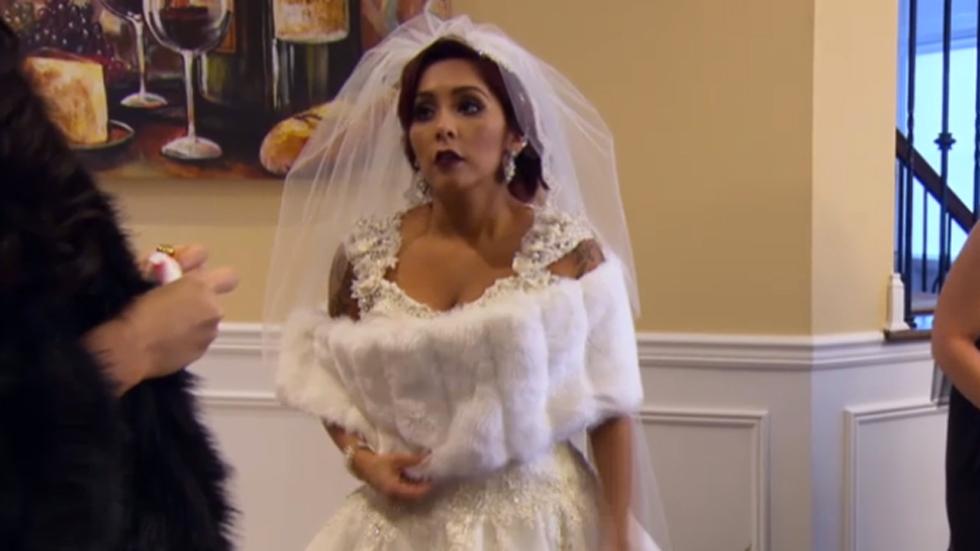 After Meilani's baptism, the focus goes back on Nicole. The cameras capture just about everything in the day leading up to the wedding. The night before, Jionni and their son Lorenzo sleep at his mom's house, where the groomsmen come the day of the wedding to get ready (and take some shots). Meanwhile, Snooki, Giovanna and her bridal party get their hair and makeup done at the family's new home before heading to the church.
Article continues below advertisement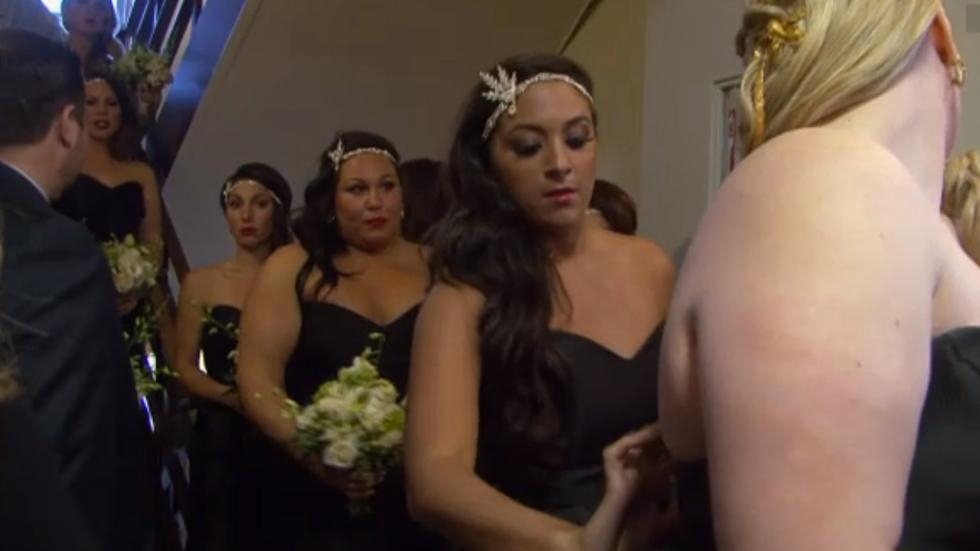 Once at the church, after a few emotional exchanges with their families, the ceremony kicks off pretty quickly. Nicole's bridal party walks down the aisle one by one in their gorgeous long, black mermaid gowns and beaded headbands. Nicole's castmates Jenni, Sammi and Deena were all bridesmaids!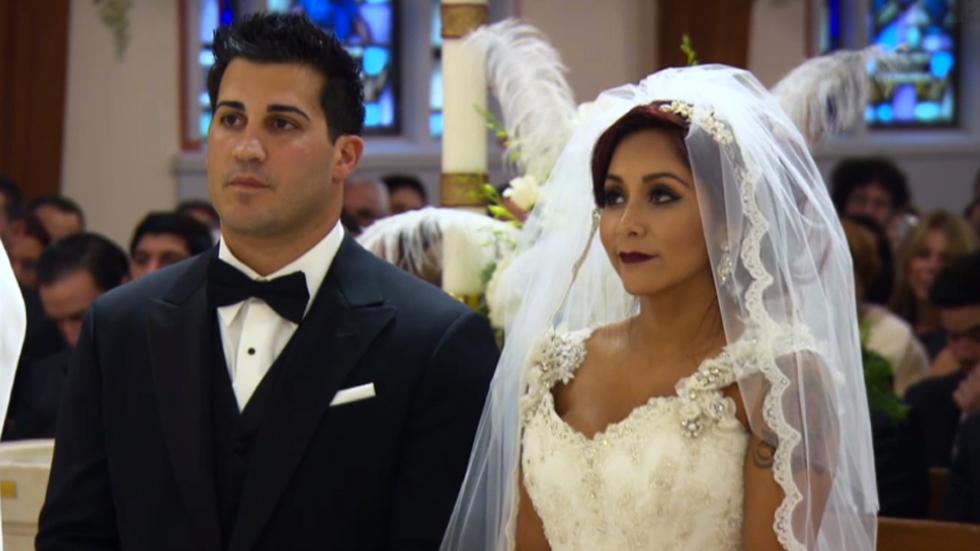 Article continues below advertisement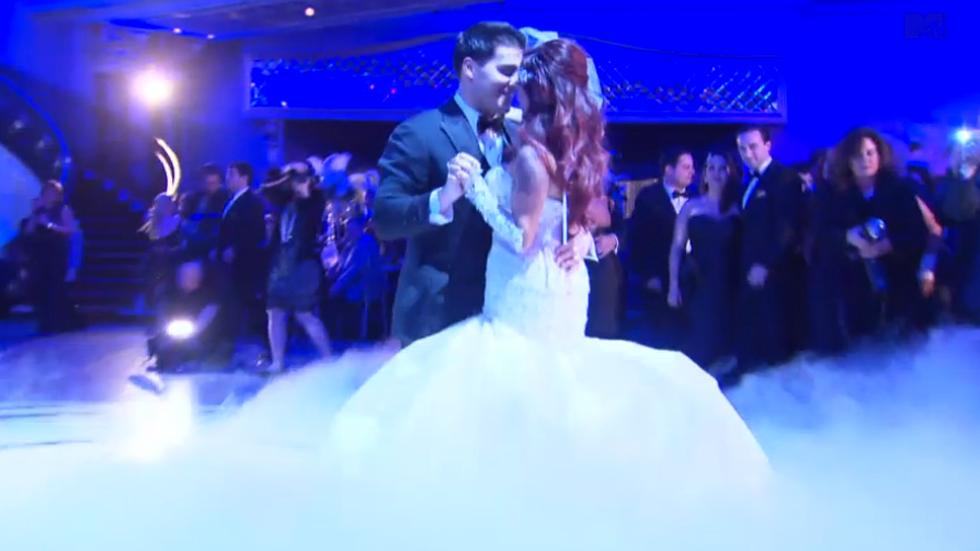 Once the ceremony is over, the newlyweds and their family and friends drive over to The Venetian, a wedding hall in Garfield, New Jersey, for the over-the-top, Great Gatsby-themed reception. Nicole does a quick change into her second dress and she and Jionni have their first dance as husband and wife.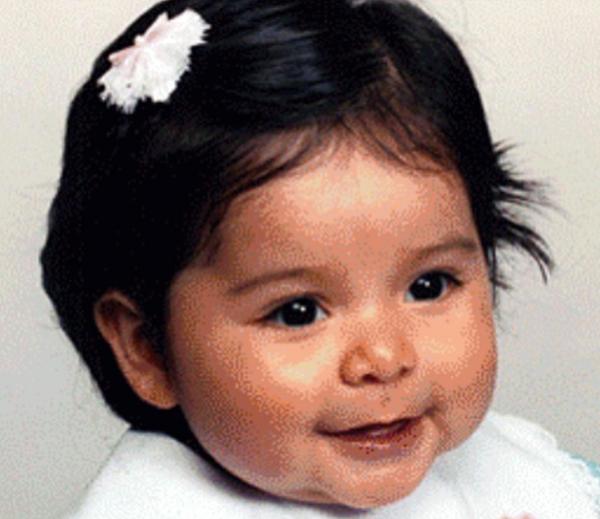 Next, during Nicole's dance with her father, he surprises her with a slideshow of photos of her over the years. Nicole later Instagrammed this pic that was in the slideshow, noting that she looks exactly like her daughter, Giovanna!
Article continues below advertisement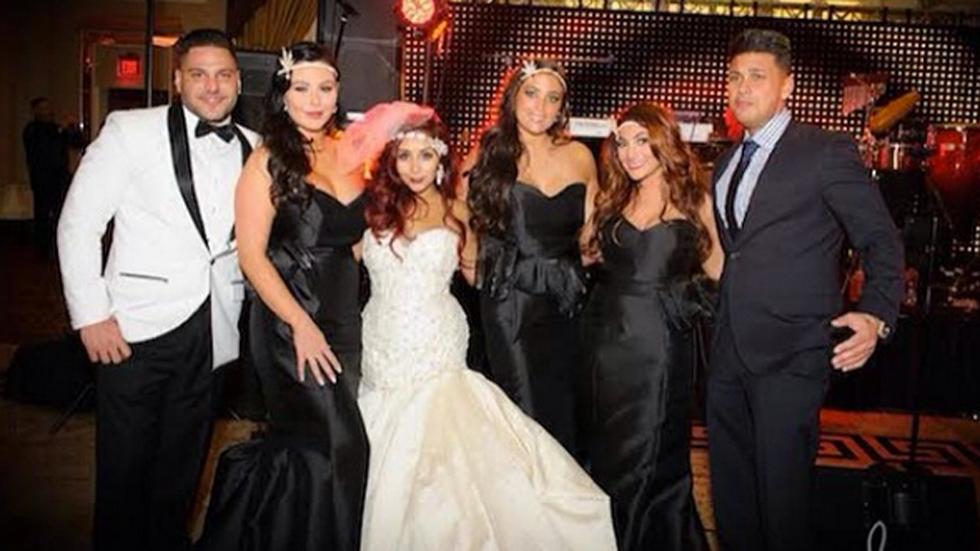 The reception brought major flashbacks to Jersey Shore, especially considering most of Nicole's castmates—everyone except for Mike "The Situation" and Vinny—were in attendance. It was great to see the gang back together again, dancing and drinking like the good ol' days.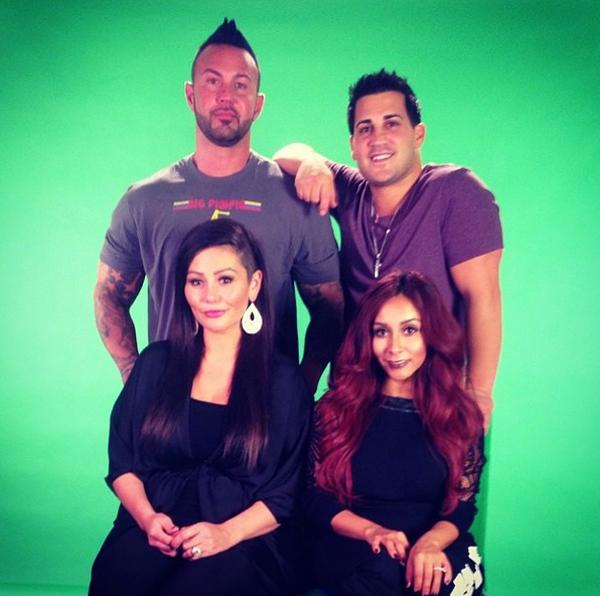 After the final scene of the wedding airs, the cameras cut to Jenni and Nicole, along with Roger and Jionni, thanking fans for watching them for so many years. The camera then zooms out and reveals everyone standing in front of a green screen, which was reminiscent of how The Hills ended a few years back.
Article continues below advertisement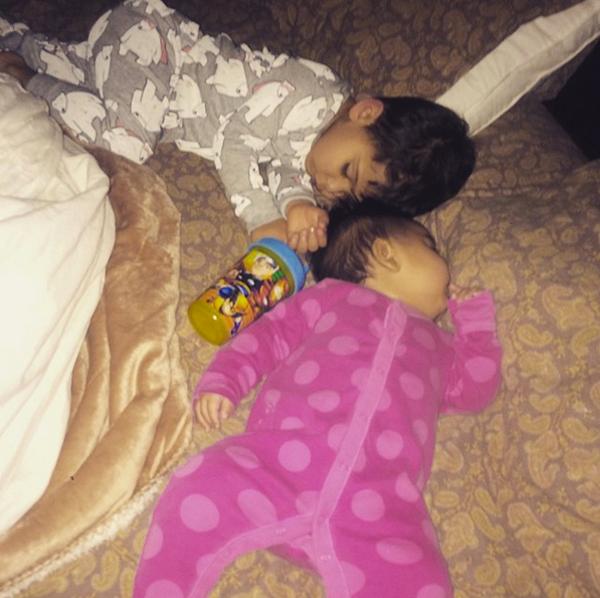 Once the 90-minute episode was over, Nicole and Jenni both were busy on Instagram. The new Mrs. LaValle shared this photo of her two kids. "My nuggets couldn't stay awake for the series finale. Ugh they're perfect," she wrote.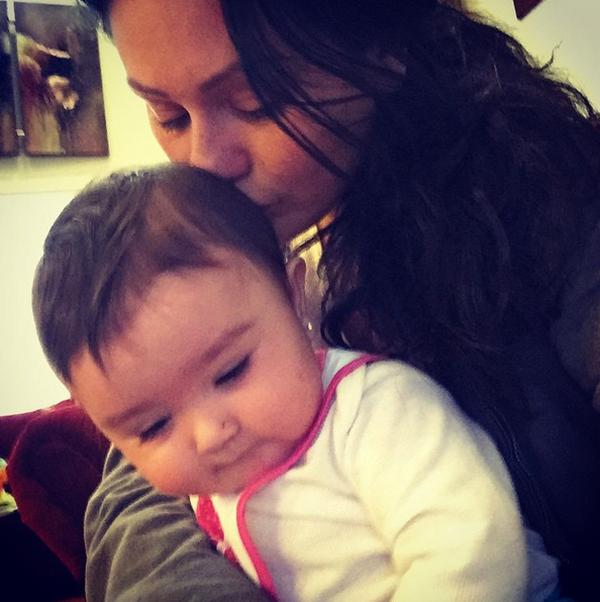 Jenni wrote a tearful goodbye to fans, writing on instagram, "Meilani and I would love to say thank you to all the fans. We kept trying to make a video message but every time we tried I started crying. thank you for being apart of the last 6 years of my life. From meeting @rogermathewsnj to our engagement and the birth of our daughter. It's been such an emotional day saying goodbye to @mtv and 495 productions today. But @snookinic and I aren't done with our crazy adventures... we are just closing the chapter on an amazing ride... My eyes are swollen from writing this. I'm laughing and crying right now looking back on the last 6 years. Love you guys #goodbyesnookiandjwoww"