NEWS
OK! Exclusive: Snooki & Jwoww Reveal If They'll Ever Let Their Kids Be on a Show like Jersey Shore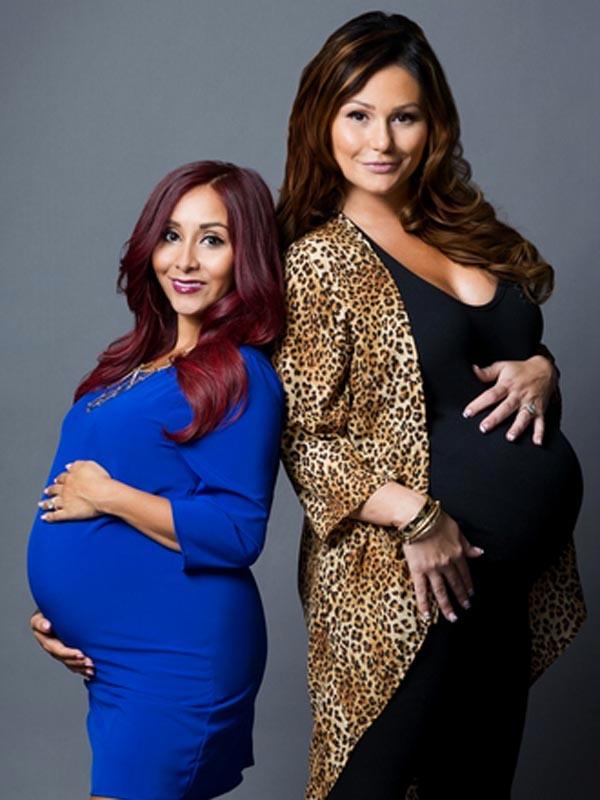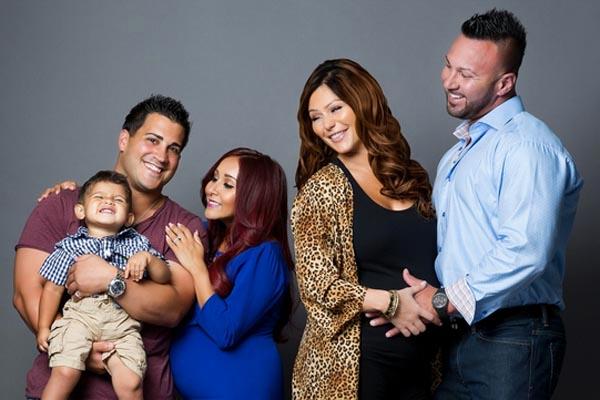 It's the end of an era as Snooki & Jwoww premieres its fourth and final season tonight on MTV. This season follows the girls' simultaneous pregnancies and Nicole's engagement and wedding to her longtime fiance, Jionni LaValle, but even though the girls have clearly grown up a lot since their Jersey Shore days, there's still plenty of crazy shenanigans in store for season four.
PHOTOS: Amazing Pics from Snooki's Bachelorette Weekend in Miami
Article continues below advertisement
We talked to Jenni Farley (Jwoww) and Nicole Polizzi (Snooki) who told us exclusively about their new baby girls, Nicole's upcoming bachelorette party and wedding, Jenni's "not definite" plans for a marriage of her own, and whether or not they want their kids to follow in their reality TV footsteps. It's all below!
OKMagazine.com: Congrats on the fourth and final season! Do you feel like this is the perfect way to end your reality TV run?
Jenni Farley: I think two babies and a wedding is probably the most perfect way to go out. And I think me and Nicole can agree that there's really nothing else that we can show in our lives after that. We've seen it all. We're ready for the next chapter in our lives with TV beyond Snooki & Jwoww.
OKMagazine.com: Are you ready for it to end because you don't want your kids growing up on TV?
JF: I think it's a game-changer at that point. It's not easy filming with kids because it's not like our schedules were beforehand. Now we work our schedules around our children.
Article continues below advertisement
WATCH: It's Two Babies, One Wedding in the Final Season of Snooki & JWoww
OKMagazine.com: You two were neighbors this summer while filming. How did living next door compare to living together during past seasons?
Nicole Polizzi: I think it's more convenient than anything just because we won't get tired of each other but when we do we go back to our own houses. But it's good because I live 2 hours away from Jenni normally so it's really hard to see her so the fact that we got to live right next to each other and just walk over, that was really nice to have. We don't have that.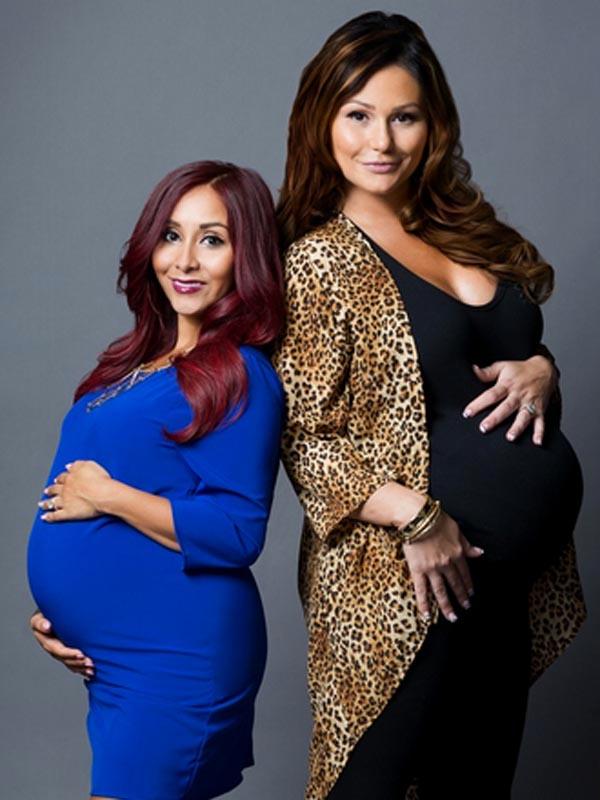 OKMagazine.com: And you're going to film up until your wedding later this month! What can we look forward to that you have coming up?
NP: Well we're going this weekend to the bachelor and bachelorette parties so Jionni and Roger will probably go a little nuts for the bachelor party.
OK! News: See Snooki's Super Impressive Post-Baby Body
OKMagazine.com: Will you two go nuts too even though you're moms now?
Article continues below advertisement
NP: Yeah even though we're moms doesn't mean we're dead. We still have fun but definitely not the crazy fun that we used to have because I'll die. My body can't handle that anymore.
OKMagazine.com: Jenni, you were vocal about how you didn't love being pregnant. Did having cameras there make it worse?
JF: No, I actually enjoyed it. Nicole living next door to me made it super easy and fun and there were no complications or anything, I didn't have trouble during the pregnancy. I was just not comfortable in my own skin and I've never been that big before. But helping me getting out of the house, Nicole made it a lot easier on me instead of sitting and doing nothing.
NP: And eating…
OKMagazine.com: Are we going to see both of you give birth on TV?
JF: Well, nobody needs to see my vagina.
NP: They've already seen it too many times.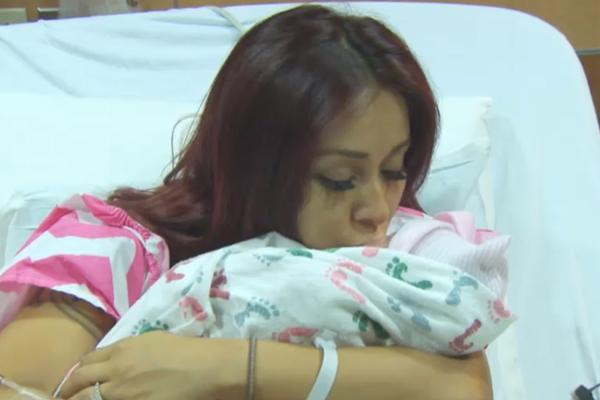 OKMagazine.com: What can you tell us about your wedding, Nicole? It's coming up so soon!
NP: Well, it's a Gatsby-themed wedding, gold and black. My bridal party is huge. It's going to be a fun wedding.
Article continues below advertisement
OKMagazine.com: Jenni, did being on Marriage Boot Camp help you and Roger realize that you do in fact want to get married?
Jenni: Well, we have been talking about getting married but there's nothing definite.
OK! Exclusive: Snooki & JWoww On The One Thing To Never Do While Pregnant
OKMagazine.com: Other than being moms, what's next for you guys after this show?
JF: Um, I can't say what network but I did recently sell a show to a new network. I'm very excited.
NP: You did?!
JF: We started filming last week and hopefully we'll be starting that the beginning of next year, so I'm very excited to take it to a different level. I'm Executive Producer. I may make a cameo or two but I would like to stay behind the camera.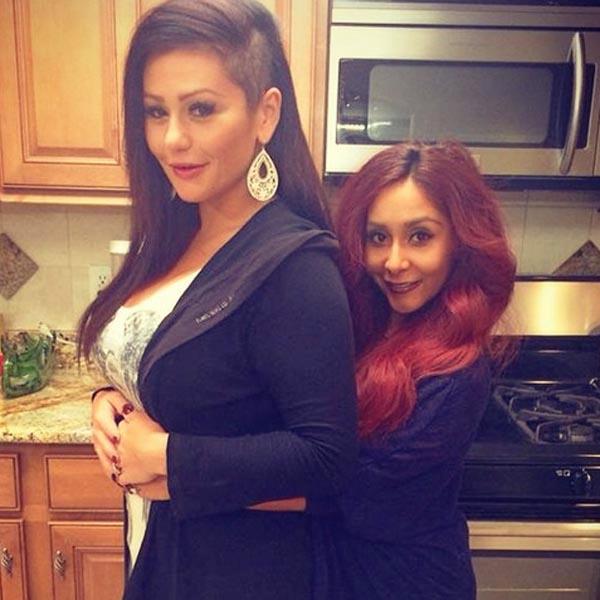 Article continues below advertisement
JF: I don't like to jump the gun. Until it's on TV god forbid something could happen from today until that day, I don't want to get ahead of myself.
OKMagazine.com: Nicole, what's next for you?
NP: I definitely want to expand my brand more with my clothes, we're trying to get into stores. But I definitely still want to do TV. I love hosting so maybe something there, I would love to have my own talk show and I have some ideas for shows that I want to sell as well. Me and Jenni are not done with TV, we just don't really know what our move is yet.
PHOTOS: Amazing Celebrity Pregnancy Selfies from Snooki, Kim Kardashian and More
OKMagazine.com: I read that one of your producers wants to put Lorenzo, Giovanna and Meilani in a Jersey Shore house when they're older. Would you be okay with that?
JF: No (laughs).
NP: I would like my kids to do other things than what mommy does. This is mommy's life. I want them to do other things like go to college, be a doctor, or a lawyer. I want my kids to be awesome. Now that I'm not awesome but I want them to have a different life than I do.
JF: Oh yeah. I'm putting together a 527 plan for Meilani for college because I want her to go to college and do something different than Mommy.