PHOTOS
Stars Share Party Tips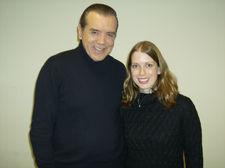 New Year's Eve is here. It's out with the old and in with the new as we say goodbye to 2008 and usher in 2009.
Former Boy Meets World star Danielle Fishel, who hosts The Dish on Style Network, offers party tips.
"Don't trap somebody in a corner and talk their ear off," she tells me. "Keep your conversations short and pleasant. Laugh, and smile, and be welcoming. And don't get drunk."
Former TRL host Damien Fahey, who has jumped to Extra, remembers his highlight of 2008.
Article continues below advertisement
"I was really affected by the election of Obama," he tells me. "The bar in my head has been raised for the American public in their idea to hope for better things and for change. That was really surprising to me."
Since Damien is a staple of the NYC party scene, I thought he might have a few hangover tips up his sleeve. (He does!)
"I do a Dewar's soda and then I'll do a glass of water immediately afterwards," he tells me. "If you do that, that is it. It's also difficult because the more Dewar's you drink, the less apt you are to reach for the water. So if you are hungover the next day, I recommend staying in bed and sleeping it off. Puking is good – just get it out, get rid of it. And then, eat a lot of fried food. A lot of fried chicken, a lot of barbecue is good the next day. It soaks all the alcohol up."
MORE ON:
Red Carpet Confidential
Yonkers Joe star Chazz Palminteri and wife Gianna make their New Year kid-friendly for son Dante, 13, and daughter Gabriella, 7. "We usually go to a house party in the neighborhood where I live. It's low-key. But we like to keep the kids with us. They get to stay up late. We always like to have the kids with us."
Happy New Year, guys!