PHOTOS
While You Were Sleeping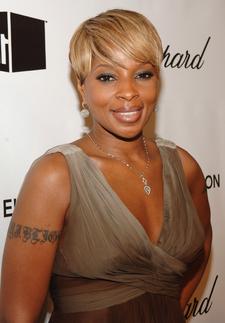 Singer Mary J. Blige is over the bootleg scene. The R & B singer is cracking down on illegal t-shirt vendors who will be selling bootleg shirts outside of her New York concert with Jay-Z tonight. "She is suing John Does and Jane Does numbered 1 through 100 ,so law enforcement can confiscate the bogus stuff as they are selling it," a source told Page Six.
Usher's new-ish wife Tameka Foster took over on his most recent video shoot for the song "Love in the Club." Foster was "domineering" and took over the shoot, purposely dressing the video's lead girl, singer Keri Hilson, badly. "She looked like an extra. Tameka wouldn't let Keri have her hairdresser there. She had to use the hairdresser who was doing the extras," a source told Page Six. Usher's manager Benny Medina responded to the accusations by saying that "Keri could not have been happier. …The shoot went brilliantly."
Article continues below advertisement
Don't feel like voting? Don't tell that to Natalie Portman, Julia Louis-Dreyfus, Hill Harper and Adam Goldberg. They've all signed up to be a part of the new "I Am Voting For" PSA campaign.
According to Page Six and some OK! sources, Papa Joe Simpson was on the prowl while at the Perez Hilton birthday party sponsered by 5Gum in Austin at SXSW. The dadager was seen hitting on a bunch of different ladies and hanging with, off all people, Taylor Hanson. And what's Joe's taste in ladies? Hipsters...interesting!