REALITY TV
Arie Luyendyk Jr. & His 'Bachelor' Contestants Slam Krystal For Her 'Sociopathic' Behavior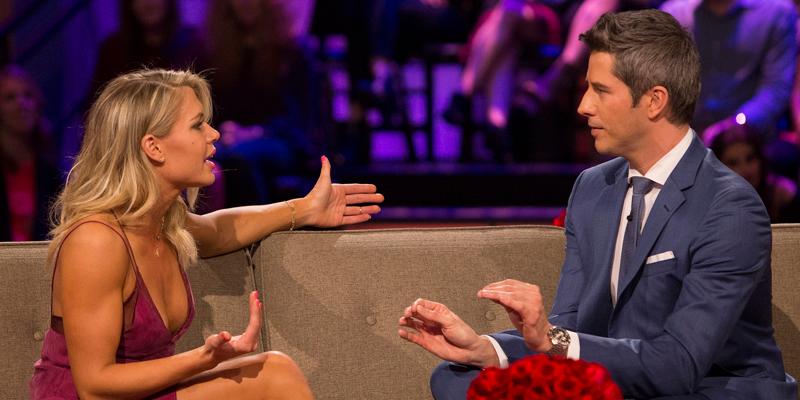 Revenge of The Bachelor contestants!
Krystal Nielson's not so kind words came back to haunt her on Sunday's Bachelor Women Tell All special. Season 22's live-in villain was forced to face the women she had so badly talked about throughout the season, and boy did things get heated (and awkward, like really really awkward)!
Keeping with The Bachelor's usually drama-filled "tell-alls," the night kicked off with never-before-seen footage of Krystal's post-bowling breakdown (who could forget Krystal's tantrum after Arie Luyendyk Jr. invited the losing team on the winning team's group date?).
Article continues below advertisement
Turns out little Miss Krystal did more than just call Arie a "liar."
"Did I mention my life is amazing and awesome? And it's all on hold for what? Some needle d*ck," Krystal can be heard saying off camera. "I'm sorry, I date men. Not little fancy-pants." The 29-year-old fitness instructor also referred to the other women as "c**ts," which infuriated Caroline.
"I was right about you the whole da*n time. You are so mean," the Fort Lauderdale realtor told Krystal. "You called these women c**ts! How dare you use that word about these people? Because I love and respect all of these women, and that is a disgusting word."
After Caroline finished her tell-off, which included her calling Krystal a "sociopath," it seemed to be open season on the Bachelor villain as the other women then took the time to air each of their personal grievances with her.
While Krystal did not apologize for the things she said about the women, she did say she wished she had approached "the game" differently, making an effort to befriend her fellow contestants.
Article continues below advertisement
"It was a crazy experience. It really wore on me — it was hard. I stumbled and I fell, for sure," she explained. "I do wish that I would have been able to step away from focusing so much on Arie. I wish I would have been able to build more friendships."
Krystal didn't only take heat from the women during the Tell All; she also endured some tough words from her ex, Arie.
After confronting the 36-year-old realtor about his "cold" goodbye in Paris, Krystal seemed to get more than she bargained for in his response.
"Looking back now, I feel that it was pretty appropriate," Arie said. "It just sucks to see how you actually were. I feel like there was a whole other side to you that I didn't see until I watched it back. The comments that you made were not only hurtful to me, they were hurtful to them, and it doesn't make me happy. I feel like maybe I dragged it on way longer than I should have." (yikes!)
Arie also dismissed Krystal's feelings of ownership of him, saying, "well this is The Bachelor," after she complained about having to share him with the other girls.
What did you think of the Women Tell All special? Sound off in the comments!