REALITY TV
'RHOBH' Finale: Are Denise Richards & Heather Locklear Feuding?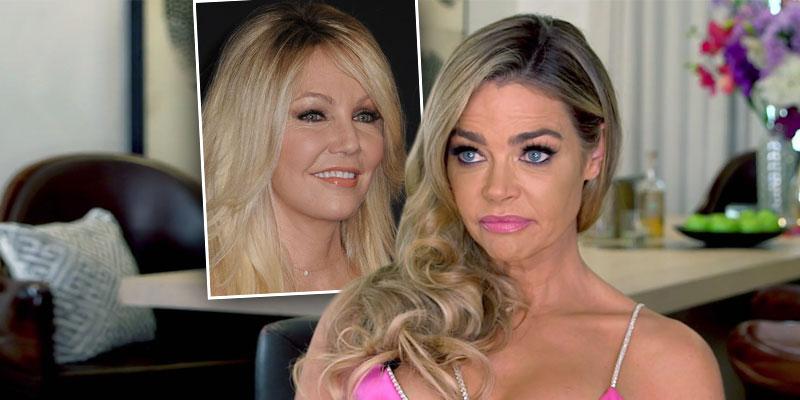 What is going on between Denise Richards and Heather Locklear? During The Real Housewives of Beverly Hills season 10 reunion, Lisa Rinna brought up the Melrose Place alum and how we all have questions we need answered.
In the final part of the RHOBH reunion on Wednesday, September 17, Rinna's estranged 10-year friendship with Richards was once again discussed.
The two longtime friends had their fair share of ups and downs throughout the 10th season — Rinna apologized to Richards for not telling her ahead of time about Brandi Glanville's affair claim — ultimately leaving the two friends at odds.
Article continues below advertisement
"You know! I would've not had Denise come on if I were to do it over again," admitted the 57-year-old. "How about that?"
In the season 10 finale, there was quite a "tense conversation and then you agreed that you know, maybe you could try to work on it a little bit," Cohen told Rinna, before asking her: "Did the stress of the show airing and social media come in between that?"
"All I know is we haven't spoken or texted in about six months. You know, I go back to when she was friends with Heather Locklear," Rinna said before Richards quickly shut her up.
Article continues below advertisement
"I actually wasn't, Lisa, and you know that. To bring that up, I mean really? She was friends with my ex-husband. C'mon," the Wild Things star said.
DENISE RICHARDS SHARES UPDATE ON WHERE SHE STANDS WITH HER 'REAL HOUSEWIVES OF BEVERLY HILLS' CASTMATES
"Well, you calling me a bad friend…," Rinna replied.
Richards then accused Rinna of "grasping at straws."
"Maybe. Maybe," Rinna said.
As confused as everyone else, Cohen jumped in asking: "I don't understand the Heather Locklear reference." When Richards shot back, "Lisa! That is low," Rinna decided not to spill anymore details and told Cohen to "Google it."
Richards spoke out for the first time about her relationship with Sambora and how it affected her friendship with The Perfect Man actress in 2006, telling Entertainment Tonight at the time that "the thing with Heather, that's been hard," she said. "You can't help who you fall for and that friendship, unfortunately, was done and wasn't salvageable."