REALITY TV
Christine Quinn Reacts To Chrishell Stause Joining 'DWTS': 'Sounds Fun,' Accuses Her Of 'Victim Mentality'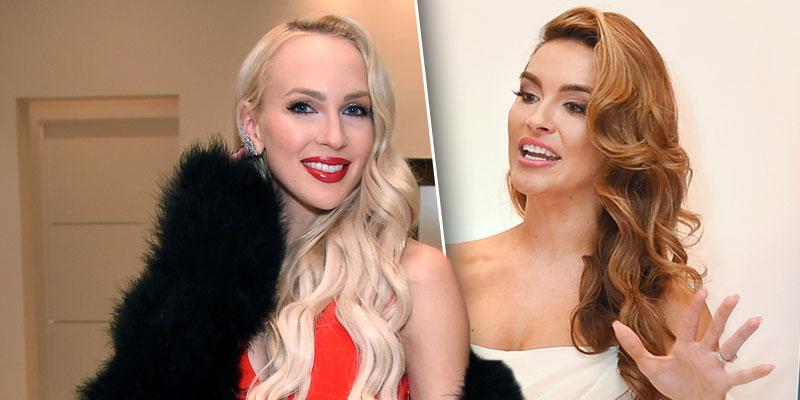 Frenemies making amends?
Chrstine Quinn and Chrishell Stause have continuously been butting heads since Stause first joined The Oppenheim Group. The feud has been throughout season 1, 2 and 3 of the hit Netflix series Selling Sunset. Despite the drama, Quinn showed her support for costar Stause when it was announced on Wednesday, September 2, that she would be joining season 29 of Dancing With The Stars.
Article continues below advertisement
After a fan asked Quinn — who married millionaire businessman Christian Richard after showing him a million dollar property, which the two later bought and moved into — her reaction to Stause joining the DWTS cast, she immediately responded.
"I'm happy for her! Sounds fun," the 31-year-old tweeted. When a follower asked if she'd go on the show, she responded, "That would be fun! Maybe in a few years!"
Article continues below advertisement
After the breakup was announced — 45 minutes after Stause found out herself — Quinn accused the 39-year-old of overreacting to the casts' comments and speculation about her bombshell split.
"I think what she was honestly mad about was the fact that, you know, she's trying to have this portrayal of Justin Hartley being such a bad guy and just walking out on her," the Texas native said on the "Not Skinny But Not Fat" podcast on August 18. "But, you know, I don't know. I mean … I've met him and he was nice to me, and that's what the interviewer asked me and that's what I was going off of. … Maybe, she got mad that I was saying he's a nice guy."
The self-proclaimed "goth barbie" continued speaking about costar Stause. "She kind of has — and always has had — this, like, victim mentality," she said. "She's always the victim of something. And I don't know why she feels that way. I wish she didn't."
AMANZA SMITH IS UNHAPPY WITH THE WAY JUSTIN HARTLEY TREATS EX-WIFE CHRISHELL STAUSE
The Kentucky native quickly responded to Quinn's podcast interview, calling out her nonsense via her Instagram Story. "I am a victor of many things and thriving," she said. "I can't wait for you to get there so you can stop with this nonsense."
Article continues below advertisement
The brunette beauty explained to Entertainment Tonight why she chose to join the ABC competition series in the first place. "Listen, I've already fallen flat on my face in front of America already, so I really got that out of the way. I don't have anything else to lose, so it's only going up from here," she said.
Stause added that she is looking forward to a new beginning. "So much has been said that there's nothing else I want to say about the divorce, and I think that's a really good place to be," she noted. "I want to be in a place where everybody just moves on. I'm excited to move past that chapter and onto the next."