STYLE
'Built' Star Kim Gieske's Vision for Kim Kardashian's Nursery—See the Sketch!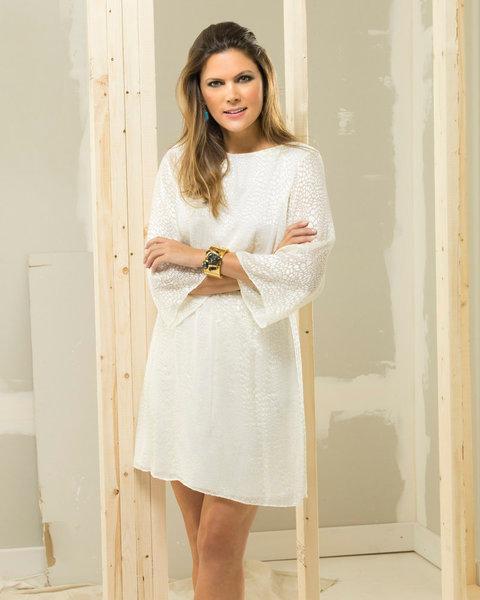 Article continues below advertisement
After seeing her sketch and chatting about all things nursery, we have these words of advice for the soon-to-be celeb parents, Hire this woman! Take a look at her sketch below and read what ideas the design guru has to give.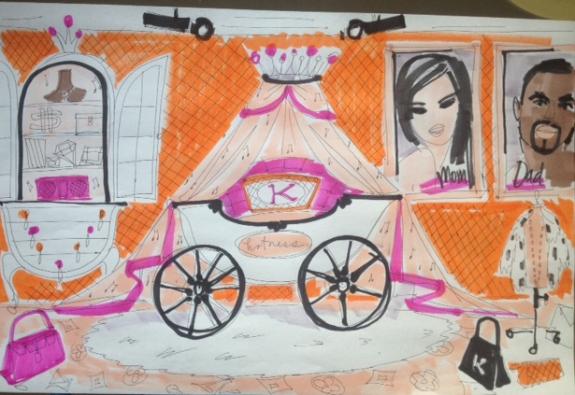 OK!: When you're dealing a celebrity client like Kim, what's the first thing to consider when designing a nursery?
Kim Gieske: I would consider everything custom. Custom, custom, custom. Celebrities are all about custom. They don't want anything anybody else has.
OK!: I love the sketch you sent. What would you do as far as the color scheme?
KG: The hottest color right now for kids' rooms is orange. Kim is always on trend and she always has the hottest, latest thing so I'm assuming she would mix the orange in with a hot pink.
OK! News: Prepare for Stroller Envy—Star Moms And Their Choice Rides
OK!: What's really in right now for nursery furniture? What you think she would go for?
Article continues below advertisement
KG: I think she's gotten a little more modern with her taste and there is this line that's really popular called Oeuf. It's the hottest, hottest stuff right now. All of the young Hollywood moms are ecstatic for it. I think for someone like Kim they might even custom-make her something and then they could name the piece after her baby and could probably go on to make millions of dollars from it.
OK!: They need to get on that! What influence, if any, do you think Kanye could have on the décor?
KG: I don't know, it's hard to say. He seems like he's been influencing her style. I feel like he's a little more modern andshe's dressing a little more modern lately, but then on the other hand, I feel like he might step back and let her do her thing.
OK! News: Is Holly Madison's Birth Plan For Real?
OK!: Mom and Dad are featured prominently in the wall décor in the sketch. Would those just be framed photos?
Article continues below advertisement
KG: There's this British artist called Ann Carrington and she makes these tapestries. She uses gold buttons and mother of pearl buttons and she'll make a tapestry face on velvet. I think they should contact her and make custom tapestries of both of their faces in gold sequins.
OK!: That sounds so incredibly them. Are we seeing more wallpaper these days?
KG: Yes, wallpaper is so hot right now and in the sketch I've shown a trellis. The trellis pattern is really popular because it's a more modern trellis look. It's not your grandmother's trellis.
OK! News: Tiffani Thiessen Dishes On Her Baby Girl
OK!: Kim's iconic "K" is featured prominently, do you think we're going to see a lot of monogramming in their nursery?
KG: Oh my gosh—yes! Because they're all about custom, I'm sure, so they'd be all about monogramming. They should come up with a family crest. They're going to be American royalty. They are American royalty! And their child is going to be sort of like an American princess.
Article continues below advertisement
OK!: Aside from the basics like a crib, changing station and dresser, what other furniture would you put in this nursery?
KG: I actually would not put a dresser in this nursery. That's way too pedestrian for Kim and Kanye. The baby definitely needs to start out with a walk-in closet. I'm sure they already have enough clothes for this baby to fill up a walk-in closet.
OK!: So nix the dresser, what's a more modern take on the baby glider?
KG: Again, I think they'll want to do something more custom. Instead of a baby glider they could suspend a sofa from the ceiling and make that into a swing and then the whole family can sit on it.
OK!: What other adornments do think this room could use?
KG: Every room needs something sparkly and Kim loves all kinds of bling so I can't imagine they're not going to put some kind of chandelier. Again, some kind of sequins, diamonds—something has to be sparkly in this nursery.
OK!: It looks like you have rugs layered here.
KG: Layering rugs is also really hot right now. If you want to do a wall-to-wall rug it's really hot to layer a sheepskin or flokati on top of that. It makes the nursery really cozy, too.
Get more design scoop from Kim and info on her series Built at StyleNetwork.com.
What do you think of Kim's vision for Baby Kimye's nursery? Do you dig it? Tell us in the comments or hit us up @OKMagazine.