STYLE
Costume Designer Eric Daman Talks 'Carrie Diaries' Season 2 Fashion And Celeb Muses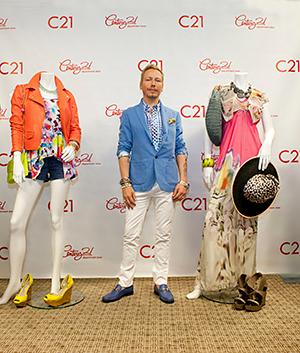 Eric Daman is the costume designer behind Gossip Girl and The Carrie Diaries and the new style ambassador for mega department store Century 21. I caught up with him at the grand expansion of their flagship store to chat trends, young Carrie Bradshaw, and the color he's crushing on for spring—see what he has to say!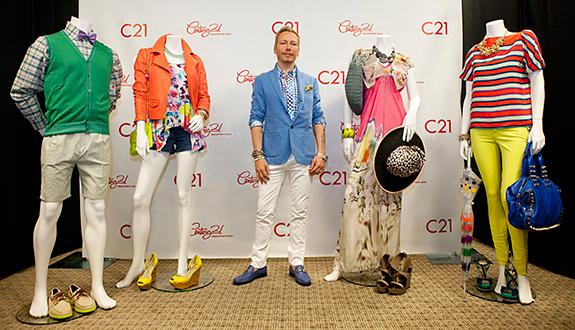 OK!: Tell me about the amazing looks you've styled at Century 21 today.
Eric Daman: We have some great color trends going on right now, like orange crush, so I wanted to do a colored jacket for one of the looks. You can wear it on the weekends to a beach trip. And then I wanted to do some print mixing, which is something I'm known for from Gossip Girl—Blair loved her prints. I always say, when you are mixing prints, you want to wear two giant prints in opposing colors.
Article continues below advertisement
Photos: A Stylish Series: 'The Carrie Diaries'
OK!: What was your favorite look Carrie wore in the The Carrie Diaries this season?
Eric: There are so many, but I loved her winter dance look. It was a one-of-a-kind Georges Chakra couture piece with all kinds of ice-y pastel colors—everyone wants to see Carrie Bradshaw in couture.
OK!: Were there any looks in particular that were more of a challenge to style?
Eric: I think the real challenge is trying to find a balance between Connecticut Carrie and New York Carrie. When you think of Carrie Bradshaw, you think of this super stylish, idiosyncratic fashion icon, but when you go back in time, she's 17, in high school, in Connecticut—she's not going to be wearing tutus, statement necklaces, and Manolos. I actually looked through my high school yearbooks for inspiration since I grew up in the '80s in Michigan.
Article continues below advertisement
News: OK! TV Awards: Vote for the Hottest Newcomer of the Year!
OK!: What can we expect to see fashion wise in Season 2?
Eric: We'll definitely pump it up. It's similar to when we were going into season 2 for Gossip Girl. It's really great to be able to be a part of a character's evolution as they grow up—when we first meet them in high school, to see how they are going to evolve. The closer Carrie gets to New York, the most fabulous she is. She has access to Interview Magazine's fashion closet and I think we're definitely going to see a lot of splashy—more is more.
OK!: Do you feel like AnnaSophia's personal style has evolved since working with her on the show?
Eric: I do, but I don't think it's because of me, I think it's because she is Carrie Bradshaw and she's young and just moved to New York City. New York City is really a great education when you want to be stylish. You want to look great because everybody kind of does—you want to be part of that world. AnnaSophia came in pretty wide-eyed, wanting to learn about fashion, and to see her evolve and love this world and embrace it, I think it's thrilling. I was a part of it with Leighton and Blake, and to kind of be a mentor for young women is something that I cherish.
Article continues below advertisement
OK!: You've worked with so many chic actresses—who else would love to style or work with?
Eric: I think I've been pretty lucky in that department. I actually worked with Elle Fanning when she was five and she was already a budding fashionista back then. I love young girls that are doing a great job like Chloe Moretz. There are so many amazing, budding fashionistas out there that I feel like are really on point with individual style—it's not just cookie cutter. That's something that's great about Century21 too—there are so many different options here and that there's new selections almost every day.