STYLE
Countdown On How The Stars Get Oscars Red Carpet Ready! Hair, Skin, Face & The Mega-Watt Smile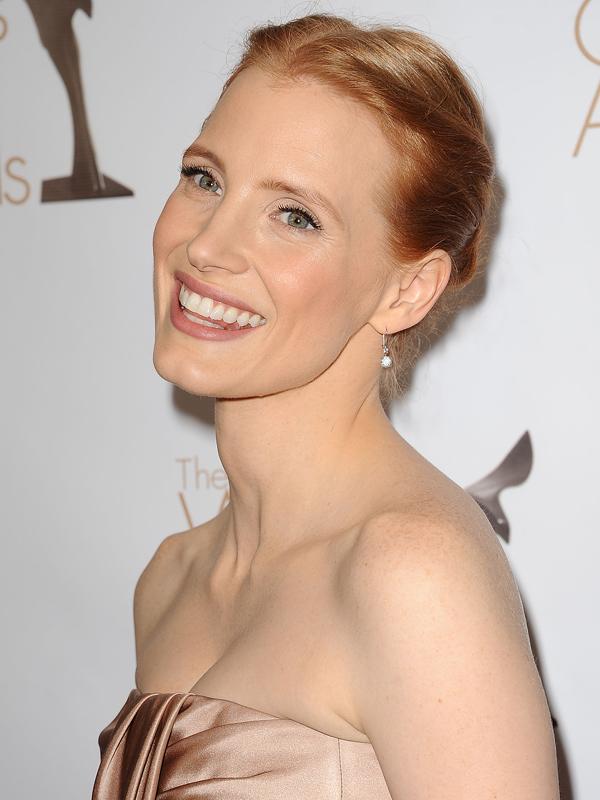 Watching the stars at these award shows from the comfort of your home—do you sometimes wonder how you can look like them? Believe it or not—it is possible to come close!
To take a look into the lives of Hollywood starlets and what they do weeks and months leading up to an event like the Oscars, we got the inside dish from dental experts and cosmetic dermatologist Dr. Paul Jarrod Frank.
Here are some tips on getting vibrant skin, a glowing smile and all the latest techniques in fat reduction, hair removal and laser treatments that can keep stars like Jessica Chastain looking so great.
Article continues below advertisement
Six Months Before:
To rid your body of unwanted hair, try the NEW High Speed LightSheer® DuetTM, offered by Dr. Frank at the 5th Avenue Dermatology Surgery & Laser Center. Your back and legs can be treated comfortably in about 15-20 minutes, and hair can be removed in up to four treatments within 1-2 month intervals.
Three Months Before:
Can't fit into that gorgeous gown? Dr. Frank offers Liposonix, which melts fat away using High Intensity Focused Ultrasound (HIFU). Performed in less than an hour's time, the belly and love handles can be treated with immediate return to daily activities, with significant results shown in 2-3 months.
If you're afraid to show some skin because you're worried about the paparazzi catching a glimpse of your dark spots and imperfections, Dr. Frank suggests Fraxel ThuliumTM, the newest laser to treat hyperpigmentation in just 1-2 treatments. With minimal downtime and side effects that resemble a sunburn or chemical peel, recovery is quick and treatments should be spaced out between 4-6 weeks.
A Few Weeks Before:
Article continues below advertisement
Want to get rid of wrinkles and fine lines around your eyes, mouth, cheekbone, lips and even the back of hands? Consider a filler like Belotero or Restylane. They will enhance your facial contours and give you natural looking results in just one day. Book your treatment 2-3 weeks before the big day because no matter which filler you use, there's always the potential for redness, swelling or slight bruising immediately following the procedure.
If you're looking for a complete smile makeover, try Porcelain Veneers, which can remove dark stains, transform crooked teeth or an aging smile into a more natural and gorgeous grin. Veneers take two visits to the dentist, usually one week apart, or to simply boost the beautiful smile you already have, try an in-office whitening procedure such as the Pola Office+ at the offices of Lowenberg, Lituchy & Kantor. This is the world's fastest bleaching system, only 3 eight-minute cycles are required. The Pola Office+ is one of the strongest bleaching products on the market: 37.5% hydrogen peroxide, allowing for incredible results.
Article continues below advertisement
The Day of the Event:

If you need to whiten your teeth in a pinch, pick up a box of Crest 3D White Two-Hour Express Whitestrips. If you don't have two hours to spare, try Luster Toothpaste, which will make teeth appear brighter instantly.
Another way to make teeth "appear" brighter is by wearing shades of pink or red lipstick with a blue undertone, or makeup, such as bronzer, to darken your complexion so there's a greater contrast to the teeth.
After Party:
Now that the awards are over, it's time to celebrate! As you hobnob with the A-listers, be sure to keep your smile looking (and smelling) fresh. If red wine is your drink of choice, apply a layer of Vaseline to act as a barrier to prevent staining and help keep lipstick off your teeth. If bad breath is your concern, order a cocktail containing Vodka which kills bacteria (but pass on any sugary mixers that trigger odor causing bacteria). You can also chew on the herbs that garnish your plate—parsley neutralizes odor given off by the sulfides found in bacteria in dental plaque.