STYLE
Sexy Strand Saturdays: Recreate Molly Sims' Princess Bun!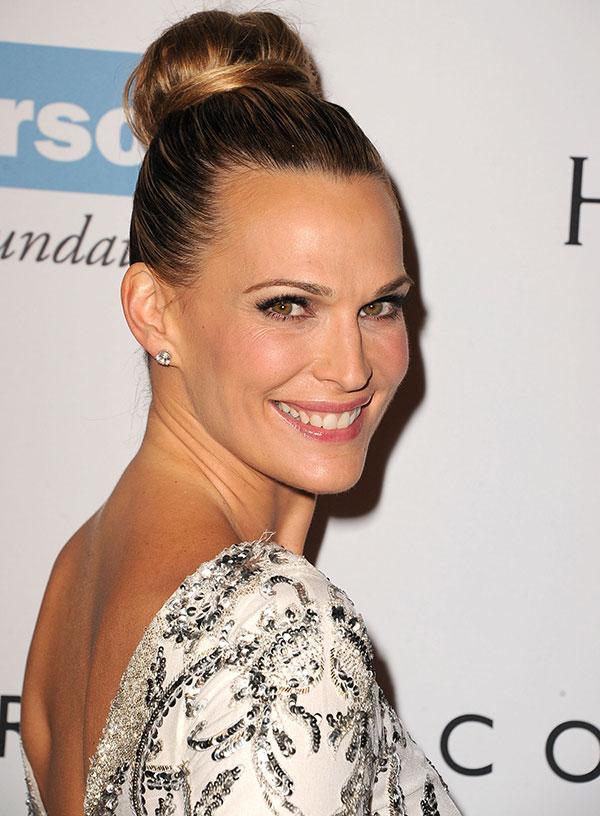 Everyone loves a high bun! Molly Sims looked gorgeous at the Baby2Baby Gala rocking this Princess style and we got her hairstylist Lee Rittiner (who also works on Gwyneth Paltrow, Mila Kunis, and Jessica Biel) to tell us how to recreate it at home. Try it out tonight for a Saturday night date or party!
How to Get the Look:
1. To start, I blew Molly's hair dry using my Theorie SAGA dryer. Then, I prepped her clean hair with Serge Normant Volumizer for added texture.
Article continues below advertisement
2. Because Molly has a lot of hair, I spilt her head into 5 sections. Section out the front half of head, then split the occipital and nape section.
3. Create a ponytail at the crown and carefully add in each section starting with the nape sections (keep chin upright) to make it seamless (and bump-less).
4. Bring back each side panel, leaving a "mohawk" section on top. Attach each section to the ponytail base. Make sure you're using lots of tension. I like a comb or Mason Pearson brush. Oribe Soft Lacquer is a great product to keep hair sleek and tight with no fly always.
5. Bring the mohawk section back and add to ponytail base. I do this because of how dense and long Molly's hair is; this is my insurance policy to guarantee a smooth and clean finale.
6. Adding Oribe Dry Texture Spray to the ponytail, I back-comb the pony for a bit more texture and fullness.
7. I combed the ponytail together and in a cinnamon roll fashion, I pinned the bun to the center of her crown. With some hair spray and a little finess on the bun, you're done. Make sure the bun is secure—I like using hair pins and bobby pins. Make sure to color match your pins as well.