STYLE
Zendaya Gives Scoop on Her New Show and Partnership with Carmex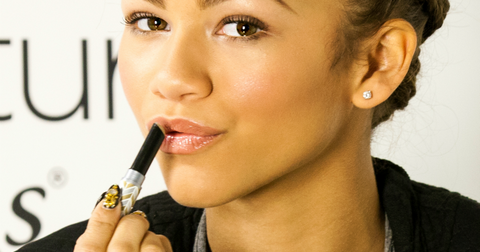 View all comments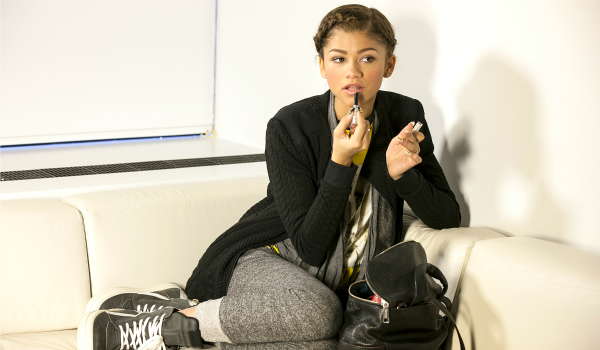 Zendaya is a very busy gal. The former Shake It Up star (and Dancing with the Stars runner up!) is promoting her new album, filming and producing a new Disney show, and working on a partnership with Carmex. The lip balm king is now making a fashionable line of balms in cute cases with graphic prints like black-and-white houndstooth. Zendaya chatted with OKMagazine.com in the midst of a blizzard during New York Fashion Week to explain all these crazy fun projects!
Article continues below advertisement
OK! News: Read Orange Is the New Black star Jackie Cruz's New York Fashion Week diaries!
OK!: What was your favorite fashion show?
Zendaya: I really enjoyed seeing people's visions and seeing how different everybody is. You go from a Rebecca Minkoff, then you see a Betsey Johnson, you can clearly see their styles and what they've created. Jeremy Scott was definitely one of my favorites. I love that tomboy kind of weird style, so I definitely love the things he came up with. I loved meeting Betsey Johnson. She was so sweet and so kind.
OK!: What's the best way to keep your outfit cute when the weather is terrible?
Z: That's the hard thing! Sometimes, I'm one of those people that will suffer for fashion. If it's cute, I will wear it in the snow. But of course, we found quite a few really fun and fashion-forward ways to wear awesome coats that are statement coats. And make the coat the statement piece of the outfit, so you're fashionable but you're also not freezing.
Article continues below advertisement
Photos: See the best dresses from New York Fashion Week!
OK!: This winter has been terrible. Is there a trend you're looking forward to wearing once it's finally spring?
Z: Honestly, like I said before, I'm one of those people—I don't dress necessarily for the weather. I dress just because I like it or it's comfortable. Which sometimes isn't the best decision! I'm one of those people who will wear leather sweatpants to the beach. I'm not the good one to talk to when it comes to weather and clothing, because I will suggest you go with the cutest item in your closet.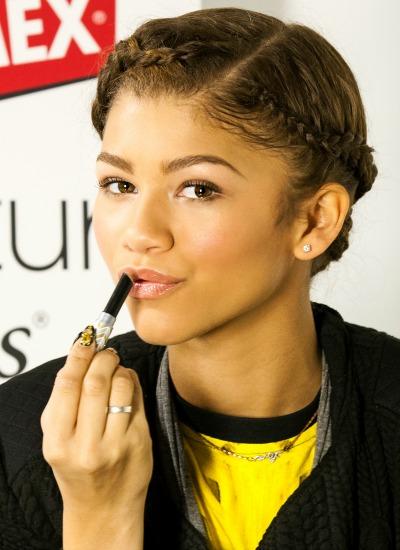 OK!: So tell us about your partnership with Carmex.
Z: I definitely wanted to partner with Carmex because skincare and lip-care is really important to me. I use Carmex already, so it was just perfect the way it came about. I love the new packaging, I love the new look. It's a change up from the old yellow and red. It's fun, it's chic, it's something you can match with your outfit.
OK!: Do you have any other tips for protecting your skin during the winter?
Article continues below advertisement
Z: My favorite time to moisturize is right before bed, because you can sleep in it. Whether it be a thick moisture cream for your body or on your face, or load on the Carmex before you go to sleep, and it absorbs while you're sleeping. I definitely notice a difference when I wake up, how much more moisturized my skin is. That always helps.
OK! News: Listen to Zendaya's newest single here!
OK!: You're constantly changing up your makeup and hair. What's your favorite look these days, and whats the easiest way to change up your look?
Z: I love creating new almost characters or different personas with outfits or hair. Yesterday I wore a wig to Jeremy Scott and Betsey Johnson, because I wanted to wear a bob. I wanted to do something fun. It was a totally different look for me. I didn't have to cut my hair, or put heat on my hair, which is even better. My favorite hairstyles are like what I'm doing today, a little braid or a little bun, because it doesn't require any heat. I do a lot of buns, because I like to protect and take care of my hair. Anything I can do to keep it away from damage, braid it up, get it out of the way, is usually my favorite style.
Article continues below advertisement
OK!: You just ended your tour a little bit ago, so what's next for your music?
Z: Oh, there's so much I have to do! I'm continuing to promote "Replay," and taking it international as well. I was just recently in Jamaica, I sang it to people in Jamaica, and they sang it back to me. It was a huge crowd at this awards show I went to, singing my song for me. And that's incredible, that people from all walks of life that you've never met are singing your song and connecting in that way. Music is a big priority right now.
OK!: We loved watching you on Dancing with the Stars. How do you fit dancing into your life now, since it was such a big part of Shake It up?
Z: Well, dancing continues to be a part of my life. I just did a Disney pilot that I co-produced, and we had an Argentine tango in the pilot. Val Chmerkovskiy was with me, so I got to get back into my ballroom dancing skills, which was exciting. I still dance all the time, I still do videos. I'm always dancing no matter what.
Article continues below advertisement
OK!: Can you tell me more about the pilot? What's the story, and who's your character?
Z: It's untitled right now, but it's basically about a teenage spy. She's a smart girl, socially awkward. She doesn't really sing or dance—her special talent is really just being smart and doing her homework. Her parents are accountants, but she finds out they're spies, and they recruit her to help them on a mission. It's basically about how she has to balance that with her regular life, and the troubles she encounters in those two worlds, which I think is really relatable. Maybe kids out there aren't spies, but there are a lot of young people out there who are gymnasts, or on a sports team, and they never have time to juggle everything.
Did you watch Zendaya on Dancing with the Stars? Do you think you'll watch her new Disney show? Do you use any Carmex products? Tell us in the comments below or tweet us @OKMagazine.