VIDEOS
Vacation Like a Star: Sandals Emerald Bay in Great Exuma, Bahamas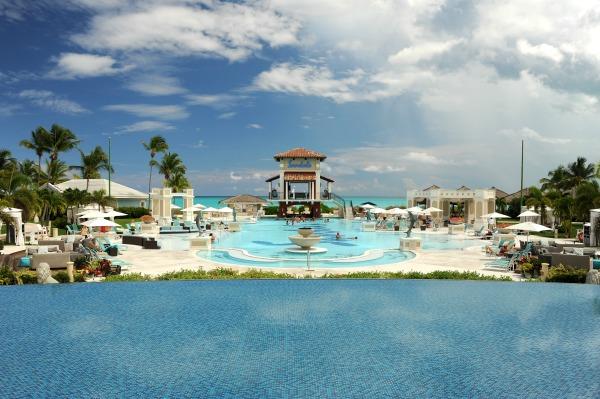 Let me just preface this post by saying that you're in for a treat. Usually when we tell you how to "Vacation Like a Star" we haven't actually gone ON the vacation with the stars. Well, for this edition of "Vacation Like a Star," I had the amazing experience of heading down to Sandals Emerald Bay in Great Exuma, Bahamas for the true VIP treatment. On vacation with me? Gretchen Rossi and Slade Smiley from the Real Housewives of Orange County, Kevin Rahm of Mad Men, Tony award winner Marissa Jaret Winokur, Growing Pains star (and Robin Thicke's dad) Alan Thicke, Access Hollywood's Billy Bush, legendary golf pro Greg Norman and more.
Article continues below advertisement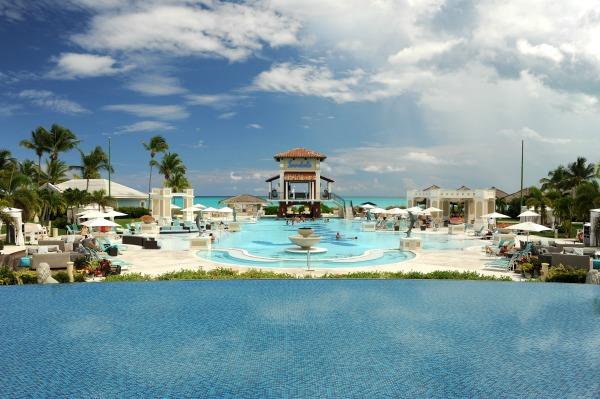 The celebs were there to relax, of course, and take part in the Access Hollywood celebrity golf tournament. A golf tournament, by the way, that takes place right along the ocean. To say the view is breathtaking is like saying the beach had sand. It was unlike anything I had ever seen.
I was there to hang with the stars and check out all the first class amenities that Sandals Emerald Bay had to offer during the day and night. I vacationed like a star in the truest sense of the word.
Article continues below advertisement
1. Butler Suites: We had the luck of staying in a one bedroom, beachfront villa that came with butler service. What does that mean? Upon arrival, my very friendly and eager to please butler greeted us with white gloves and a cell phone. The phone was our key to never having to worry about one thing all weekend. In need of a snack? The cell phone connected to my butler and I had what I craved in no time. Forgot my book while out by the pool? No worries, my butler went to retrieve it for me. He also made sure our room was filled with surprises like spelling out "Love" on the front porch and bed. Here's a peek at the Royal Estate with a private pool for extra, extra VIPs.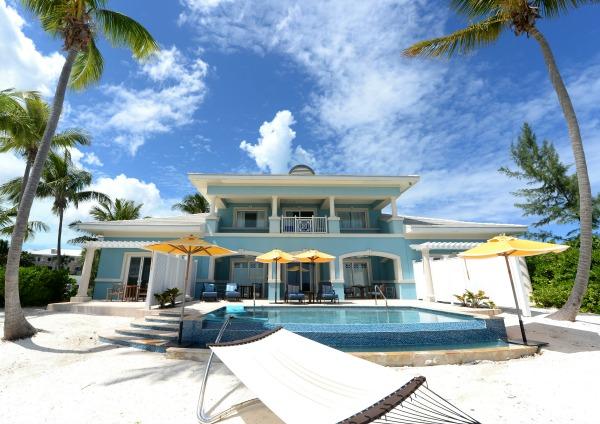 2. The Red Lane Spa: Heaven. That's where I'm pretty sure I went during my visit to the Red Lane Spa. I had a luxurious salt scrub followed by a perfect, tension relieving massage. All the products used at the spa are from the Red Lane collection and smell of Caribbean inspired scents like coconut and pineapple and lemongrass. But the relaxation doesn't end in your treatment room. You can take a nap and have a cup of tea in the quiet room or head outside to a hidden oasis just for the spa with a cold plunge pool and lounge chairs. I was so relaxed, I barely had the strength to open my eyes and head out to the beach afterwards . . . but somehow I rallied!
Article continues below advertisement
3. One Mile Private Beach: The water is crystal blue and the sand on the beach is lush and soft. You have one mile to take a romantic walk, lounge along the shoreline or hop on a hydrobike, kayak or grab a paddle board. I took a leisurely hydrobike ride up and down the shore and it was quite the workout. You definitely don't mind though when paradise is your view.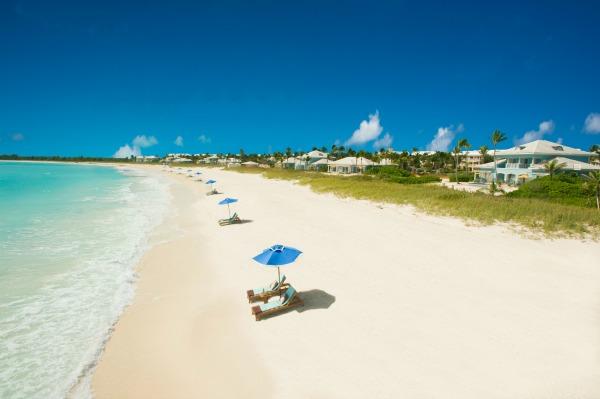 4. The Pools: There are two pool experiences you can have at Sandals Emerald Bay. There's the party pool with a swim up bar (I highly recommend ordering a "dirty banana") and entertainment. Lounge on a sofa that almost seems to be drifting in the water or take a float into the pool. OR you can take a break by the beautiful quiet pool when you need to be alone with your thoughts (or nurse that hangover). Either way, the skies are clear, the sun is shining and you'll be happy.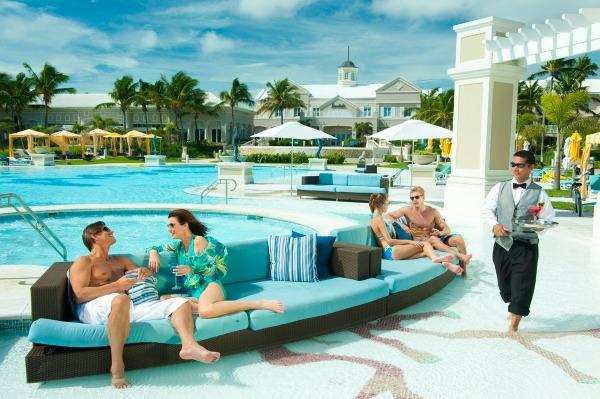 MORE ON:
Vacation Like A Star
5. The Breakfast Buffet: I'll get to the rest of the food options in a minute but the breakfast buffet at the Bahama Bay restaurant was the best reason to get out of bed (and this is even with breakfast in bed being an option). There was an omelet station, fresh fruit, meats, cheese, pancakes, waffles and freshly squeezed juice—perfect for transforming into a mimosa!
6. The Restaurants: Craving Italian? French? Pizza? Ice cream? Bar food? Want a big, three course meal? Head over to La Parisienne for a gourmet, French experience. Feeling more Italian inspired? Il Cielo is amazing. The food is included with your stay and you can honestly get anything you're craving any time of day. I purposely didn't look at the scale before I arrived or after I got home!
Article continues below advertisement
7. The Night Life: There is one pub and it's called The Drunken Duck. The jukebox plays all the hits and without warning, dance parties have been known to break out. But you can also party with the locals. Every night Sandals Emerald Bay rolls out live bands, singers and entertainers throughout the property. We watched a man eat and walk on fire—it was something I'll never forget.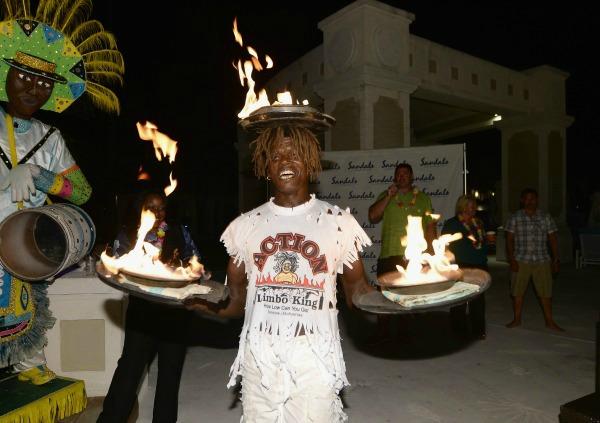 8. The Golf Course: Now, I've never played golf before but you're just drawn to the links the second you arrive on the course here—it's on the friggin ocean! We grabbed a golf cart and followed the celebs around as they went from hole to hole during the golf tournament. I even hit a ball or two along the way though I was totally distracted by the OCEAN glistening behind me. It was also a really amazing experience to drive on the course that golf legend Greg Norman designed while watching Greg Norman himself play on the course!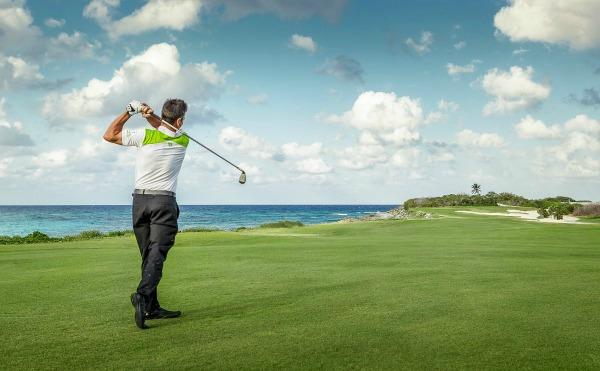 9. The Excursions: We embarked on an amazing journey during our stay thanks to Island Routes. We boarded a boat, headed out on the ocean and enjoyed three amazing activities along the way. We snorkeled and saw beautiful fish and sting rays. We frolicked (seriously there is no other way to describe it) on a sandbar in the middle of nowhere. And, we went swimming with pigs. Yes, in Great Exuma swimming with the dolphins is so over. Here you have a once in a lifetime experience to swim with the happiest, friendliest, water loving pigs you'll ever meet. Give them a banana or turkey hot dog and you have a friend for life!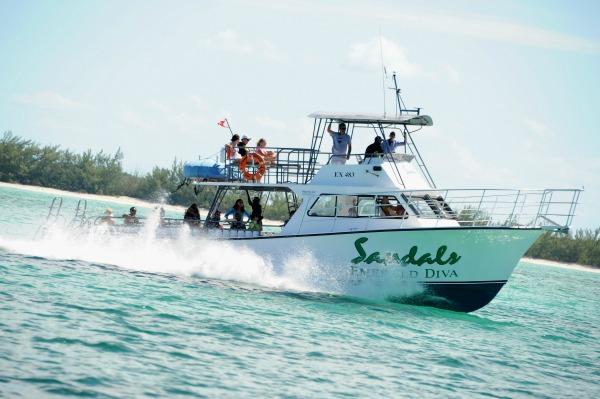 10. You Can Go Swimming with the Pigs: Just thought that was worth mentioning one more time!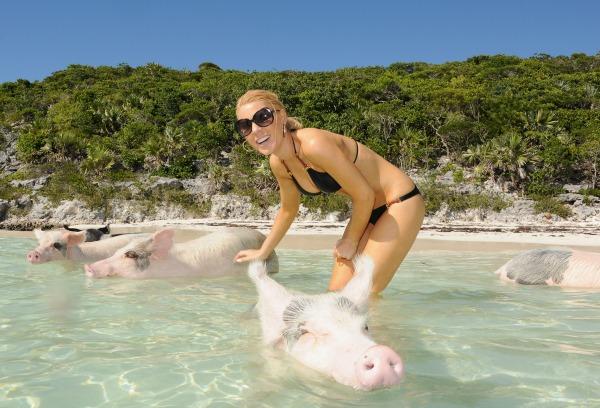 So, are you ready to pack your bags and head down to Sandals Emerald Bay? Well, we're giving away a 4 day, 3 night stay—valued at $5000! Want to enter? Of course you do. Click here for the details and you'll be swimming with the pigs in no time!
What about Sandals Emerald Bay sounds the most fun and relaxing to you? Tell us in the comments section below or you can tweet us @OKMagazine. And be sure to check out Sandals' web site for tons more info!