VIDEOS
Why Adam Brody Refers To Sex Scenes With Co-Star Kristen Bell as "Threesomes"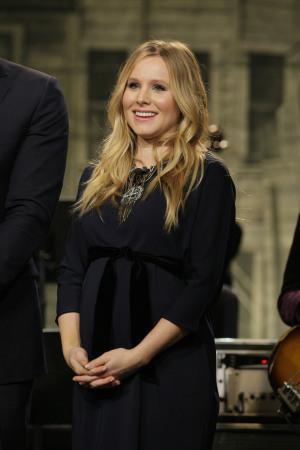 Kristen Bell is here to set the record straight—being a pregnant actress is not all it's cracked up to be!
WATCH: Joseph Gordon Levitt Breaks Shatters Conan's Glass Table
While making the talk show rounds to promote her hit Showtime dramedy House of Lies, the 33 year-old mom (she gave birth to daughter Lincoln last spring) had much to say on the topic, considering she had to shoot many of her sexiest scenes with a big ol' pregnant belly.
Article continues below advertisement
PHOTOS: Gwen Stefani Shares Insanely Hot Baby Bump Pic
"My boyfriend on the season was Adam Brody," she explained to Conan O'Brien. "And he affectionately refers to our sex scenes as our 'threesomes'."
And while maybe they weren't the most comfortable scenes to shoot, she did get something out of it. Adding to Conan, "Now I can forever look at my daughter and go, 'Oh you were there for that!'"
Watch the whole video above and make sure to catch Kristen on House of Lies every Sunday on Showtime.