BABIES
Tricky! Katy Perry Seemingly Hinted At Her Baby's Name Daisy Months Before She Gave Birth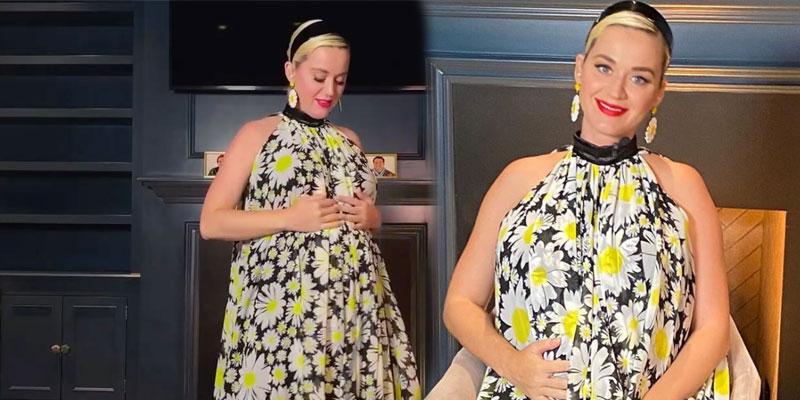 On August 26, Katy Perry and Orlando Bloom announced the birth of their daughter, Daisy Dove Bloom. However, it looks like the pop star, 35, has been dropping hints all along about her baby girl's cute moniker.
In May 2020, the 'Roar' songstress released a song called 'Daisies,' which clearly meant a lot to the couple. Months ago, Perry was asked what Bloom's favorite song off her upcoming album, Smile, is. "He loves 'Daisies,'" the brunette babe replied.
Article continues below advertisement
PREGNANT KATY PERRY SHARES SNEAK PEEK OF DAUGHTER'S NURSERY AND HILARIOUS ORLANDO BLOOM ONESIE
Of course, fans couldn't help but point out this coincidence. One person wrote, "The fact that Katy has a song called 'Daisies' and she and Orlando named their baby Daisy … glad to see celebs don't put in hidden messages in their songs for greater meanings," while another echoed, "No wonder Katy Perry said Orlando's fave song on Smile was 'Daisies' … they were literally teasing us this whole time and now it's Daisy Dove Bloom officially omg."
Perry also touched upon the meaning behind the bop. "I wrote this song a couple months ago as a call to remain true to the course you've set for yourself, regardless of what others may think," she wrote on social media. "Recently, it has taken a new meaning for me, in light of what the whole world is experiencing. Each of us is one in more than seven billion, with our own story of strength and resilience to tell. DAISIES is out now. I hope it will be the soundtrack to going for your dreams now … especially the ones we left behind."
Article continues below advertisement
Perry also posted a lot of flower content — specifically daisies — on social media over the past few months. "Tune in TONIGHT for the #AmericanIdol grand finale AND my first television performance of #Daisies! It all starts at 8/7c on @abcnetwork, and I'll see you at 4pm PT / 7pm ET on Facebook Live to talk about everything!" she captioned a photo of herself sporting a dress with — you guessed it — daisies on it.
Article continues below advertisement
The pair let viewers see a glimpse of their new baby, and Perry even sported a daisy on her thumb following the birth announcement. "We are floating with love and wonder from the safe and healthy arrival of our daughter," the A-listers said in a statement.
The couple also encouraged their followers to donate to UNICEF as they are "the lucky ones and not everyone can have a birthing experience as peaceful as ours was."
"Communities around the world are still experiencing a shortage of healthcare workers and every eleven seconds a pregnant woman or newborn dies, mostly from preventable causes," the statement continued. "Since COVID-19 many more newborn lives are at risk because of the increased lack of access to water, soap, vaccines and medicines that prevent diseases. As parents to a newborn, this breaks our heart, as we empathize with struggling parents now more than ever."
Article continues below advertisement
ORLANDO BLOOM IS 'SO EXCITED' TO 'HAVE A LITTLE DADDY'S GIRL' WITH KATY PERRY
Perry and the actor, 43, got engaged in February 2019 after they were in an off-again, on-again relationship since 2016.
The Grammy nominee admitted she "was terrified of having a child," but has come a long way since then. "I'm not very maternal. I am, in a way, but when it comes to crying and sadness and that kind of stuff, I'm like: 'I don't know what to do. I don't know what to do.' Yeah," she told Apple Music's Zane Lowe, adding, she did a "ton of work" to prepare for motherhood.