COUPLES
'Bachelorette' Star Becca Kufrin And Fiancé Garrett Yrigoyen End Engagement After 2 Years: 'There's Much More To It'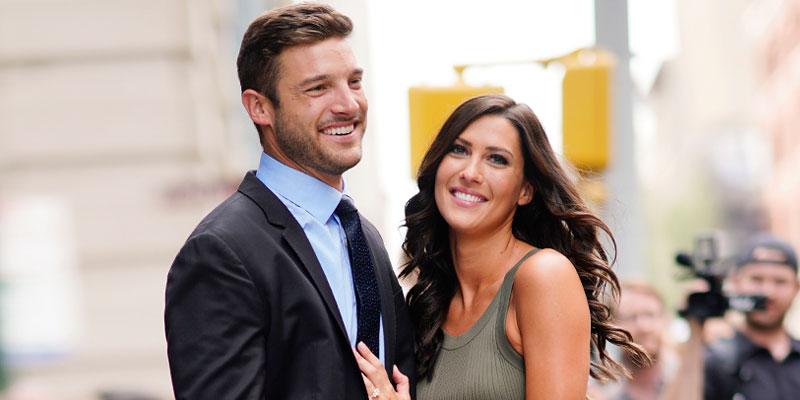 Bachelorette star Becca Kufrin and her fiancé, Garrett Yrigoyen, are calling it quits after two years. "I don't think it's going to come as a shock to anyone, but Garrett and I have decided to end our engagement," the 30-year-old said on the "Bachelor Happy Hour" podcast on Tuesday, September 1 — months after the two fueled split rumors.
"After many conversations, we came to this decision," she shared. "It wasn't something that we just arrived at one night. It wasn't based solely off one Instagram post or somebody else's opinions or comments. There's much more to it. To any relationship, there's a lot of layers, and it's not for me to divulge details. It's no one's business other than what I'm telling you right now."
Article continues below advertisement
WATCH! 'BACHELORETTE' ALUM BECCA KUFRIN & 'BACHELOR' ALUM BEN HIGGINS READ US THEIR TEXTS!
"We went on this crazy TV show over two years ago in hopes of finding love, and we were lucky enough that we did," Kufrin continued. The brunette beauty and Yrigoyen, 31, have "finally come to terms" with their relationship ending, and she is "so grateful" to have shared "two-plus years" together.
"Like I said, I still have so much love and compassion in my heart for him," she explained. "Just because we've arrived at this decision now doesn't take away all of the years and the countless memories that we've made together. I will always look back at this time in my life with so much gratitude and love."
Article continues below advertisement
Despite the tense situation, Kufrin defended Yrigoyen. "Garrett is my fiancé, and I love him to his core," she stated. "I believe that he is a good person. What he posted … I don't align with and I don't agree with." Kufrin added that his statement was shared at "the wrong time."
The TV personality wanted Yrigoyen to "see the bigger picture," but ultimately wasn't sure what would happen between the two of them. "I want to say to our listeners out there — because I'm sure many will hear this back and wonder and ask and have opinions — for those who are curious about my relationship with Garrett at this point, all I can say right is is I don't know," she said on June 16.
"I can't give anything more than that," she continued. It's something that we are trying to work through and discuss and do work on at home at this time and that's where the work will remain and that's really the best I can give you at this point."
'BACHELORETTE' ALUM ALI FEDOTOWSKY 'MORTIFIED' AFTER 1-YEAR-OLD SON RILEY POOPS IN RESORT POOL
Since then, Kufrin and Yrigoyen hadn't been spotted together, and the reality star went home to Minnesota to spend time with her family. Earlier this month, Kufrin — who got engaged to Yrigoyen in 2018 — seemingly moved into a new apartment and has been spending time in Los Angeles with other Bachelor alums, including Kaitlyn Bristowe and Becca Tilley.
Now, Kufrin is trying to settle into her new normal. "2020 has been a hell of a year," she concluded. "But I'm not the only one who's had to deal with this. I'm not the only one who will have to deal with this. It's important now more than ever to lean on each other and just give out kindness and grace to others out there, because we could all use it with everything going on."
We wish Kufrin and Yrigoyen all the best moving forward.