COUPLES
Demi Lovato Divulges Wedding Details, And Her Dress Will *Certainly* Be Different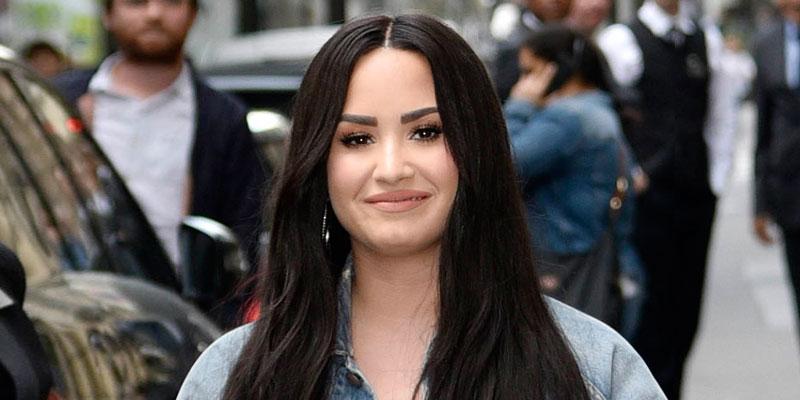 It's OK not to be... traditional? Demi Lovato and fiancé Max Ehrich are already talking wedding plans, and let's just say Lovato's big day will be a bit different from what you'd normally expect.
"I have my image for what I would want it to look like if I got to do a big celebration," the 'Its OK Not To Be OK' singer teased to PopCrush Nights hosts Kayla Thomas and Matt Ryan during an interview that aired Monday, September 14. "I don't wanna give it away but it's definitely not a white dress."
Article continues below advertisement
While the 28-year-old said she's already "looking at dresses," she explained that the coronavirus pandemic has definitely influenced wedding planning. "On one hand, I would love to elope because my life is so public and I want to keep it sacred between me and him. On the other hand, I want my friends and family to be there for a celebration, but I can't do that until the pandemic's over 'cause it's not safe," the former Disney star shared.
'BAD BLOOD!' TAYLOR SWIFT'S HISTORY OF FAMOUS FEUDS WITH CELEBS EXPOSED
The 'Skyscraper' songstress made one thing clear — keeping their wedding day "sacred."
The brunette beauty announced her engagement to Ehrich via an Instagram post on Thursday, July 23, with a series of shots of the love birds on a Malibu beach. "When I was a little girl, my birth dad always called me his 'little partner' – something that might've sounded strange without his southern cowboy like accent," she captioned the post. "To me it made perfect sense. And today that word makes perfect sense again but today I'm officially going to be someone else's partner."
Article continues below advertisement
The 'Sorry Not Sorry' singer — who has struggled with bipolar disorder, depression an eating disorder and overdose — shared that "I've never felt so unconditionally loved by someone in my life," adding: "You make me want to be the best version of myself. I'm honored to accept your hand in marriage. I love you more than a caption could express but I'm ecstatic to start a family and life with you. I love you forever my baby. My partner. Here's to our future!!!!"
While their smiles are bright, the giant diamond on Lovato's hand is brighter. The 8-carat emerald cut diamond, whose center stone came from a family necklace, only added to the beautiful shots of the happy couple.
Earlier this week, Lovato joined The Morning Mash Up on SiriusXM to talk about their six-month relationship during quarantine and how the pandemic has brought the pair closer. "We were able to share this time together that we wouldn't have normally gotten to spend. And that accelerated our relationship on a level that you can't really explain to people, but quarantine either makes or breaks the deal," the actress explained. "And it really made that. So I'm really blessed, really fortunate and continuing to count my blessings every day."
Article continues below advertisement
"Falling more and more in love everyday with you honey," she captioned one of her snaps of the two kissing. Lovato also thanked her man as she expressed that she has never been happier, just two years after her nearly fatal overdose. "Only two years after that terrible day, I'm engaged to the love of my life, and I can genuinely say I feel free of my demons," she wrote. "Each and every one."