NEWS
10 New Songs I Became Obsessed With After Hearing Them on 'Glee'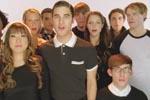 I'll be the first to admit that the plot on this season of Glee, which officially ended last week, has been meh. But the music? Always good. And even though I listen to the radio and I read the internet and duh, I'm an Entertainment Editor, sometimes the way I find out about the best new music is from Glee. Don't judge me.
OK! News: Vote For Glee in the OK! TV Awards!
For every Britney Spears song or Katy Perry song that the gleeks sing, there's always a few randos originally sung by up-and-coming bands or indie singers or whatever that are just so good. Sometimes better than the original versions! And here are my ten faves from all four seasons. Read on with me, please...
Article continues below advertisement
2. "New Year" by A Great Big World. What is this band? I don't know. But when Glee did this song in their Christmas episode, it became my anthem on NYE 2012. And this black and white performance was just the BEST because those are my favorite colors.
3. "We Are Young" by fun. OK, now I know who fun. is. But Glee did this song in season 3 when the band and this song were just becoming popular, and I lked the Glee version of the song before I liked the original. Now I like both though. Also, Quinn is on this! Bring. Her. Back.
4. "How To Be a Heartbreaker" by Marina and the Diamonds. I knew a tad bit about Marina before this song happened, (like the fact that she's not American and that she draws a little heart below her eye as her signature thing), but Brody and Rachel singing it this past season solidified my love of it. So much emotion, you know?
Article continues below advertisement
5. "Jar of Hearts" by Christina Perri. I recognized the name Christina Perri because I knew her as the girl who sung all those songs on the Twilight soundtracks. But 'Jar of Hearts' became my jam once Rachel sung it on-stage at junior prom when she and Quinn were fighting over Finn. Good times.
6."Animal" by Neon Trees. Fine, I knew this song before the Warblers sung it in season 2. But I'm pretty sure this is the first Klaine duet ever so it holds a special place in my heart.
7. "Forget You" by Cee Lo Green. Um, doesn't everyone share this sentiment? Cee Lo was just becoming Cee Lo (rather than Gnarls Barkley) when Gwyneth Paltrow and New Directions performed this song in season 2, episode 7. And now, next to "Don't Stop Believin'," it's a true Glee classic.
8. "Next To Me" by Emile Sande. Emile is getting big as we speak, and I think Rachel and Shelby singing her song on Glee is just the boost she needs to hit it majorly huge in the US. Because when Lea Michele and Idina Menzel sing one of your songs, you know you're awesome.
Article continues below advertisement
9. "It's Time" by Imagine Dragons. I was certain that season 4 would suck (which is still debateable), but it did not suck when they kicked it off with this song in episode 1. Imagine Dragons has a few songs but this one is still my favorite.
10. "Wings" by Little Mix. The New Directions' competition sung this gem by Little Mix in this season's regionals. These gals are about to majorly break in the US (one of them dating Zayn Malik from One Direction is only helping matters) so keep a lookout, and then thank me (well, thank Glee) for introducing you to them early.