NEWS
5 Most Controversial 'Glee' Moments Ever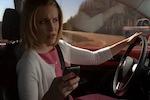 Glee is known for it's witty humor, perky sing-alongs and over the top performances...but as Maroon 5 says, it's not always rainbows and butterflies.
OK! TV Awards: Vote for Your Fave TV BFF!
With the season 4 finale airing tonight, we're taking a look back at some of the most controversial episodes Ryan Murphy has ever brought to Glee. From suicide to steamy sex scenes, it gets pretty intense in and around McKinley High. Take a look back with us as we relive some of the most controversial Glee moments to date...
Article continues below advertisement
OK! TV Awards: Vote for the Saddest Break-up on TV This Year!
"Shooting Star" - In the wake of the Newtown tragedy, the cast of Glee recreated the intensity of a school shooting that left many viewers with mixed feelings. Some feel it was an informative episode that showed the severity of the school shooting issue while others felt it was inappropriate.
OK! Loves: Glee's Next Huge Artist, Little Mix
"The First Time" - Anyway you cut it, sex on TV always makes people a bit uncomfortable. But make it two homosexual teens, and people start to talk. When the Glee scene where Kurt and Blaine have sex for the first time hit TV screens, it made headlines. Again, mixed feelings on this one as some people feel it was great to show that it is finally being accepted and some feel it crossed the line.
Photos: 14 Teen Pregnancies That Happened On Scripted TV Shows
"On My Way" - When big and tough footballer Dave, came clean to his peers about his sexual orientation, things went from bad to worse. He was bullied to the point of attempting to commit suicide. It was one of those Glee scenes where we just held our breath and hoped for the best.
OK! News: 'Glee' Renewed for Two More Seasons!
"On My Way" - If there's one thing everybody can agree on it's that texting and driving is insanely dangerous...and Ryan Murphy wanted to make sure that all Gleeks know that the danger is very real. While trying to text back Rachel, Quinn doesn't notice the truck heading right into her and ultimately putting her in a wheelchair. Scary, scary stuff people - don't text and drive!
Photos: TV Couples Who Are Dating in Real Life
"Theatricality" - Rule of thumb: if the word you're about to use starts with the letter "f", double check that it's a word you definitely want to use. When new housemates and sort-of-brothers, Finn and Kurt settling in as roommates, Finn drops the F-bomb...and our jaws dropped.
Watch: Naya Rivera and Big Sean Are a Couple!
Which moment do you think was the most controversial in Glee history? Do you think they crossed the line in any of these? Tweet us at @OKMagazine or tell us what you think in the comments below!