NEWS
6 Of 'Awkward's' Most Awkward Moments Ever In Honor of Tonight's Finale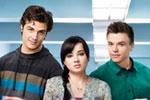 MTV's Awkward is, you guessed it, incredibly awkward. Between relationship issues, friendship problems and everything in between, sitting down to watch the show guarantees cringing at least once—but that's why we love it! We figured there's no better way to prepare for tonight's season finale than to recap the most awkward moments that have ever happened on the show. Disclaimer: we know Jenna (aka Ashley Rickards) is featured in almost every one of these scenes, but what can we say? She's the queen of awkward moments! 
Article continues below advertisement
OK! News: Honey Boo Boo Wins The Redneck Olymp-Hicks
Jenna reads her blog. We're all for having a blog or keeping a diary, but here's a little piece of advice: if you're going to write about personal moments, make sure you don't read them out loud while your mom is in the audience.
OK! Exclusive: What's In Ashley Rickards' Beauty Bag?
Jenna tells Matty her parents know they're having sex. We can't tell what's more awkward here—the fact that Jenna's dad called Matty's to tell him their kids or having sex or the manner in which Jenna breaks the news to him—so we'll just call it even.