NEWS
Emily Maynard Bashes Kalon McMahon & His Apology on 'Bachelorette: Men Tell All' Special!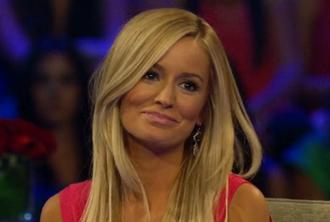 We all knew Emily Maynard would be sitting in the hot seat last night as she confronted some of the men she sent home this season on The Bachelorette. But what we didn't realize was how feisty she'd be! From the first time we met Emily on Brad Womack's season of The Bachelor, she's totally come out of her shell, and it's amazing to see her stand up for herself!
The blonde beauty not only bashed this season's villain, Kalon McMahon, for calling her daughter Ricki "baggage" on last night's The Men Tell All special, but she openly rejected his apology, saying it was "a load of s---."
Article continues below advertisement
OK! VIDEO: DOES EMILY MAYNARD END UP ALONE ON THE SEASON FINALE OF THE BACHELORETTE? WATCH PREVIEW!
"Emily, I want to apologize for the way things transpired," Kalon said, as all the men stared at him with what appeared to be laser eyes. "I really wish the best for you."
"And you, my dear, should be a politician, because that's the biggest load of s--- I've ever heard," Emily told him, addressing thew recent Twitter post in which he shared a photo of a baggage claim check and wrote,"Thought for sure I'd see Emily Maynard here." Kalon then tried to backtrack, saying he doesn't take social media as seriously as everyone else, but Emily called him out again, saying he wrote "Sorry, I'm not sorry," after people lashed out at him for posting the comment.
"I just hope one day you find faith in something bigger than your Prada shoes and your rented helicopter," Emily told Kalon, matter-of-factly.
So, it's safe to say Emily and Kalon aren't friends, but she seems to be pretty close with the rest of the guys, including Ryan Bowers, who pissed off a lot of people — fellow bachelors included — by being overly confident and cocky throughout the season. And although Ryan admitted multiple times that he would love to be the next Bachelor, Chris Harrison reassured everyone that he could keep dreaming, because it's not happening! (Thank goodness!)
Article continues below advertisement
But, Emily still forgave Ryan, telling him she did, in fact, fall for his charms and actually enjoyed their time together.
Chris Bukowski, who got sent home after the hometown dates, also spoke with Chris Harrison about getting his heart broken and his new role on Bachelor Pad. But our favorite moment came when Sean Lowe sat down with Chris H. to talk about his memorable, yet absolutely devastating Bachelorette ending.
"I truly did believe she was my wife," Sean told Chris H. "It never entered into my thoughts that I could go home that evening. I was thinking about being a father and being a husband. I fell in love with this girl. I fell in love with her for a million reasons, and that's not going to fade overnight. And it hasn't. But I do see the light at the end of the tunnel. When I think about her and the good times we had together, I miss her." AWW!!
Article continues below advertisement
OK! NEWS: WOULD SEAN LOWE DATE BACHELORETTE EMILY MAYNARD AGAIN IF SHE'S STILL SINGLE?
Of course, being the woman she is, as soon as Emily came out to talk with all the men, she turned right to Sean, said 'Hi', and told the Southern gentlemen that she missed him.
"I want you to know that I watched the episode and literally sat in my room and did the ugly cry," Emily told Sean about how his exit affected her. "Everything I felt for you was so true and so genuine and real for me."
"I want to thank you because you opened up my eyes to love," Sean said. (Could we adore him any more? Probably not).
The show ended with previews of the finale, which might just be "the most dramatic episode of The Bachelorette... ever." Who will Emily choose: Arie Luyendyk Jr. or Jef Holm? Or will she end up broken-hearted? We'll have to wait and see!
For more on Emily, check out the video from SheKnows.com below.