NEWS
Alec Baldwin "Sad for" Anthony Weiner: He is a "Busy Man" & Needed "To Take the Edge Off"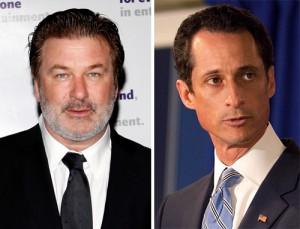 In a new article for The Huffington Post, Alec Baldwin shares his thoughts on Anthony Weiner and seems to blame his Twitter troubles on the fact that he's a busy modern man.
OK! NEWS: ALEX BALDWIN MOVING FROM 30 ROCK TO CITY HALL?
"My thought on Weiner is that he is a very busy man," Alex writes on The Huffington Post. "He exists under a constant pressure cooker of self-analysis and public appraisal. Like other politicians, he needs something to take the edge off. For some people, regardless of occupation, that could mean booze, drugs, gambling, food or shopping."
Article continues below advertisement
"For high functioning men like Weiner and other officials who have lived through such scandals, who are constantly on the go, that leaves one tried and true source of a reliable high," Alec says. "The affirmation that comes when someone lets you know they want to sleep with you. Or even cyber-sleep with you."
OK! NEWS: ALEX BALDWIN IS UNRECOGNIZABLE ON ROCK OF AGES SET WITH RUSSELL BRAND
But Alec says Anthony was so busy he forgot that cyber friends can't always be trusted to keep things confidential.
"Weiner is the modern, high functioning man," he explains. "The fact that he is married is just one, albeit a huge, factor. I know many people who divorce over such issues of online betrayal. Appointment sex with your spouse doesn't always arrive when you need it most. A modern cell phone, loaded with contacts of willing fellow players, has a table with a red checkered table cloth ready for you at virtually any time."
And ultimately, Alec feels bad for Anthony.
"Weiner is a modern human being. So he ensnared himself in things that modern humans do," Alex writes. "When I first heard about his problems, I snickered and made jokes, too. Now, I'm sad for him, his family, his district and his colleagues."