NEWS
'American Idol' Blog: The Top 5 Perform Songs from "Now" and "Then"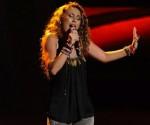 Wow. Only three weeks until the American Idol finale. Where has this season gone? We lost talented Casey Abrams last week and now we are down to our Top 5. Tonight, each of them sings two songs: One from "Now" and one from "Then," back in the 60s and 70s. Let's see how they do.
OK! EXCLUSIVE: CASEY ABRAMS — "THE OTHER MALE IDOL CONTESTANTS ARE SEXIER THAN ME"
James - "Closer to the Edge" James is really working the crowd tonight. And this song really fits his voice. Such a great stage performer like always but it sounded a bit pitchy.
Article continues below advertisement
Steven - I think you kicked that song's a**.
Jennifer - You have been showing us that you want it. So take it.
Randy - Now you are showing us what kind of record you could make. James is in to win it.
Jacob - "No Air" This was not a good choice for Jacob. Singing both sides of a duet doesn't work and this does not suit his style of singing.
Jennifer - Your voice is one of the best that has ever been on the Idol stage.
Randy - I don't think that's the direction for you. It made it corny for me, most of it was sharp. I see you more as a Luther kind of kid.
Steven - I'm waiting for you to find your niche, a song that is 100% you. But I love your voice.
OK! VIDEO: WATCH CASEY ABRAMS' KISSING JOURNEY ON AMERICAN IDOL
Lauren - "On the Floor" Taking on a Carrie song is risky but boy did it pay off for Lauren. She is rocking that stage tonight.
Article continues below advertisement
Randy - That is the direction for you. I loved you showing this fun side. I thought it was amazing.
Steven - The way that you found your niche is as good as it gets. I think you're it.
Jennifer - You ate that up and I saw you, you want it. Do it just like that, every time.
Scotty - "Gone" Scotty sounds really great doing his usual country thing on this Montgomery Gentry song. Really connecting with the audience. And he is getting cuter as the weeks go on, isn't he?
Steven - I saw you dance with the devil tonight and that is a good thing for you. That showed a whole other side of you.
Jennifer - I lost it here for a second. You just owned that song. I heard some growling in there too. I liked it. That is some American Idol stuff right there.
Randy - I felt like we were sitting at concert Scotty. This guy is in it to win it too!
OK! NEWS: AMERICAN IDOL BLOG — TOP 6 RESULTS SHOW — CASEY ABRAMS ELIMINATED
Article continues below advertisement
Haley - "You and I" What a risk Haley, singing an unreleased Lady Gaga song. But it works! So what if we don't know it, she did her own twist on it. But why do the judges continue to throw her under the bus?
Jennifer - I loved the way you sounded. Not sure if that was the best advice to do an unreleased Lady Gaga song.
Randy - I'm not sure it's that great of a song. I think of you in the Joss Stone way. It's risky to do something that no one is familiar with.
Steven - You are just one perfect song from being American Idol. But you need to find it.
James - "Without You" I love you James and I am sure this song was a little emotional. But were those tears real? It was a little too pitchy and the judges should have him called him on it.
Randy - Fighting back the emotions, some of the notes were chalky but it was emotionally perfect.
Steven - That was as beautiful as it gets. Your emotions were incredible.
Article continues below advertisement
Jennifer - Everyone knows you can sing and not some rocker who can just scream. You have the heart and soul to back it up. You are a true artist. You are serious about winning this thing.
Jacob - "Love Hurts" Did not like that at all. Trying way too hard. Jacob is definitely going to be in trouble tonight.
Steven - You kind of got lost in the song, but what a delivery. That's a beautiful song.
Jennifer - You bring out the tricks at the end. It was amazing. Really good.
Randy - You redeemed yourself on this one. That might have been the highest note ever sung on this stage.
OK! NEWS: CASEY ABRAMS NOT DATING HALEY REINHART BUT COULD "DATE LAUREN ALAINA IN FIVE YEARS"
Lauren - "Unchained Melody" Really liking Lauren tonight more than I have in a long time. Great moving performance of this song. Nice move, Lauren.
Jennifer - Nothing to judge there. It was beautiful.
Randy - I am so happy to see this other side of you. Very tender moment, nice soul.
Article continues below advertisement
Steven - I can listen to you all night. You are just beautiful.
Scotty - "You Were Always On My Mind" I am admittedly not a big country music fan. But I loved that Scotty did this Elvis Presley song. Loved this side of Scotty. He is going to be huge in Nashville.
Jennifer - You show us what a well-rounded artist you are. You can do anything. So beautiful.
Randy - We called you our youngest veteran. Sometimes when you do the simplest thing, they get the loudest reactions. I love it.
One spot in the bottom 3 is easy: Jacob, who I feel should have left weeks ago. But the other spots are tricky, if Haley can get the votes, I bet it will be James or Lauren. They have never seen the bottom 3. Will it finally happen? We will find out tomorrow night at 8 p.m.
Written by Rana Meyer