NEWS
Ann Curry Still Hurts 'Deeply' Over 'Today' Show Ouster And Matt Lauer Scandal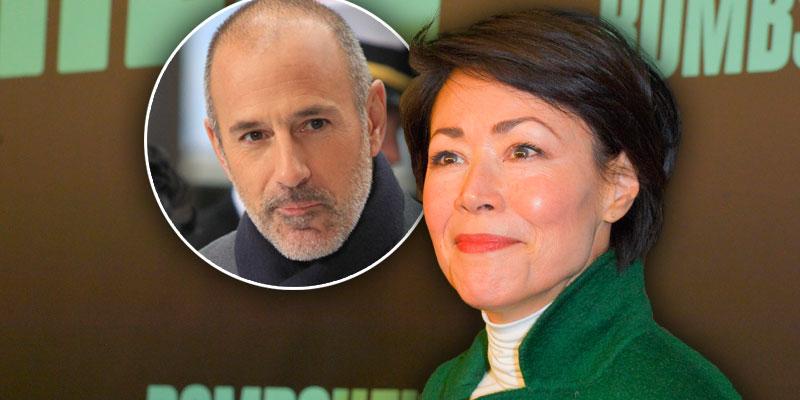 It's been eight years since Ann Curry was unceremoniously dumped from the TODAY show — and she's still at a loss to explain why NBC decided to give her the ax.
Confirming that she reported Matt Lauer's inappropriate behavior to higher powers in 2012 — five years before the network superstar was fired from NBC after a sexual misconduct review — her new interview with Elle magazine raises more questions than answers about what the network knew, when it knew and if it was connected to her ouster.
Article continues below advertisement
MATT LAUER IS DATING LONGTIME FRIEND SHAMIN ABAS
"I still don't really understand," she said. "I know I did nothing wrong. I know I was good at my job. They say where there's smoke, there's fire."
In 2018, Curry said that she reported Lauer's behavior after a female staffer came to her in tears to tell her she was "sexually harassed physically" by Lauer. However, Curry now says that she isn't sure if her firing and the warning she gave NBC executives about Lauer — who had an inappropriate relationship with a colleague while covering the 2014 Olympics in Sochi, Russia — go hand in hand. "I still don't really understand it," she said. "If I had known what was happening in the back rooms of power, then I would know. I obviously was not in those rooms."
"You can read the tea leaves," the veteran journalist of 30 years added. "But you know, I'm a fact-based reporter, so it's hard for me to go out there, with something so close to the vest. I don't know. I don't know."
HODA KOTB & SAVANNAH GUTHRIE REVEAL MATT LAUER IS 'FOCUSING ON HIS FAMILY RIGHT NOW'
At the time of her demise, whispers swirled about a lack of on-screen chemistry between Curry and Lauer amid sagging ratings.
Article continues below advertisement
On June 28, 2012, she made her final appearance beside Lauer, telling the audience through tears: "This is not as I expected, to ever leave this couch, after 15 years at NBC. But I am so grateful, especially to all of you who watch."
As Elle's staff writer Carrie Battan noted, "at the end of the farewell, Lauer leaned over to kiss Curry on the side of the head, and she flinched, shrinking away from her colleague's embrace — a fitting goodbye to a relationship that had long felt unnatural."
Curry said she remains a confidante for many of the women who are still there and trying to sort out their experiences.
7 REVELATIONS FROM ANN CURRY ABOUT MATT LAUER'S SEX SCANDAL
"I still have some friends," she said. "There has been more than one woman who's come to me now about Lauer. I hope they've come to me because they know that I'll be empathetic and compassionate. I'm a right-and-a-wrong girl."
Article continues below advertisement
"I'm happy to be their friend," she added. "This is a deep level of suffering, from what I've learned. They're dealing with trauma that threatens to be lifelong."
As for her own firing — she has not worked full-time since — Curry said: "The bottom line is that it still hurts. It honestly hurts really deeply, because I really think I did nothing wrong. But in spite of the pain of it, which still lingers, I know that I contributed to some people suffering less."
"But I tell you, it was tough," she added. "It was hard to walk that line, to not add more suffering. Boy, oh boy, was it tough."