NEWS
Arrow's Executive Producer Shares the Secret to Felicity and Oliver's Chemistry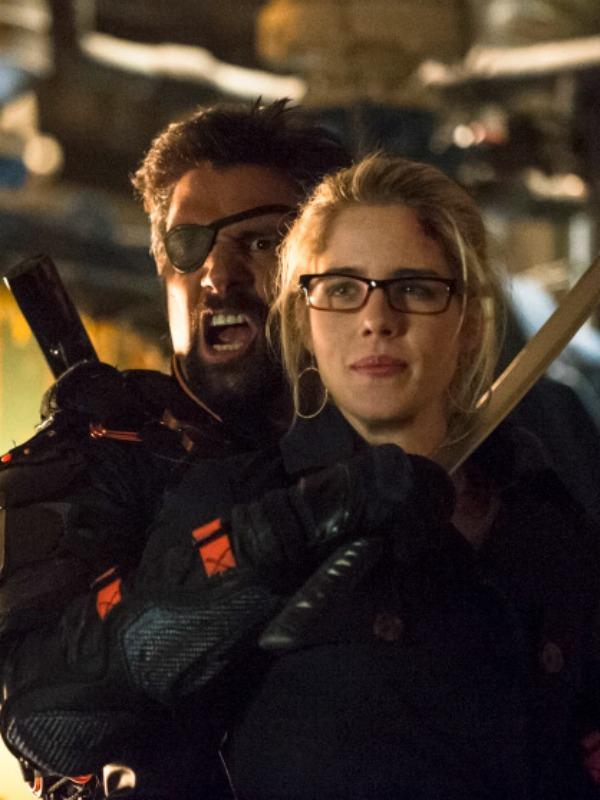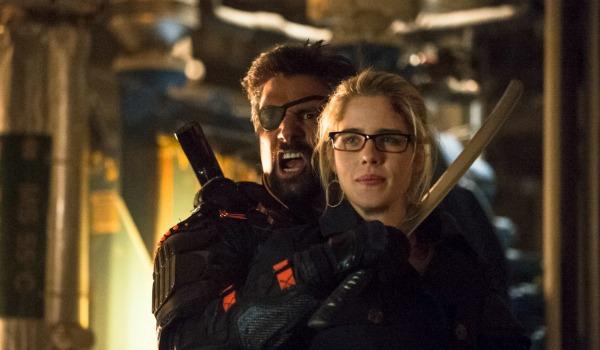 The Arrow season two finale airs tonight at 8/7c, and the last few episodes have been so insane that it's tough to see how the show could possibly top itself! Showrunner Marc Guggenheim chatted with OKMagazine.com to give some major insights for the finale, how he makes the fans happy, and how he feels about Batman.
PHOTOS: Here are 9 things we learned on the set of Arrow.
OK!: We have a poll about the best couple you're shipping on TV, and of course Felicity and Oliver are way up there. Why do you think they work so well together?
Article continues below advertisement
Marc Guggenheim: They have wonderful chemistry, which I know is probably the obvious answer. The less obvious answer is I think Felicity's attraction to him is so obvious but also so pure, that.... it feels more like love than sex. I think people seem to respond to that.
OK!: One of the saddest deaths on TV this year was Moira. How early on did you know you would be killing her off? How did that play into your plan for the second season?
MG: It's interesting. We didn't know we were going to kill off Moira until halfway through season 2. Even though we had a plan worked out at the beginning of the season, and knew what we were doing, killing off Moira was not part of that plan. That said, we knew we wanted to drive Oliver to a place where he would have every reason in the world to kill Slade Wilson, that he would be justified. Certainly, Slade being responsible for the death of Oliver's mother heavily weighs the scales in the "kill Slade" direction. As with all things, her death was not dissimilar to Tommy's death in season 1 in so far as that it wasn't part of the plan from the jump, but we realized the death would have a variety of different beneficial effects on the story we were telling, it seemed to make sense.
Article continues below advertisement
OK! News: Vote for Felicity and Oliver as the best TV couple to ship here!
OK!: Are there any Easter eggs we should be looking for in the finale?
MG: Ooh, good question. We usually do. There's a shout-out to Brad Meltzer.
OK!: How often do you look to the fans for input on where to talk the show, like if they like a character or a plot, or hate it? How much do you factor that in?
MG: We love the fans, and we love that the fans are active on Twitter and are constantly giving us feedback. The practical matter is, by the time an episode airs, we're far down the road in writing. I would say the fan feedback tends to have the most influence in terms of educating as to what it is working about the show, and what's resonating. I wouldn't say there's a specific example I could point to, but I would say that the fans are present in the writers' room.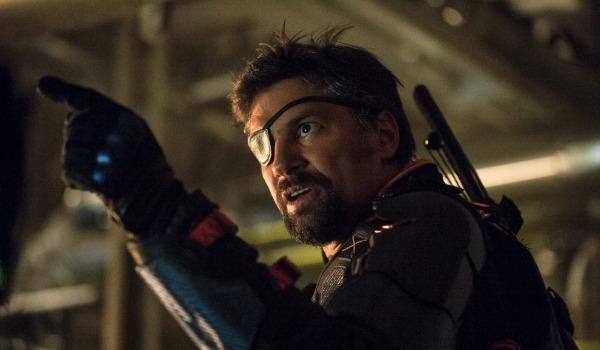 OK!: Do you choose the DC characters and fit them into the show, or do you have scenarios and then figure out who would fit into that plot?
MG: We create plots and scenarios, and then figure. We come up with the story first, and design characters to fit the story, then we open up our DC encyclopedia, and go, "Okay. Who does this, this, and this? Is this close enough to any DC characters currently in existence?" As a general rule, we don't start with the character and try to fit a story around them. The danger is in that is the cart can drag the horse.
Article continues below advertisement
OK!: There's a lot of theories about Felicity's father, and how the reveal will impact the team. Any hints?
MG: It's funny, the whole back story for Felicity was worked out at the beginning of season 2, and we thought, We're absolutely going to get to it in season 2. We'll finally do this episode, and you'll finally seeing this parent. And then we just have a lot of characters and we're pushing a lot of story. That story kept getting kicked down the road. Then we realized we ran out of room in season 2. We're determined to tell that story in season 3. We've dropped little hints about it.
By the way, I just want to make it clear, I said on Twitter that we cut this bit about Felicity's back story from episode 21, and there was a lot of outrage. The truth is, we cut things all the time. It's not just Felicity. We cut things for time, we cut things because the line read wasn't right, we cut things because it's disrupting the flow of the scene. The same is true for stories. There's like dozens if not hundreds of stories that we've been talking about since the first episode of the show. I just want to make it clear that it's by no means just Felicity's story that's getting pushed down the road.
Article continues below advertisement
OK! News: Arrow star Steve Amell shares the sweetest pic of his newborn baby here.
OK!: Will Roy be fully cured, or will there be side effects?
MG: I would say that in season 3 we are definitely dealing with ramifications of what has happened with Roy in season 2. Specifically his exposure to the Mirakuru.
OK!: Are there any plans to cross over once The Flash premieres next year?
MG: I'd be very surprised if we didn't wind up doing that over the course of 22 episodes for Flash and 23 episodes for Arrow. We haven't specifically gotten into how we're going to pull that off, or when, but I imagine when we do, there will be a big announcement. No specifics at the moment.
OK!: It's been a breakneck pace the last couple of episodes. How did you plot out the season to have this many big episodes in a row?
MG: We kind of designed the finale to be a two- to three-part finale. That was always our end game. I just think we were in the groove, creatively, coming into the end of the season. Things were firing on all cylinders. I wish I actually knew the answer to your question, because I'd love to replicate it! We approach each season like a movie, one big 23-episode, 16-hour season, so to accomplish that, we ask, How can we rais the stakes? How do we make the sequel bigger? We try to make every episode feel huge and jaw-dropping.
Article continues below advertisement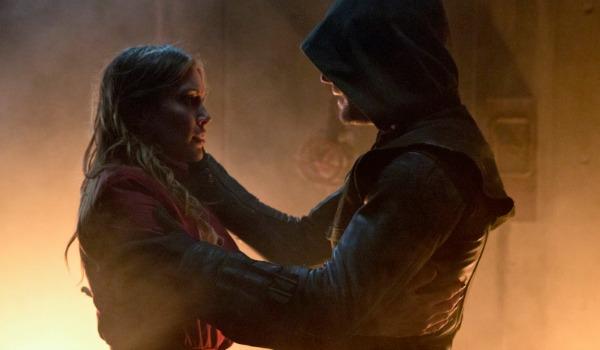 OK!: When the story ends tonight and starts again in the fall, can you elaborate on where it might start over, or if there will be a time jump?
MG: We've spent almost a month now working out the details of season 3. There will be the normal time jump of 5 to 6 months between the season 2 finale and season 3 premiere. We always like the show's chronology to be reflective of broadcast chronology. We'll be continuing that tradition into season 3.
PHOTOS: See athlete interviews that got really awkward, really quickly.
OK!: To go back to Felicity and Oliver, you've said they are the core of the show. If they finally got together for good, would it end the tension? Do you worry about that from a narrative point of view?
MG: In the interest of not having my house carpet bombed, I should say that in that interview, I say their interactions are one of the core elements of the show. Just to keep me out of trouble. Look, I think we are lucky that we are faced with the age-old television conundrum when you have two characters with chemistry. At what point do you have them consummate that relationship? Have you written yourself into a corner? Have you prematurely brought an element to a show to a close? Those are all things we talk about in the writers' room. Lord knows there have been plenty of shows that have given both positive and negative examples.
Article continues below advertisement
The one promise we made to ourselves, at the very beginning, is we would never try to drag things out just to maintain a moment. We churn through story. We don't bide our time with anything. If something feels natural to do something in season 1, we will not wait 'til season 2 to do it. I imagine that will be our guiding principle with respect to Oliver and Felicity. At the same time, we've established that Felicity is not the only woman in Oliver's life. I respect the fans who basically ship Oliver and other women. I think for us, part of the fun of writing the show is watching all of these romantic entanglements go through ups and downs. I would like for the romantic elements to be as surprising and shocking as all the other elements.
OK!: Do you see this as the same universe as that of Man of Steel and the upcoming Superman vs. Batman? If so, how do you plan to incorporate that?
MG: I don't live in the universe where I get to decide that.
OK! News: Here are the pros and cons of having Ben Affleck as the next Batman.
OK!: Have you seen the picture of Ben Affleck?
MG: Oh yeah. Absolutely. It's awesome. In black and white, you can't get too much of a sense of things. I like the fact that it felt different from all the other Batmen you've seen in the movies. The design felt akin with the Man of Steel costume for Superman. I really liked what I perceived to be a strong similarity to the Batman of Frank Miller's The Dark Knight Returns, which is a comic near and dear to my heart. I hope all that continues to be true in the color iteration. But I was really, really excited.
What do you think is going to happen on the Arrow finale tonight? Are you shipping Oliver and Felicity? Will you watch the Flash spin-off? Tell us in the comments below or tweet us @OKMagazine.