NEWS
'Bachelorette' Recap: Emily Maynard Struggles to Send Someone Home After Hometown Dates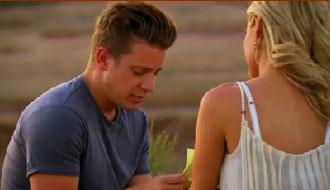 Emily Maynard is one lucky gal! Not only doe she probably have the best final four guys in Bachelorette history, but all of their families are equally as amazing as they are, which made her decision last night the toughest one yet.
Emily traveled to the hometowns of Chris Bukowski, Jef Holm, Arie Luyendyk Jr. and Sean Lowe in order to meet their loved ones, and she had a great time with each family. So, who did she send home?
Article continues below advertisement
OK! NEWS: BACHELORETTE PREVIEW: SEAN LOWE DROPS A MAJOR BOMBSHELL ON EMILY MAYNARD!
First up, Emily visited Chris' hometown of Chicago to meet his dad, mom and two sisters. But before heading to his house, Emily and Chris shared a romantic afternoon in the Windy City and checked out a Polish-American restaurant. Chris — whose dad is from Poland — proved once again that for a 25-year-old, he's extremely mature and ready to get married and be a father to Emily's daughter, Ricki.
When they arrived at Chris' home, Emily was graciously welcomed by his parents, who are obviously aware of how smitten their son is with the blonde beauty. His dad reassured Emily that Chris is ready to take on the role of dad to Ricki, and his mom told Chris that if he thinks Emily is the one, he better go for it. The only family member who was a bit wary of Emily and Chris' relationship was his sister Renee, who told Emily that she doesn't want to see her brother's heart get broken, so if she's not in it for the long haul, she's got to end it sooner rather than later.
Article continues below advertisement
The night ended with a Polish dance party and celebration on the porch after Chris confessed to Emily that he's completely in love with her.
Next up, Emily headed to St. George, Utah, to visit Jef and his siblings. When she arrived, Emily was shocked to learn that Jef's family owns a ranch, complete with horses, mountains and incredible views. The two hit a dirt road for a spin before target shooting in an open field. Although Emily told Jef she has no experience with guns, she hit all three targets before revealing she lied and actually takes gun lessons at home. Who knew!?
Later in the day, Emily met Jef's siblings, including his brother Steve, his sister-in-law, his niece and nephew and his two sisters, who question her on whether she's in love with their brother. Emily said she thinks she is, but that she's slow to use the 'L' word for the sake of her daughter. Jef admitted to Steve that he's head over heels for Emily and won't let her get away. And he proved that point after the meet and greet when he took Emily to a private spot on the ranch to read her a note he wrote for her. (The sweetest letter... ever).
Article continues below advertisement
Jef told Emily that they're "meant to be" and that he can't wait to meet Ricki and be a family. It brought tears not only to Emily's eyes, but to our eyes, too! (We love Jef).
Next, Emily met Arie on a racetrack in Arizona, where she got to see the Indy racer do what he loves most. Arie even strapped Emily in and took her for a quick spin around the track — and she loved it.
But that part of the date was easy, considering Arie warned Emily that his mom, who's Dutch, is a tough one to get along with. When she finally got to Arie's house to meet his mom, the matriarch questioned Emily about what happened with Brad Womack and why their engagement ended so abruptly. Emily told her that Brad wasn't "fundamentally" the same as her and that in the end, their personalites clashed. But Emily reassured Arie's mom that this time around, she's truly looking for that fundamental connection and believes she and Arie have the same hopes and dreams for their future.
After that conversation, Arie's mom adored Emily, as did his dad, Arie Sr., and all went well after that. (We have to admit though, it was a little awkward when Arie's family began speaking Dutch to each other while Emily sat there in disbelief, confused and overwhelmed. That was a big no-no!)
OK! NEWS: DID ARIE LUYENDYK JR. SLIP & REVEAL THE WINNER OF THE BACHELORETTE?
For her last hometown date, Emily headed down to Dallas, to meet Sean's family. Sean and his extremely well-behaved dogs picked her up in a park before heading to his parents' house for the afternoon, where Sean dropped a huge bombshell: The hunky Southern boy confessed that he still lives with his parents — and then took Emily for a tour of his bedroom. It was covered in sweaty socks, food and stuffed animals, all of which had names, according to Sean. Emily was completely freaked out and confessed that this might be the end of her and Sean's so-far perfect relationship.
Article continues below advertisement
But, as it turned out, Sean and his parents played a trick on Emily — he doesn't really live at home, and they set that all up just to freak her out. (So awesome!)
Sean's mom reassured Emily that he's the real deal, while his dad said that he's definitely ready to start a family and be the "perfect" dad to Ricki. Emily and Sean shared a sweet kiss before he sent her away, but it wasn't long before he chased down her car for one last kiss before the heartbreaking rose ceremony.
Back in Beverly Hills, Emily told Chris Harrison that her week with all the guys in their hometowns was perfect, and that she's struggling with her decision to send someone home. In the end, though, she kept Arie, Jef and Sean, sending a distraught (and angry) Chris packing.
Chris was visibly upset with Emily, but can you blame him? The guy told her he loved her and then she basically told him she doesn't feel the same way. It was hard to watch.
Next week, Emily and the final three head to Curacao, and by the looks of the preview, Emily is not ready to send any of them home.
Watch Jef's adorable speech to Emily in Utah below!