NEWS
Back To Business For Jim Toth! Reese Witherspoon's Hubby Returns To Work After DUI Arrest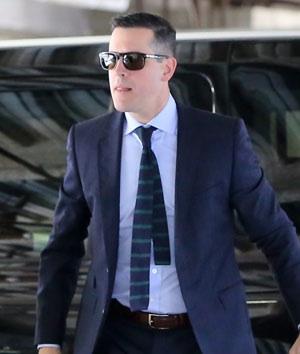 Jim Toth got back to business Wednesday as he returned to work following last week's embarrassing DUI arrest.
Reese Witherspoon's hubby was spotted driving to his CAA office in Los Angeles, where he works as a talent agent, and then walking into the building dressed in a gray suit, blue and white checked shirt and navy tie.
As OKMagazine.com previously reported, both Jim and Reese were arrested last Friday after their car was pulled over by cops in Atlanta, Georgia.
Article continues below advertisement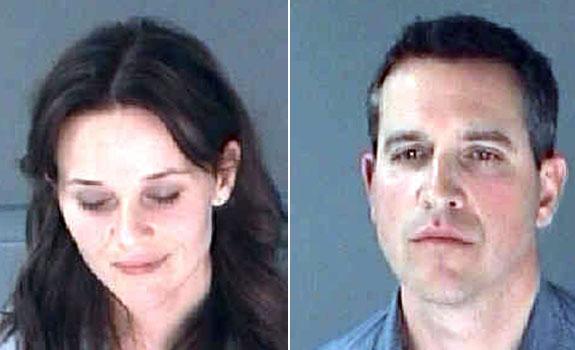 Reese Witherspoon and Jim Toth were both arrested last Friday—Toth was charged with DUI and Witherspoon with disorderly conduct
Toth, 42, was subsequently booked on suspicion of driving under the influence after blowing a 0.139—nearly two times over Georgia's drink driving limit of 0.08, while his 37-year-old wife was brought in for disorderly conduct after being disrespectful to the arresting officer.
"Mrs. Witherspoon began to hang out the window and say that she did not believe that I was a real police officer," the arresting officer's report says—to which he replied by telling her to "sit on your butt and be quiet."
The trooper claims Reese then got out of the car and when told again to return inside the vehicle, said she was a "U.S. citizen" and was allowed to "stand on American ground."
In a truly cringe-worthy Hollywood moment, Reese then allegedly asked the officer if he knew who she was!
Article continues below advertisement
"I answered, 'No, I don't need to know your name," the officer wrote in his report.
"You are going to be on national news," he claims Reese warned him. "I advised Mrs. Witherspoon that was fine."
The Oscar winning actress later publicly apologized, admitting she "clearly had one drink too many" and was very sorry for her behavior.
"I am deeply embarrassed about the things I said. I was disrespectful to the officer who was just doing his job," Witherspoon said in a statement.
"It was definitely a scary situation, and I was frightened for my husband, but that is no excuse. I was disrespectful to the officer who was just doing his job. I have nothing but respect for the police and I'm very sorry for my behavior."
The couple, who married in 2011 and have a seven-month-old son together, have been granted bail until their upcoming court hearings in May.