NEWS
Big Brother HOH Aaryn Nominates Two Players for Eviction! See Who Is and Isn't Safe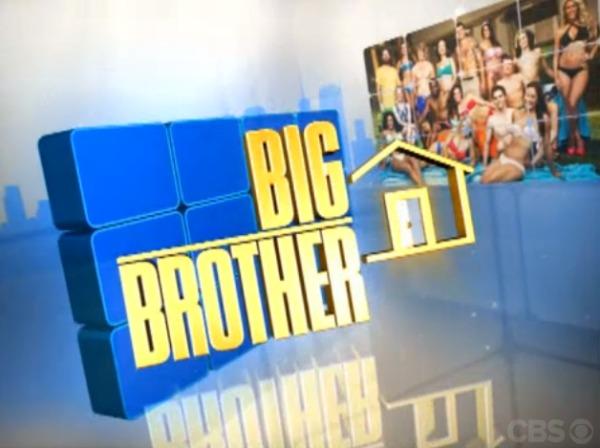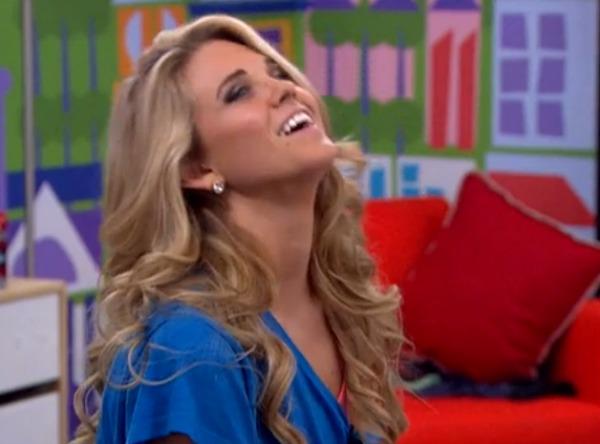 Kaitlin is gone and Aaryn is in power as Head of Household this week—and the Big Brother house is in total disarray going into Sunday's nominations!
"I hope I just didn't make a deal with the devil," confesses Helen, who helped convince the house to get rid of Kaitlin after Aaryn promised her she would let her choose her choice of nominees—which turn out to be Howard and Spencer—were she to win HOH.
Article continues below advertisement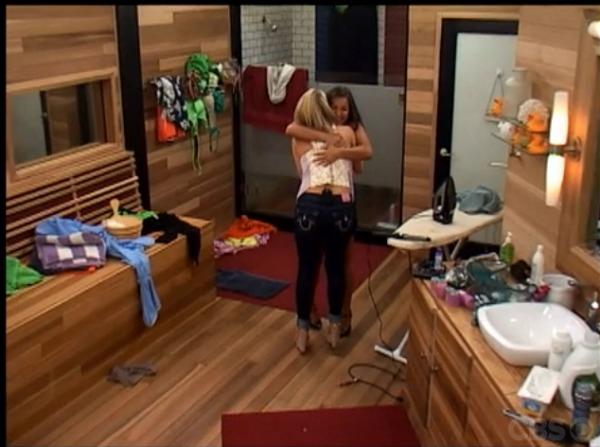 Like Jessie: "I've had a rocky relationship with Aaryn, but going forward I'm going to make sure we're on good terms," she says.
Whispers around the house that Helen will choose the nominees quickly reach Howard via Candice. Meanwhile, Spencer is frustrated after Aaryn tells him she can't promise he's safe because she has to hear what everyone in the house has to say.
OK! News: A Former Big Brother Fan Favorite Is Pregnant!
"I have no alliance," explains Aaryn. "That's what happens when you're alliance is gone."
Or when you alienate everyone in the BB house with your words...
Article continues below advertisement
Helen talks to Aaryn, who tells her Candice knows about the deal. Aaryn then reveals Elissa always leaks everything, including Helen's deal with her.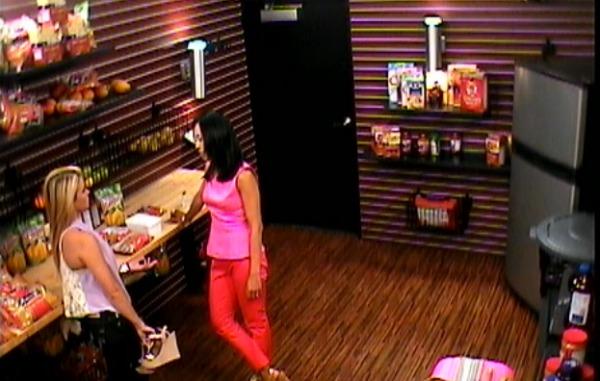 It's interesting to see Helen and Aaryn actually talking game and strategy. But who's getting played?
"I'm so mad," says Helen after learning what happened. "Elissa's ruining my game."
Aaryn then uses Helen's anger to suggest Elissa goes up on the block. Helen tells her she would have to do it without her and she would go the opposite way. Aaryn again promises she will do whatever Helen wants.
How about some fun? It's time to see Aaryn's HOH room!
Cue crickets chirping.
When Aaryn bursts through the door and asks who wants a look at her private life, nobody is to be found.
"Where the f**k are you all? I hate all of you!" Aaryn says.
Ah. lighten up, Aaryn! It turns out it was just a big prank and everyone is hiding upstairs.
The house's takes a look around the model's room, which is stocked with the usual pictures from home, alcohol, a clown.
Article continues below advertisement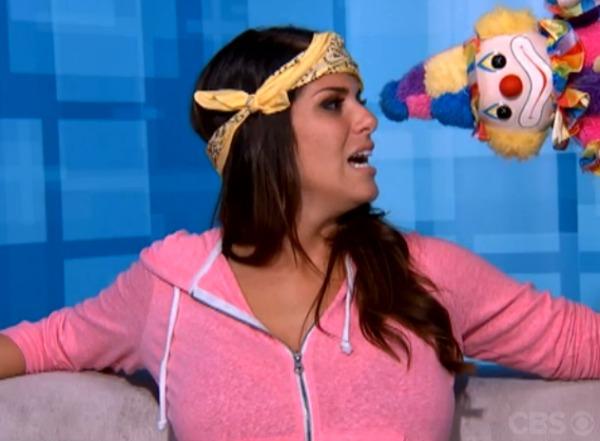 What the what!?
In typical Aaryn fashion, she makes an uncomfortable joke (because a clown isn't awkward enough, apparently) when someone wants to know why she has a box of Cheez-It Zingz.
"I axed…I asked for it," Aaryn says, looking at Candice. "You've got me saying axed!"
"I know how to talk," speech therapist Candice later says. "Clearly, that's a dialect thing. I don't know how I'm going to make it through this week."
Oh, either do we, Candice. Either do we…
Watch: Players React to Aaryn's Racist Comments
A potentially game-changing moment occurs next when Helen meets with Amanda, McCrae and Judd to talk about how Elissa spilled the beans about her secret deal with Aaryn to Candice.
"I hate to say this, we have to get her out," Elissa's (former?) bff Helen tells the group.
"Night night," says Judd.
In big showmance news, Amanda and McCrae are already telling each other "I love you!" They expressed their affection for each other while taking a bath.
Article continues below advertisement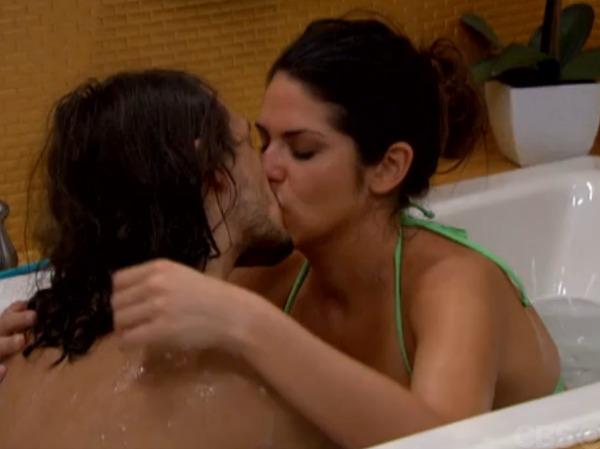 Hardy har har.
In the first part of the challenge, teams must stack all the pieces of evidence that are lined up on shelves in the evidence room into a pile.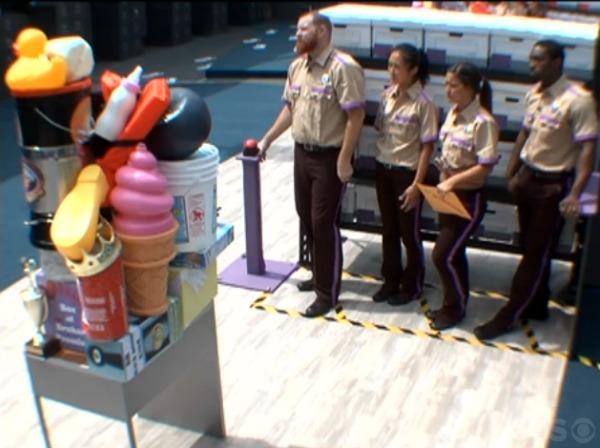 The first two teams to do so get an advantage for part two of the game, which turns out to be that all the evidence must now be put back on the shelves in exactly the same order it was found.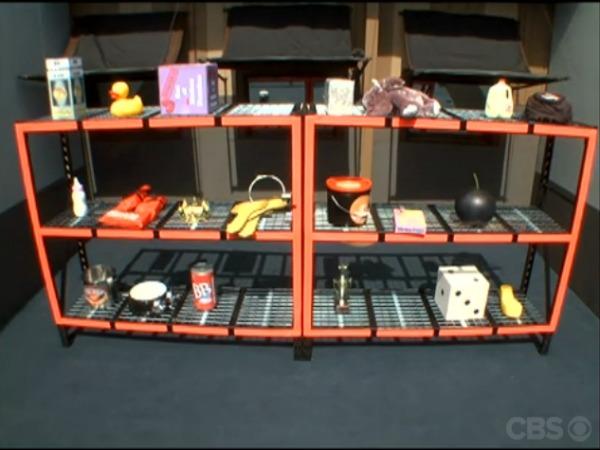 The orange team—Aaryn, Elissa, McCrae and Andy—come in first, followed by the green team's Amanda, Judd, GinaMarie and Candice.
Article continues below advertisement
The purple team—Spencer, Helen, Howard and Jessie—come in third and don't receive the advantage.
The advantage? The orange and green teams get to see photos of where some of evidence was stacked on the shelves before the game began.
The orange team sails through the competition, followed by the purple team.
That means the green team—Amanda, Judd, GinaMarie, Candice—are this week's Have Nots!
Watch: BB Host Julie Chen Talks About the House's Most Hated Houseguest
After the game, it's right back to a lot of posturing and politics as the house tries to figure out who Aaryn is going to put up.
Will she stay true to her deal with Helen?
It's time for the Nomination Ceremony, so let's find out!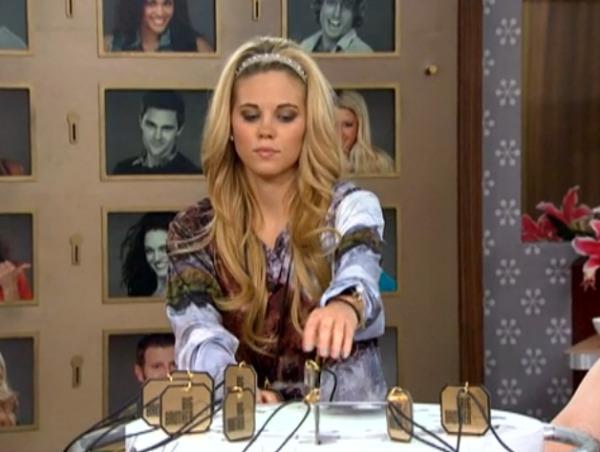 Aaryn is true to her word! She puts up Howard and Spencer just as Helen wanted.
The nominations come as no surprise to new OKMagazine.com blogger and former Big Brother winner Rachel Reilly. She predicted the two would go up. But will her prediction that America will choose Amanda as the third nominee on Wednesday also come true?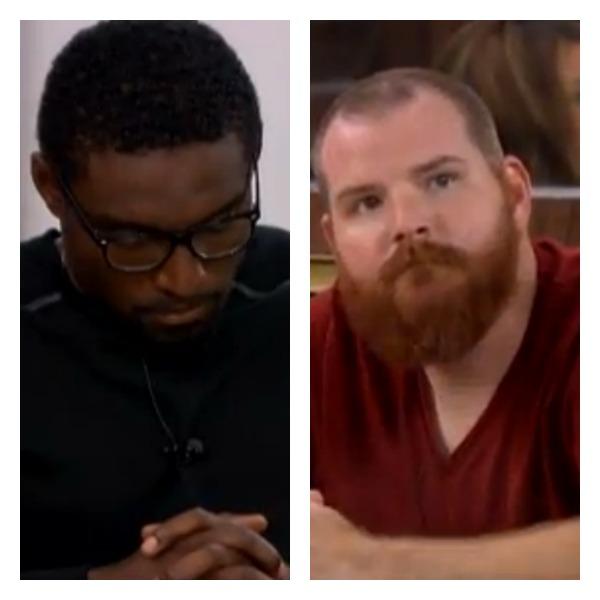 And, of course, there's always the Veto Competition and the MVP so a lot can change in this game over the next few days.
Will anyone make a big move soon? Is Helen serious about getting rid of Elissa? Who's going to be the next target? So many questions. Follow me on twitter for more Big Brother updates, and then tell us your BB predictions in the comments section or tweet us @OKMagazine.