NEWS
The Biggest Loser Finale: Patrick House Goes Home the Slimmest Winner of Season 10!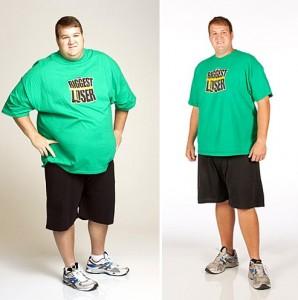 Article continues below advertisement
Alfredo Dinten, 43, a futures commodity trader from Staten Island, N.Y., came in as runner up after losing 162 pounds. Ada Wong, 27, a project coordinator from San Francisco (and OK!'s Biggest Loser blogger all season!) won the viewer vote by an "overwhelming" number and made it into the top three, losing99 pounds. Mark Pinhasovich, 31, a bartender from N.J, won the at home prize after losing 213 pounds!
"To make it this far and to see how far I have come is a dream experience. I have dreamed of this confetti falling on me!" Patrick revealed to OK!.
Patrick isn't going to just sit on his laurels, however. He tells OK! he's moving on to help others.
"I have accepted a position at a school in South Carolina and it's for kids that are overweight. What a better way for me to pay it forward!" he revealed to OK!.
Article continues below advertisement
OK! EXCLUSIVE: ADA WONG'S BIGGEST LOSER BLOG — HOME SWEET HOME
And after winning such an exhausting competition, why not relax? Patrick is headed to vacation!
"We are going to splurge a little. Later this week we are going to go down to the Cayman Islands," he told OK!. "My brother lives down there and well get on the beach and relax with my two boys and my wife."
Mark says he was thrilled to win the at home prize, telling OK!, "It' s amazing and such a great experience. I compare the experience to going to the Grand Canyon because you have to go there yourself. You can't describe the feeling."
OK! EXCLUSIVE: ADA WONG'S BIGGEST LOSER BLOG — THE FINAL FOUR!
He's also heading out for some R&R, telling OK! he is off to Puerta Vallarta, Mexico.
And our very own tough, determined Ada, who chronicled her journey throughout the show on her OK! Biggest Loser Blog and shows off her newly slim figure in this week's OK!, says she is just grateful to be chosen by the viewers as the favorite.
"I feel great and I am so thankful that America has been in my corner," she told OK! at last night's finale. "The support is overwhelming, honestly!"
OK! EXCLUSIVE: ADA WONG'S BIGGEST LOSER BLOG — OVERCOMING PERSONAL CHALLENGES
Keeping it in perspective was Alfredo, who, although he didn't win the big prize, remained positive about his weight loss.
"I am ecstatic and I am so happy for Patrick, I love him!" he gushed to OK!. " A better man couldn't of won. And I won, too. I mean, we all won."
Congratulations to everyone!
Reporting by Gena Oppenheim