NEWS
Bikini-Body Countdown: Week 3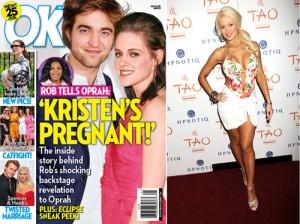 Want to get your body ready for bikini season, just like Holly's World star Holly Madison? Take a few tips from OK! as we count down the 10 weeks before you hit the beach, with tips and tricks from the experts for getting that bikini body you've always wanted!
"I always eat out because I live in a hotel," says Holly. "But I just bought a house, so I'm excited to start cooking."
Article continues below advertisement
Diet: Bust Bloat
"Alcohol causes bloat, so give it up — other than an occasional glass of red wine, which is heart-healthy and speeds up your metabolism," says nutritionist Oz Garcia, who's worked with Heidi Klum. Also, down this natural diuretic before meals: 4 oz. cranberry juice with 6 oz. water.
Workout: Perk Up Your Posture
"Slouching means your back is weak," says David Barton, owner of DavidBartonGym, where Pink works out. "Strength and good posture lift the rib cage and chest for a beautiful upper body." Do moves that involve rowing, either on a machine or with weights.
MORE ON:
Bikini Body Countdown
Smart Idea: Drink Lo-Cal
Holly's World star Holly love coffee, but skips blended version with fat and sugar and sticks with caffé Americano (espresso with water). "If I drink my calories, I blow up like a balloon!" she tells OK!.